The 50mm Collective is an NFT art collective dedicated to providing resources and opportunities to historically underrepresented artists with a focus on highlighting BIPOC LGBTQIA artists. As early pioneers in the space, they felt a direct responsibility to ensure diverse representation becomes the forefront of Web3. Their current exhibition "Visibility Gallery" which is a touring VR gallery with a plethora of artists that made its way around NYCNft and soon Oakland.
When I first became a contributor to NFTCulture, I reached out to the founders Raven + Chelsea immediately to do a feature, because not only is my art in the Visibility Gallery as an LGBTQ artist, but I strongly feel the work they are doing is so vital for cultivating an inclusive Web3 for all people. I am so honored and grateful they have agreed to this interview.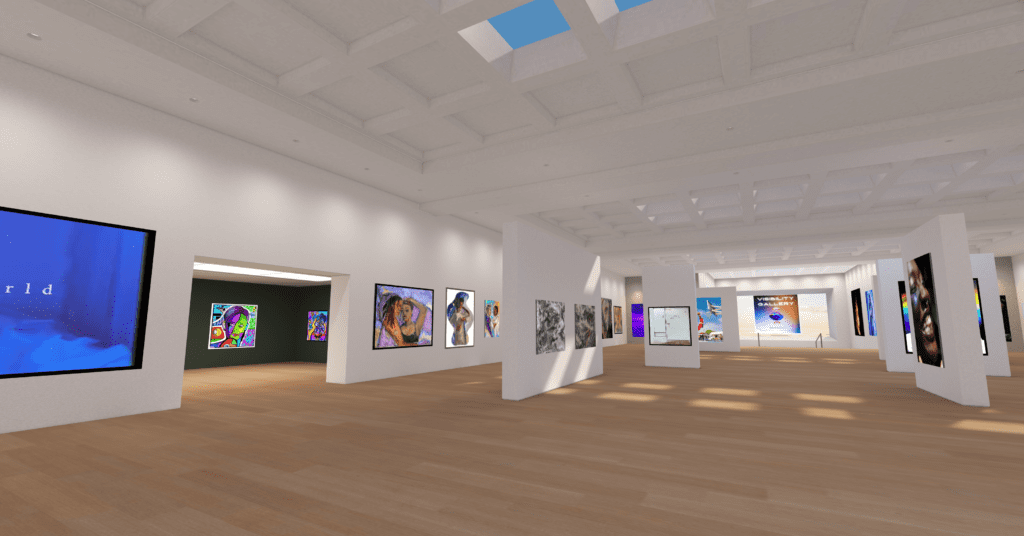 ---
Can you give us a quick intro about yourselves?
My name is Raven Trammell aka Raven50mm. I am an Afro Latinx, trans masc photographer and the founder of the 50mm Collective. I'm also the events manager for Quantum and the community curator for PASS NFT.
Hi my name is Chelsea Quintela the co-founder of the 50mm Collective. Im an NFT Aesthetics artist. Studied and trained in Fashion Design BFA as well as painting in different mediums.
What was your inspiration to start 50mm Collective and what is its mission?
There were at the time, a lot of polarizing groups that did not fully resonate with how I identify and represent myself… trans & biracial. Getting Chelsea onboarded at the same time, we wanted to create a community for artists who also were feeling how we were. We believe making a living as an artist shouldn't be some unattainable dream. We want to use the tools of web3 and IRL experiences to fuse together both communities.
As the 50mm collective Twitter grew and artists with similar experiences started showing up for each other within the space, we decided to bring this energy irl having the first meta masquerade and the 50MM Collectives first virtual gallery featuring over 100 artists from all around the world. Seeing the exposure for these artists first hand and their work being collected from our curated gallery made us realize the vision is greater than we can imagine.
By curating outstanding artwork into stunning virtual galleries, the 50mm Collective creates an elevated IRL experience for the art community. As early pioneers and leaders in the NFT space, we feel a direct responsibility to ensure diversity and inclusion are at the forefront of web3. Our vision is to fuse curation, culture, and community in a way that enriches the art world.
How/why did you get into crypto/nfts? Overall experience so far?
Raven: I was on Clubhouse trying to learn more about investing in crypto and they started talking about NFTs and digital artwork. I started going to more rooms to learn and also did a lot of research on my own to start. I got active on Twitter where the bulk of theNFT convos were happening. I minted my first piece on Ghost Market (phantasma blockchain) and just evolved from there trying to find community to grow within web3.
Chelsea: Raven introduced me to NFTs and encouraged me to put my art and creations out there. I minted my first collection on Opensea and getting my first sale made NFTs real to me.
The overall experience has been a rollercoaster to say the least, but even with the ups and downs of the crypto market, fomo on all the amazing projects and events, and sometimes burnout; it has still been worth it.The artist connections & watching the web3 space grow overall is why we keep going.
Finding balance is key… which we are still learning.
What is your funniest/favorite nft related story?
Raven: When we met NFTGirl and she said we were the cutest Web3 couple AND when both of our artwork was featured in Times Square on the Godzilla screen! Note: I would like to mention not only did they get to see their artwork in Times Square – Raven proposed to Chelsea at that time which to me is one of the most iconic moments of NYCNft. Love is love.
Chelsea: Going to an NFT gallery show for Gabe Weis and he was wearing a hat with a Picasso drawing that Raven also has as a tattoo. The pure joy of that connection was definitely a top moment to experience.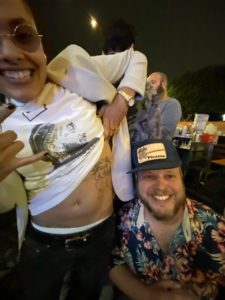 3 projects you love in crypto art and why?
1. Mutual – they are building an NFT marketplace and web3 ecosystem centering and celebrating trans and queer creators and culture-makers. A portion of Mutual's platform fees fund direct action mutual aid.
2. PASS – they're an artist first initiative with utility packed in their PASS NFT.
3. WOE Collective – Women of Excellence is a woman of color led NFT collection building community, content and curation. Minting soon!
Where do you see the future of crypto art going?
Turning into a lifestyle and touching all aspects of everyday life. From clothing to coffee brands. There are so many unlimited possibilities!
Advice to newcomers to NFTs from what you have learned.
Go at your own pace and start building your community first. Get into Twitter spaces and other live conversations to gain an awareness of the space. Be mindful of your web3 security and safety. YouTube is also an unmatched resource, subscribe to the 50MM Collective ;).  
Source NFT CULTURE