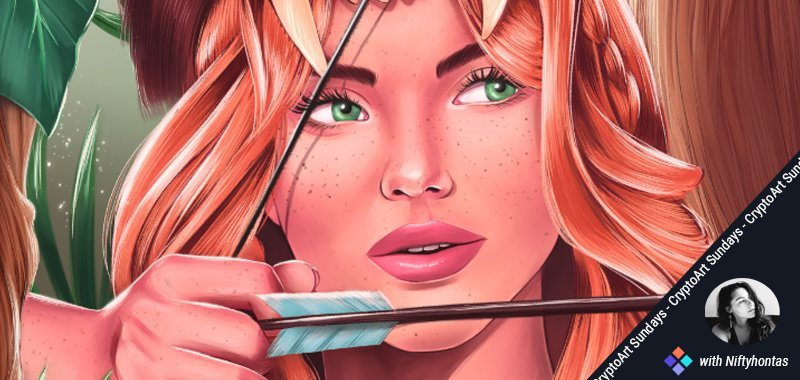 Welcome to one of our most loved column of the week – CryptoArt Sundays! This week we have another otherworldly and talented artist to introduce you to. Meet EKTZ, a professional illustrator from Ireland.
EKTZ has been an illustrator for over 11 years, and her favourite thing is to paint beautiful imagery and experiment with different art mediums, one of them being digital art and NFTs. So, let's dive in and find out more about her journey as an NFT artist and what she thinks the future of this space holds for us!
How did you find out about the NFT space, and what attracted you to create your own NFTs?
I actually found out about NFTs a couple of months before I joined! I had seen videos of Fewocious and the success he had, but I wasn't sure how it all worked. Six months later NFTs were picking up steam on social media, so I decided then to figure it all out and join. The attraction of making my own NFTs was the idea that I could create my own artwork with my own meaning behind them. I had spent around a year before that just working on freelance projects and commissioned work because I had no time for my own personal work.
How often do you create?
My pattern for creating can be up and down. I need a few days break between pieces or I'll get burnt out, or worse, I'll mess up the piece I'm working on. So usually it's a couple of days doing no art at all, and then 2 weeks or so only doing art and nothing else.
What is your creative process?
My creative process is also up and down! I have years worth of inspiration folders on my laptop where I save every inspiring painting, photo, movie scene etc. So sometimes I pull from that. Right now I'm really inspired by anime and want to work towards incorporating more of that into my work.
Are there any CryptoArtists you would love to collaborate with?
Oh yeah, so many I would love to collaborate with! Off the top of my head a big one is rikleedraws as I was a fan of him for many years before he joined NFTs. Another is spriscillart, also an artist I had admired for years before she joined. And the last is Vhox_ who I have actually already collaborated with. It was such an amazing and happy experience for me and I feel our art styles compliment each other to an insane degree. She's also just a lovely person!
So yeah, if I could collaborate with Vhox again, I would be very happy 
What do you think the future of CryptoArt will look like?
I think we are only at the beginning of CryptoArt's future. NFTs and crypto are inextricably linked, so at the moment NFTs go along with the motion of crypto trends. A lot of people say NFTs are 'dead' when crypto is in a bear market but that is simply untrue. They aren't going anywhere, they are just following the waves as they wash out to the sea and when the tide comes back in, they will come with it.
What are you currently working on?
At the moment everything I'm working on is top secret! All I can say is I have some big collaborations coming down the line so stay tuned!
Where can collectors find your work?
You can find my work here.
Source NFT Plazas