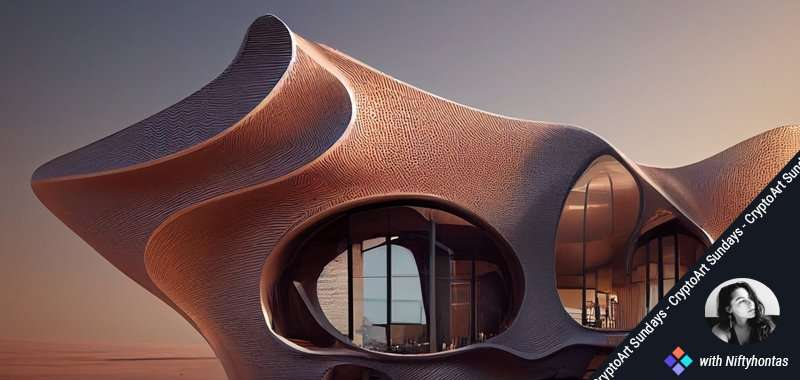 Hi there CryptoArt lovers! This will be our final column in the CryptoArt Sundays series which has been running for almost two years now. Our team has new things coming up, so don't worry, more fabulous content is being created while you're reading this!
For this final round, we have a rather unusual artist, an architect in fact. Because why not end it off with a twist! Meet the amazing JVLIVS, an artist, architect and most of all alchemist. So what is this is all about, you ask?
Well let's jump right in and find out more!
How did you come to NFTs and what impact has it had on you?
It was while watching a TEDX conference by Yoyo MAEGHT that I became interested in it. The NFTs panicked the media when a work reached more than 60 million euros on the blockchain. A revolution for artists and for the art world.
Far from making Yoyo Maeght tremble, having grown up surrounded by artists, notably Miró or Giacometti, she explains and presents the opportunities offered by NFTs in the art world of tomorrow. I fully share his point of view. And I take this opportunity to advise you to visit the MAEGHT Foundation located in Saint-Paul-de-Vence in France.
When did you start your architectural journey and how did you get good?
My architectural journey began with my architecture studies and continued with my professional experiences. It is with passion, work, rigor that one becomes good. Am I good? I do not know. It's up to you to tell me.
Which architects inspire you the most? Someone you admire?
The architect who influenced me the most is undoubtedly Le Corbusier. I visited all these projects in France and I read many of his books. He is a Master. A reference. A compass.
Louis Kahn also inspired me a lot. Otherwise, when it comes to contemporary architects, I love the projects of Rudy Ricciotti, Peter Zumthor, BIG, Jean Nouvel, Emmanuelle & Laurent Beaudouin.
What is one thing you wish you had known when you started in architecture?
I would have liked to know that being an architect is both the most beautiful and the most difficult of professions. It is the perfect balance between Art and Science. It takes a lot of skills. And it is with modesty and patience that I try to progress day after day.
Where can we buy your architectural NFTs?
My NFTs are currently available for sale on MakersPlace. They are also available for free at the moment on OpenSea. And I think I will register soon on SuperRare and Foundation.
Source NFT Plazas