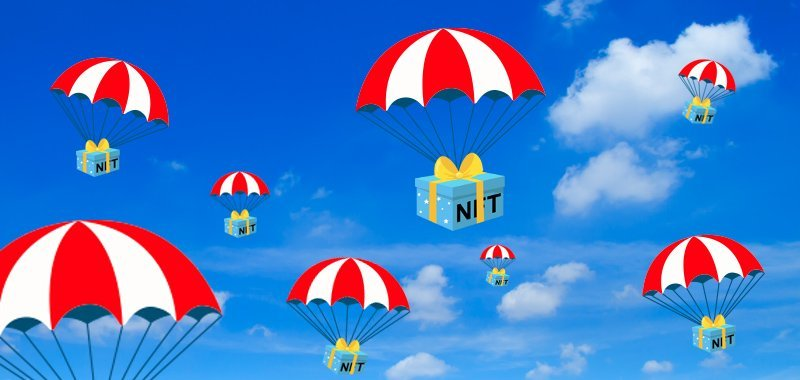 Airdrops in cryptocurrency are a promotional incentivization method to promote new tokens before their launch. It facilitates awareness of the token and markets it for adoption. Auroracoin–AUR– was the first crypto to adopt airdrops in 2014. Unfortunately, its price went bearish, leading to the project being abandoned. This doesn't mean airdrops are a bad marketing strategy or fiasco.
An airdrop in the blockchain ecosystem is the distribution or allotment of free digital assets to the general public. This kind of free giveaway is another form of marketing strategy primarily for newly launched and other existing projects to induce holders and investors to promote and expand their token circulation.
How to Get an NFT Airdrop
To be entitled to an airdrop, either of the following conditions must be met or a combination of both conditions. Firstly, a recipient might need to perform specific tasks like following them on Twitter, re-tweeting the pinned tweet of the project on their page, mentioning three or more friends, and liking the pinned tweet. Some would even require you to drop positive comments.
Secondly, a recipient might need to hold a minimum quantity of the asset or another asset in their wallet to qualify for the airdrop. That was the case with the ApeNFT airdrop on Binance in March 2022.
Types of Airdrops
Standard Airdrop
A standard airdrop is a general airdrop in which a project shares a percentage of its native token with all existing wallets in its community. Sometimes, being qualified for this sort of airdrop might require promotional tasks but not in all cases.
Bounty Airdrop
A bounty airdrop is akin to a standard airdrop. Still, to be eligible for bounty airdrops, potential recipients must participate in some promotional activities–like sharing a social media post, as mentioned earlier. Or, to enroll in a newsletter such as in the case of the ONT airdrop.
Holder Airdrop
This kind of airdrop has to do with hodling (formal term: holding) a particular token in your wallet at a specific time. It involves a project taking a snapshot of its community member's crypto wallets on a specific day and time. The amount of token airdrop is usually based on what each wallet is hodling. An example is the recent 9th ApeNFT airdrop carried out on Binance; only TRX, BTTC, BTTOLD, JST, and WIN holders were eligible.
Exclusive Airdrop
This airdrop is solely for VIPs. These airdrops are reserved solely for long-term users or community members who have a history with the particular project or community. An example of these airdrops is the Uniswap–UNI–token airdrop in September 2020. Uniswap gave out a total of 2,500 UNI tokens to their loyal users.
Hard Fork Airdrop
A hard fork is a complete change to a network's protocol whereby previously valid transactions become invalid or vice-versa. This hard fork causes the chain to split and gives rise to another blockchain that has its root in the original blockchain.
A new coin is formed when a crypto hard forks, so all investors holding the original crypto before the hard fork will automatically receive an equal amount of the new crypto in their wallets. An example is the Bitcoin hard fork that happened in 2017; all holders of BTC automatically received an equal amount of Bitcoin Cash–BCH. The BCH is the new coin of the new blockchain that evolves from the Bitcoin blockchain.
What is an NFT Airdrop?
Most times, when an airdrop is mentioned, some people think it's restricted to cryptocurrency alone; this is wrong. Airdrops do occur for NFTs, though it might be slightly different.
An NFT airdrop might take place in a way that any wallet holding a particular NFT will be rewarded with the native token of the creator's platform.
An example of this is the Loot Adventure NFT airdrop, where 10,000 AGLD–Adventure Gold–was airdropped to each "Loot NFT" holder in September 2021.
Another example is the current ApeCoin airdrop that ended in June 2022. 150,000,000 APE– the native token of Bored Ape Yacht Community–was airdropped to BAYC and MAYC NFT holders.
An NFT airdrop might also be rewarding holders with another NFT, either to improve the market value of the previous collectible or to stand alone as another collectible. An example is the Bored Ape NFT of BAYC, where a mutant serum was airdropped for all Ape holders in August 2021.
Every Bored Ape holder got airdropped one of the three serums; either of these serums transforms Apes into Mutant Apes, making the Mutant Ape another NFT entirely. Each serum holder has two options; to either sell their serum as a collectible or inject their Ape with it to become a Mutant Ape.
Are Airdrops Safe?
Since airdrops are mostly used as promotional tools, a legit NFT or crypto airdrop will never request you make a capital investment to be eligible and will not ask you for your seed phrases. However, you might have to pay the gas fee. Note that NFT airdrops can be falsified and used as fraudulent tools, so DYOR (Do Your Own Research) before participating in any airdrops. 
Source NFT Plazas