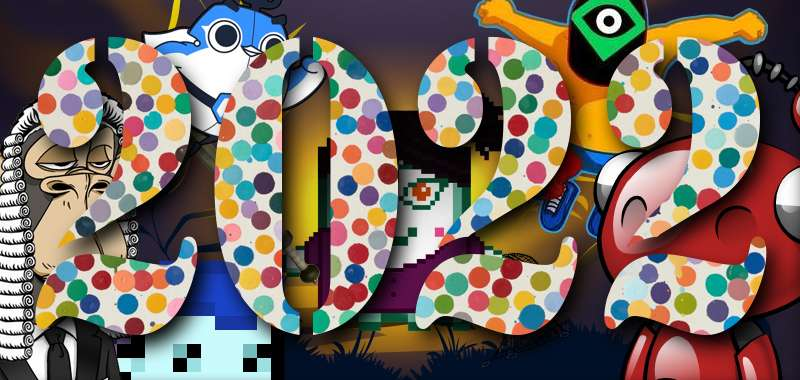 As the pendulous march of time ticks over into 2023, we wave goodbye to yet another year. Over the last 12 months we've seen huge victories, major surprises, and a fair share of controversy. Therefore, in the true spirit of NFT Plazas, we've compiled a list of the most memorable moments of 2022.
So, grab yourself a cup of coffee and a slice of toast and buckle yourselves in for a wild and wonderful recap of 2022. An eventful period where the highs were high, the lows were low and a lot of interesting stuff happened in-between. Without further ado, let's jump right in!
January 2022 Gets off to a Roaring Start
Hot on the heels of a breakout 2021 for NFTs, 2022 got off to a blistering start, none more demonstrated by OpenSea's astounding trading metrics. Right at the start of the year, the leading marketplace recorded a phenomenal $260 million worth of trading on just the second day of January. Then, following this up with a $300 million round of fundraising that took the overall company valuation up to a mind-boggling $13.3 billion.
Shortly after recording its amazing figures, OpenSea faced stiff competition from a plucky upstart in the shape of the LooksRare NFT marketplace. In the early days of 2022, the trading platform arrived to a tremendous commotion among the NFT social media space. Basically, catching everyone's attention with a high-profile token airdrop and a generous rewards system. The launch was not without criticism however, as indications of wash trading emerged as collectors looked to exploit a loophole in its loyalty program.
In further news from January, the future looked bleak for Pudgy Penguins amid a community mutiny, Blockchain OG, Battle Racers wound down its operations, and Twitter debuted hexagon shaped NFT profile pictures for its 'Twitter Blue' members.
February 2022 Continued to Keep up the Pace
February continued where January left off with the magnificent sale of CryptoPunk #5822. In what remains the highest ever paid for an NFT collectible, Deepak.eth splurged $23 million worth of $ETH in order to secure the asset. Since the sale, the NFT has travelled through a number of wallets, however, still remaining in the possession of its big spending buyer.
Across the way in the realm of the Bored Ape Yacht Club, crypto Twitter was left dumbfounded when popular clickbait merchant, Buzzfeed, doxxed the founders of the collection. Consequently, sparking a vigorous debate regarding the right to anonymity versus clear and open transparency.
Big news also came from the world of American sports when the annual Super Bowl competition adopted NFT ticketing technology. Partnering with Ticketmaster, the NFL allowed all attendees to claim an NFT ticket stub minted on the Polygon network. At the end of the event, the scheme proved so popular, the league rolled it out to its regular season.
March 2022 saw a Flurry of Activity in the NFT Arena
As it turned out, March was a month of mixed emotions that saw confusion, tragedy, shock, and surprise all rear their heads during a tumults period. Confusion arrived as Mark Zuckerberg's not quite 'Twisted' Sister' Randy released a misguided cover of the rock ballad 'We're not gonna take it'. Essentially, switching out the song chorus to feature the NFT mantra 'We're all gonna make it,' while changing the lyrics to celebrate non-fungible tokens.
Tragedy struck when much loved CryptoArt visionary 'Alotta Money' passed away. Consequently, leaving a gap in the art scene that will never again be filled. "He was a mentor, friend, brother and inspiration to many new artists, helping them on their NFT art journey".
Surprise came from high flying Web3 company, Yuga Labs, when it made a daring acquisition of the CryptoPunks and Meebits NFT collections. Thereby cementing its status and the most powerful NFT firm operating within the crypto space, and promising holders commercialization and IP rights to the assets.
All before the Ronin network left the entire industry in shock as hackers made away with an eye-popping $600 million. Essentially, seeing nefarious ill-doers exploit a major oversight in the Ronin bridge to conduct one of the biggest hacks in DeFi history.
Among other notable events that also graced a busy March, Decentraland turned up the style with its incredible fashion week. While the formidable Aavegotchi finally took its legions of supporters on a long-awaited journey into the Gotchiverse.
April 2022 Saw More NFT Innovation
Not letting a thing like a $600 million hack to its Ronin Network get in the way, Axie Infinity steamed ahead with its Origins launch. Therefore, marking a major revamp and upgrade of its flagship play to earn game as the company looks to recapture some of the magic that made it the stand out Web3 platform in 2021.
One of the biggest NFT projects operating in the Web3 space, VeeFriends, dropped its long-anticipated Series 2 collection. Basically, seeing the much-loved crudely drawn characters reimagined through slightly upgraded imagery.
Disaster struck the Akutars collection when an oversight saw $33 million locked in an impenetrable smart contract. During its complicated launch that saw funds held in situ until the completion of the event, moderators eventually realized that the terms for releasing the 11,539 ETH could never be met. Despite this, the team honored all of its contracts, issued applicable refunds, and powered ahead with the project anyway.
Yuga Labs continued to blaze its trail through the Web3 space, setting the wheels into motion for its grandiose Otherside project. At the time, raising $320 million worth of $APE through the distribution of 55k plots of Otherside real-estate.
Icy Winds Blew into May 2022 as Winter Settled in
Cryptovoxels is dead, long live Voxels! The people's Metaverse rebranded as it looked to promote a sleeker image for itself. To celebrate this new milestone, the team held a magnificent Voxcon event filled with fun, games, music, and avatars of project founder, Ben Nolan.
Here at NFT Plazas we debuted our groundbreaking Metaverse advertising platform. Effectively, harnessing the power of the virtual realm to allow brands and individuals to reach into the Metaverse and connect with customers.
Many NFT enthusiasts were left reaching for the eye wash after Beeple collaborated with enduring provocateur, Madonna. Together, this unlikely pairing dropped a series of NSFW NFTs featuring several organic and synthetic lifeforms emerging from her most intimate of body parts. In the end raising 600 ETH which at the time was worth around $612k.
NFTs take a tentative walk Through June 2022
Following the cataclysmic implosion of the Terra network, many Web3 platforms took a moment to take stock of the situation. Not My Pet Hooligan however, which entered into the fray with its ambitious gamified Metaverse. Arriving on the scene with 8,888 3D rendered bunnies which will take center stage in an Unreal Engine 5 powered virtual playground.
OpenSea once again made the headlines for all the wrong reasons after an email vendor went rogue. Essentially, an employee at its third-party mailing company customer.io shared its entire mailing list with an unauthorized external party.
Yuga Labs became embroiled in an ugly legal case after it took umbrage at a series of comments made by NFT community member, Ryder Ripps. With the range of accusations including slander, attempts to devalue to project, and the unsolicited use of BAYC IP.
July 2022 Saw the Arrival of Legacy Firms into the Web3 Space
Social media giant, Meta, continued to probe the boundaries of Web3 by incorporating NFTs into its flagship Facebook platform. The initial launch saw it join Instagram in testing the technology in the USA before rolling it out across the world.
July also saw Reddit debut its NFT avatars feature in what turned out to be a game-changing event for the platform. Going on to see unprecedented demand and spear-heading an entire revolution in digital collectibles.
Wallstreetbets plaything, GameStop, continued its resurgence by launching its own NFT marketplace. Creating what will essentially become a digital collectibles marketplace for game related items and memorabilia.
While the popular Minecraft gaming ecosystem disappointed fans of NFT Worlds by banning NFTs form its platform. A decision that had a disastrous impact on the floor prices of tokens linked to the NFT Worlds project. But ultimately, seeing the resilient world builders start work on their own bespoke infrastructure.
In August 2022 NFT Companies Knuckled Down to Continue Building
Digital horse racing platform, Zed Run, came up trumps by debuting its native utility token amid industry disarray. Soon afterward, this new ZED Token then allowed the team to launch its long-requested lending function, and open up ZED RUN to a new subset of stable owners.
World renowned jewelry maker, Tiffany's, sent Twitter into a frenzy by launching an absurdly opulent CryptoPunk pendant for NFT holders. The company released 250 items at $50k a pop, and sold out the entire batch in less than an hour.
The Sandbox continued its charge through the Web3 space, first by acquiring the services of foul-mouthed celebrity gastronaut, Gordon Ramsey. Then launching its spectacular 3-month long Alpha Season 3 as gamers got to compete for a share in $1.5 million worth of $SAND tokens.
September 2022 Topped the Charts
English rockers, Muse, became the first band in history to top the UK charts with an NFT album. The exceptional release, 'Will of the People,' included 1000 NFT copies that it minted and distributed through Web3 firm, Serenade.
Legendary comic actor, Jim Carey, stunned the NFT world when he unveiled himself as CryptoArtist, String Bean. The formidable movie star had employed the ancient art of subterfuge to release an NFT collection called 'Germination' via the Foundation platform.
Apple drew the ire of NFT Twitter with its egregious 'Apple Tax,' demanding a 30% cut of any NFTs traded on its Appstore. Then later, adding fuel to the fire by also banning NFT gated content on its platform. Effectively, stifling creativity and seeing Web3 platforms seeking an alternative means of distribution.
October 2022 Saw NFTs Enter the Record Books
NFTs reached new highs when esteemed compendium of random facts, The Guinness Book of Records, featured the technology for the first time. Within its pages, recognizing CryptoPunk #5822 as the most expensive digital collectible of all time.
Meta continued to blaze its trail through Web3 when it introduced NFT sharing to Facebook and Instagram. As a result, bringing NFTs closer to mainstream adoption than ever before.
Meanwhile, Welsh acting legend, Sir Anthony Hopkins caused a major commotion on OpenSea. Everyone's favorite Odin partnered with Orange Comet to release 'The Eternals Collection,' which sold out in under 10 minutes.
The FTX Debacle Sends November 2022 into a Meltdown
As the calendar ticked over into November the sudden demise of FTX sent shockwaves throughout the NFT industry. As a result, BAYC floor prices tumbled, Solana projects took a massive hit, and risk aversion saw many projects postpone their NFT drops.
The other topic dominating the headlines in November saw NFT marketplaces clash in the creator royalty debate. Several NFT trading platforms began offering an 'optional royalties' model in a bid to undercut the competition. All this came to a head however, when artists across the board began protesting the move.
Decentraland brought a bit of much needed joviality to the table by hosting its massive Metaverse Festival. The extraordinary event introduced some of the world's biggest stars to the virtual world, including anarchic rocker, Ozzy Osbourne, and the wonderfully weird Bjork.
December 2022 Ends the Year on a High
OpenSea finished up a busy year of network upgrades by incorporating the BNB blockchain into its marketplace. Now featuring support for 8 different chains, including, Ethereum, Solana, Avalanche, Optimism, Polygon, Klaytn, Arbitrum and BNB.
BAYC rekindled a long-forgotten narrative revealing the latest developments in the Trial of Jimmy the Monkey. The leading NFT collection teased extra lore, intriguing plot turns and potentially some brand new NFTs.
For several days in December every news publication on the planet became transfixed by Donald Trump's unexpected NFT collection. Many were left bewildered by his sudden arrival in the market, but that didn't stop a frenzy of trading activity. However, as the news died down, so did interest in the collection, with sales dropping off over 98% since its peak.
So, there you have it, a rundown of all the juiciest stories that have caught our attention over the last 12 months. A period filled with no end of excitement, controversy, bewilderment and awe that has kept all of us on our toes the entire time. Going forwards, as we head into the realm of the unknown, join NFT Plazas for all the latest news, updates and intrigue as we embark on the next unpredictable chapter of NFTs.
Source NFT Plazas