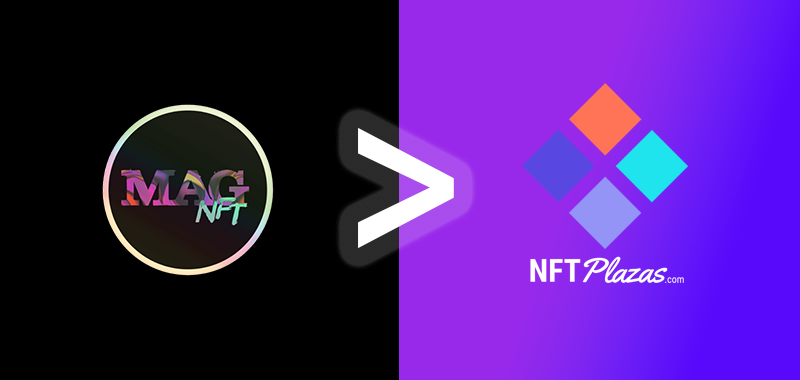 The NFT Plazas team is delighted to announce one of our biggest moves up until now – we have acquired the worldwide publication MagNFT! MagNFT is the first-ever monthly print publication and on-chain NFT magazine, with over 25 issues published since it was founded back in 2019.
NFT Plazas Moves Forward with its Growth Strategy
NFT Plazas purchased the well-known magazine from MagMaster, an NFT veteran and respected member of some of the very first NFT community circles. The sale included ownership rights to the content which MagNFT has produced, as well as the social media channels and website.
The acquisition falls in line with our growth strategy and is one of the many steps we are taking as a company to expand our media arm and reach in the NFT industry. As many will have heard, one of the founders of OpenSea, Devin Finzer, recently announced that they would be cutting down on 20% of their staff. However, after careful planning for a potential market downturn, we now believe the current market conditions provide the perfect opportunity for us to scale our operations and cement our place as the most trusted and authoritative company in NFT news and media.
"We see the recent downturn in the Crypto and NFT markets as an opportunity. Our long term strategy and careful planning now sees us in the fortuitous position of being able to expand the NFT Plazas brand. We are delighted to have successfully completed the acquisition of MagNFT, and have big plans to build on its reputation and achievements to date, whilst putting the community at the forefront of what we do." – Chris Thomas, Founder and CEO of NFT Plazas
> MagNFT is due for relaunch late in 2022 – to be one of the first to hear about the relaunch event visit MagNFT.com here.
What is MagNFT?
MagNFT was founded in 2019 and the first magazine was published in December 2019 and minted on Codex. It was in fact, the first ever on-chain magazine using the Codex Protocol. The magazine played a major role in the cultural developments of CryptoArt, and was part of coining the term 'Trash Art'. Trash Art is a new artistic genre that uses existing media to create new works.
It has featured over 300 artists and content creators and almost every recognizable name of today's NFT art market has appeared in MagNFT, like Xcopy, Coldie, Pransky, Trevor Jones, Jose Delbo, Beeple, and Alotta Money, just to name a few. Over the years, the company created a large network of high profile collectors like J1mmy, ModeratsArt, Basileus and many more.
As the NFT sphere evolved, and the potential of integrating NFTs in a virtual world, many new partnerships evolved over time. MagNFT also partnered with Metaverse-Billboard back in early 2020 in offering projects and artists the opportunity to rent over 200 billboards in Voxels for visibility and marketing needs.
Further Innovation
Simply put, we have a lot in store as we scale our efforts to raise awareness about NFTs. We'll be redesigning the MagNFT website to give it a new and upgraded look and feel. We'll also provide collectors, both old and new, with monthly, quality, collectible print magazines which they can enjoy reading and appreciating in the physical world!
MagNFT is a community-based magazine, so we'll be creating innovative NFT opportunities for our community to participate in. In addition, our readers can look forward to even more exciting content covering NFT games, artists, the metaverse, and more, all delivered to their doorstep.
Srource NFT Plazas