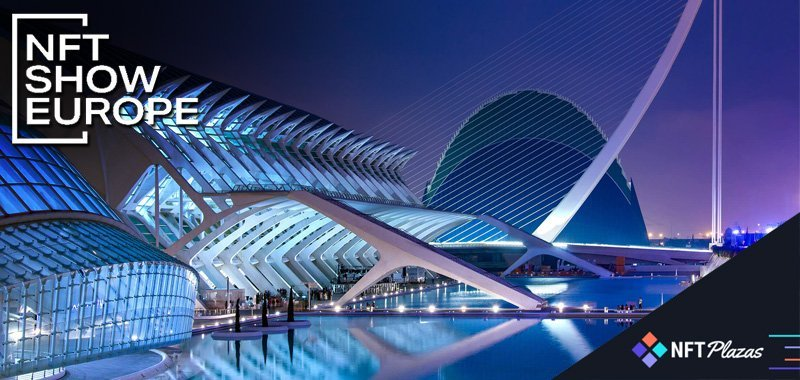 A multisensorial NFT experience is coming to one of the most-loved places in Europe – Spain. Say hello to NFT Show Europe, which NFT Plazas is a proud media partner of and we're so excited to share the details of this exclusive event with you.
NFT Show Europe is taking place in Valencia, Spain, between September 17 and September 18, 2022.
The city of Valencia, chosen as "WORLD DESIGN CAPITAL 2022" is a land of creativity. NFT Show Europe invites visitors to enter a new dimension between the technological and the emblematic parts of the city, with digital art projections highlighting the most touristic places in the city of Valencia, AR routes and much more.
What to Expect
If you're in Europe, this is the kind of event you don't want to miss out on. NFT Show Europe is set to become the leading European meeting point for digital art, NFT artists, collectors, and blockchain experts. The event will host world-class speakers that will share their insights on key factors related to Blockchain Technologies, Metaverses, Decentralized Financial Systems, NFTs and Digital Art.
The event will be more than just a conference, it will be an immersive experience that will mesmerize visitors with a world of experimental and interactive art, creating the perfect scenario to connect with the community. Throughout the weekend renowned DJs will empower the event with unique performances to awaken your senses.
The special Tech Show will present a fusion of artificial intelligence, art, and technology translated into a visual show that tingles all your senses. The various workshops will answer questions on Crypto investment strategies, NFT marketplaces, and much more.
Artists Pablo Alpe and Josef Pelz will host two Touchdesigner workshops on creating Fluid Simulations in Touchdesigner and Fabric Simulations. Make sure to register for the workshop to get a chance to win a Touchdesigner License!
Participating artists will showcase unique immersive experiences, art collections, and exclusive live minting. Art enthusiasts can also look forward to meeting artists at the forefront of NFT art, such as Tim Maxwell, Victor Doval, Mrkswcz, A. L. Crego, Anna Carreras, Piter Pasma, and a whole lot more.
There will be keynotes, panel discussions and workshops taking place throughout the two-day event. Speakers include Sam Hamilton, Creative Director of Decentraland Foundation, Hide Uehara, Director of Business Development for Square Enix, Irina Karagyaur, Head of Ecosystem Growth and Business Development at Unique Network, Rubén Rivera, Chief Marketing Officer at the Royal Spanish Football Federation, to name a few.
The Venue & Tickets
The venue will feature a VIP area, Chill area, Black Stage, Robotic Screens, Exhibition Area, NFT Gallery, Green Stage, and a Workshop Stage.
Visitors will have a chance to learn about business and investment opportunities in the metaverse, NFT, and blockchain world, as well as meet world-renowned NFT artists, blockchain experts, and high-end collectors. At the end of the event, a spectacular After-Party will be held on the stunning terrace, which is a gardened esplanade with stunning acoustic and incredible views to the whole complex of City of Arts and Sciences.
There are four types of tickets to choose from; Saturday Pass from €200, Sunday Pass from €200, Weekend Pass from €350, and VIP Pass from €800. Each ticket comes with different perks and access to various events.
Source NFT Plazas