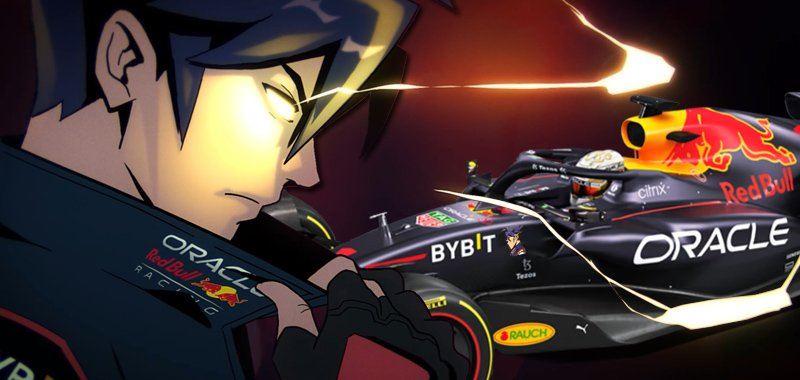 For the first time, a blue-chip NFT will appear on a Formula One racing car. Both Bybit and Chiru Labs have teamed up with Oracle Red Bull Racing to make NFT History. Together they have created a new NFT collection based on Azuki #8494. It marks the first time a blue-chip NFT takes part in an F1 race ahead of the 2022 World Champions.
"We are excited to announce our partnership with Oracle Red Bull Racing and Bybit" said Azuki founder Zagabond. "Lei the Lightning Azuki reflects the passion, precision, and raw power of Oracle Red Bull Racing. We look forward to telling Lei's story in the 2023 F1 season."
To commemorate the team's record-breaking season, fans will also have their chance to own a Lei the Lightning Azuki NFT.
Who is Lei the Lightning Azuki?
The new NFT collection will be minted on the Tezos blockchain and will champion the anime character "Lei the Lightning Azuki". A fitting name for Formula One. Lei the Lightning Azuki, will ride shotgun for F1 drivers Max Verstappen and Sergio Perez as they chase a final victory of the season.
Lei is an original Azuki from Chiru Labs and represents the transcending of worlds, symbolized by the real and virtual worlds. This is fitting, considering the diverse background of partners involved in the project.
How Do You Claim Lei the Lightning NFTs?
The limited edition NFTs will be offered to fans on a first-come-first basis. The digital art will be available on the Bybit NFT marketplace. Fans need only register on the site to claim their unique Azuki NFT between November 17 at 9 AM UTC and November 19 at 8 PM UTC.
Redbull Embraces Web 3.0
Formula One is no stranger to web 3.0 having filed for NFT and Crypto patients earlier this year. This new development however marks greater adoption across the wider sport.
Red Bull Racing has not just made NFT History it has also shown its support and enthusiasm toward innovative web 3.0 projects. Christian Horner the CEO of Red Bull Racing remarked "Our partnership with Bybit and Azuki has been an ideal way to help us explore the Web3 world. In many ways, it's been an eye-opener for us to the vast opportunities Web3 has to offer."
Source NFT Plazas