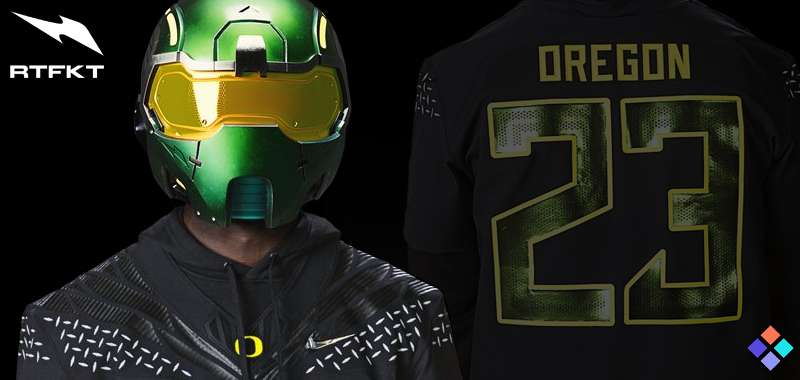 Nike owned mega fashion brand, RTFKT, has partnered with branding company, Division Street, to drop an exclusive AR helmet NFT collection. Following the sale, Division Street will then use the proceeds from the NFTs to support student athletes at the University of Oregon.
Who benefits from the collection?
The project aims to help athletes commercialize their Name, Image, and Likeness (NIL). Achieving this mighty goal by creating and distributing 291 digital AR helmet collectibles. Following which, RTFKT Clone X and Flying Formation NFT holders can register for an exclusive private mint draw.
In addition to receiving future gated access on RTFKT.com, holders of the helmet NFT will get a limited license to additional content associated with the helmet. Furthermore, collectors can also forge an exclusive 1/291 physical football jersey during the helmet-minting process. Finally, during the private mint event, RTFKT will randomly mint 10 of the helmets on-chain, all signed by Nike co-founder and chairman emeritus, Phil Knight.
Mint + Forging Event  now open for RTFKT x Ducks of a Feather 
Allowlist has guaranteed mint till 230pm EST
Mint a digital collectible Helmet and forge a physical Jersey at https://t.co/U8sKPO8YoZ  pic.twitter.com/KJ6B0GZEJF
— RTFKT (@RTFKT) December 21, 2022
Two game-changing organizations collaborate
NFT web studio, RTFKT uses 'the latest in game engines, NFTs, blockchain authentication and augmented reality, combined with design and manufacturing expertise to create unique experiences with phygital fashion, sneakers, and digital artifacts.' Nike acquired RTFKT at the end of 2021 to much fanfare in the NFT community. The acquisition remains a noteworthy foray for the fashion giant making waves in the Web3 space.
Division Street comes in as an Oregon (United States) based organization dedicated to helping college athletes win, on and off the field. "Our goal is to elevate the athlete experience by bringing in leading expertise across brand, marketing, sponsorship, digital and creative to support all University of Oregon student athletes, inclusive of every sport and across gender." – Rosemary St. Clair – CEO.
The RTFKT division street exclusive NFT drop seeks to reward their NFT holders and also University of Oregon athletes.
Source NFT Plazas