1980's iconic morning television creators Sid & Marty Krofft Pictures have partnered with popular toy manufacturers Funko to launch NFTs! The new 'Digital Pop!' series spotlights iconic characters from the pairs' beloved Saturday morning shows. To clarify, these characters include Horatio J. Hoodoo and Seymore Spider, and more. Read on to learn how you can grab your digital Funko Pop collectible below!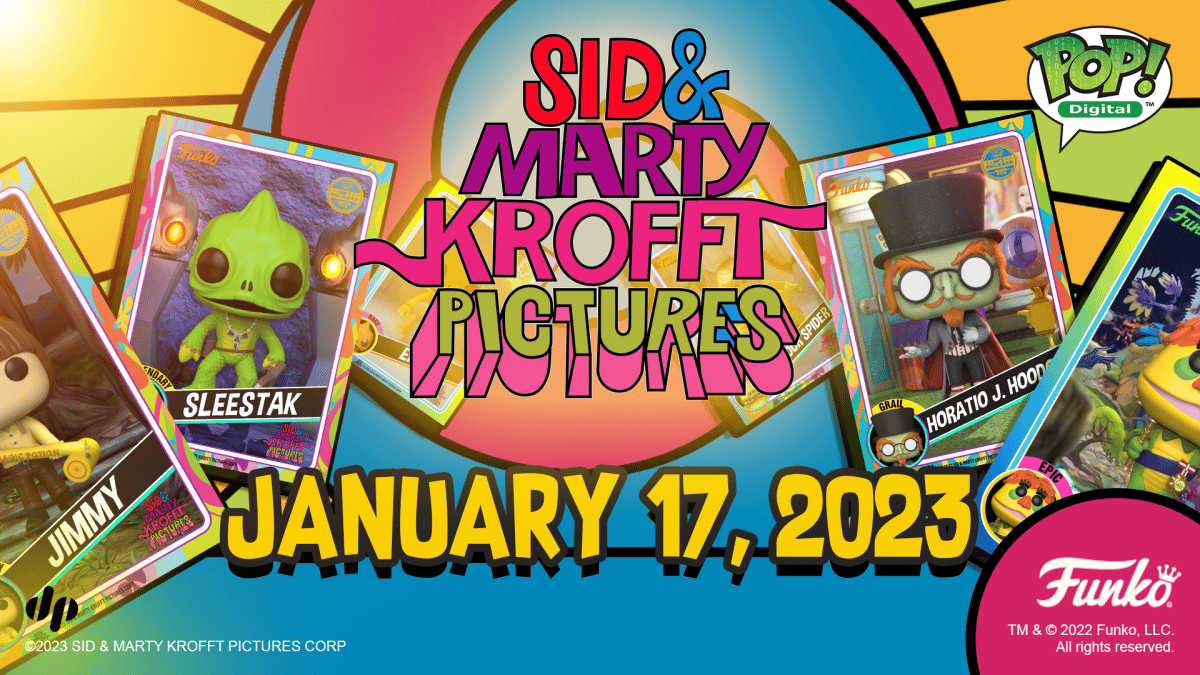 How To Collect Sid & Marty Krofft Pictures x Funko Pop NFTs?
Funko Digital Pop! is the digital interpretation of the world-renowned brand's unique toys. The Sid & Marty Krofft Pictures collection incorporates NFTs in the form of digital Funko Pop animated trading cards. Therefore, the collection provides fans, collectors, and enthusiasts with an inexpensive way to enter the world of web3. Each Digital Funko Pop pack in the collection is valued at $9.99 onwards. Moreover, once collected, the owners stand a chance to reveal a rare Funko Digital Pop! when opened. This in turn can also be redeemed for a free, limited edition, physical vinyl collectible.
The collection is open for purchase on January 13 onwards, through the Droppp NFT platform. "I'm proud that Sid & Marty Krofft Pictures was one of Brian Mariotti's Funko first clients," said Marty Krofft, co-creator of Sid and Marty Krofft Pictures. "Funko continues to be so innovative and I know the Krofft Digital Pop! will bring much happiness into the collectible community."
More About The Collectibles
The collection is divided into two types of packs – standard (5 Digital Pops!) and premium (15 Digital Pops!) collectible packs. The standard packs go for $9.99 each, whereas the premium packs go for $29.99 each. There are only 12,500 packs for each type. A total of 250,000 digital collectibles are available through the drop. Furthermore, each pack offers a chance to reveal a rare Funko Digital Pop! These can be redeemed for one of six limited edition physical collectibles.
The Digital Funko Pop! series include characters such as Sleestak Leader, Seymore Spider, Jimmy with Magic Potion, Horatio J. Hoodoo, and Freddy Funko as Sleestak. Also, fans can purchase these collectibles on the Droppp platform using their credit cards.
About Sid & Marty Krofft Pictures
Many of the most colorful and fondly remembered children's series of the 1970s and 1980s sprang from the imaginations of Sid and Marty Krofft. Their groundbreaking, live-action fantasy shows were also mainstays of the Saturday morning airwaves, which had previously been the exclusive domain of cartoons.
To this day, DVD box sets of beloved Krofft creations "H.R. Pufnstuf," "Lidsville," and "Land of the Lost" are brisk sellers, a testament to the artistry and charm of the Krofft brothers and the magical spell they cast on generations of TV viewers.
Source NFT Evening