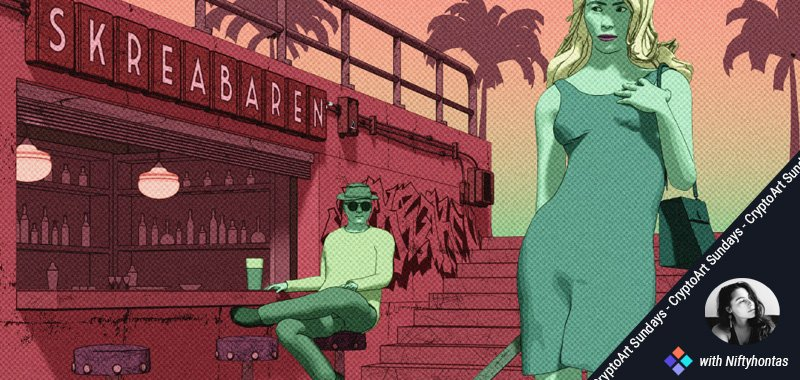 Hey all! Welcome to another epic round of CryptoArt Sundays!
I'm so excited once again as get to introduce you to a new, amazing artist this weekend – Mist Grafik. He is an absolute superstar freelance artist and illustrator based in Sweden. His artworks are mostly influenced by science fiction, fantasy and surreal comic book art.
So let's check it out and find out more about his NFT art journey!
How did you find out about the NFT space, and what attracted you to create your own NFTs?
It must have been about two years since I read about NFTs for the first time, but back then I really didn't pay much attention to it. My interest has since then gradually been growing, although it wasn't until about two months ago that I finally decided to actually get involved for real.
I guess what attracted me the most was the idea of anyone being able to easily acquire a part of an artist's gallery, regardless of geographical or other boundaries. I also admire the community in which all the action takes place, it's quite a unique blend of people aiming for the same goals.
How often do you create?
It varies a lot, but I try to create something for my own pleasure every day just to remain sane. I also tend to quickly lose my edge unless I keep up a momentum – it has happened several times in the past and I do whatever I can to avoid it.
What is your creative process?
Most of the time I start with an initial rough idea that I allow to evolve in my mind over time as I go along working on it. My workflow doesn't exactly follow any specific route and it can come across as quite chaotic sometimes, not least to myself.
Are there any CryptoArtists you would love to collaborate with?
Actually I'm a bit of a lone wolf when it comes to my creative work. However, in the cryptoart world, if I was given the opportunity I wouldn't mind working with Dres13 or RVREexe. They are both excellent artists.
What do you think the future of CryptoArt will look like?
That's the million dollar question, isn't it? Since my experience in this area still is very limited I'm not exactly a very reliable source to ask for predictions or analyses.
If I had to make a guess my gut feeling tells me NFTs are definitely here to stay. Whether it will actually become a part of our daily life, or if it will keep on being used in separate segments of society remains to be seen.
What are you currently working on?
Apart from a few commissions I have two series of pieces I'm currently working on, called "Hansagard Moments" and "The Lyrean Chronicles". Although they are quite different from each other, both of them originate from the same fictional world.
I hope I will be able to elaborate these concepts over the next six months or so, maybe longer.
Where can collectors find your work?
My NFTs are available on Foundation, KnownOrigin, and since just recently MakersPlace.
Source NFT Plazas