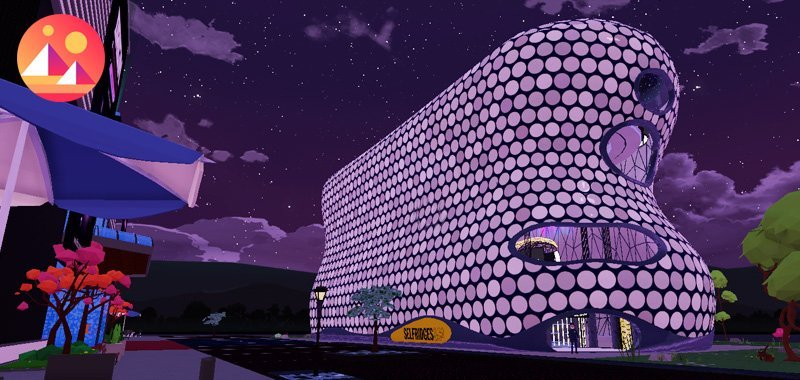 Decentraland's first-ever Metaverse Fashion Week put virtual fashion and beauty brands in the spotlight. Traditional retail giants joining the virtual space created such a buzz that every fashion lover now knows what Decentraland is and how to go there.
During the Metaverse Fashion Week various brands and creators joined the main venue to showcase their collections. However, after the event, some disappeared, but some stayed for good. So let's walk through a list of fashion-related places available at the moment to visit.
DressX Shop
All digital fashion lovers know DressX, as they were one of the first to enter the market with a digital clothing selection you could instantly wear through your phone lens. The international digital fashion multi-brand retailer joined Decentraland in 2021.
The brand joined Boson Protocol space "Boson Portal" by opening a gallery of its best pieces in pictures.
Find The DressX store in Metajuku shopping project, and shop selected styles.
Location: Metajuku 94, 21; Boson Portal -82, 112
Boson Protocol Gallery
Boson Protocol made the headlines after acquiring "The Glass Suit" – a nine-piece NFT curated by marketplace UNXD. The suit is part of Dolce & Gabbana's collection "Genesi" and was sold for 351 ETH or $1million at the time. All pieces exist both digitally and in the real world.
However, what makes a particular suit really special is the thousands of hours it took to create the perfect look using famous Venetian Murano glass, Swarovski crystals, and silk. So, while visiting Boson Protocol Gallery, stop and take a look at its famous glass sculpture in the front.
In the Gallery, you'll find artwork and videos detailing the suit's creation. It also includes the sketch personally signed by Domenico Dolce and Stefano Gabbana.
Stop to shop for digital goods on Premium Estate, near Boson Protocol Gallery.
Location: Boson Protocol Gallery -75, 113, Premium Estate -80, 117
Selfridges
Metaverse Fashion Week opening event was hosted by Selfridges, a chain of high-end department stores that re-created their store on Decentraland. The British retailer is the very first department store to join Metaverse. So even though the Fashion Week is over, you can still visit the store and explore the beautiful Paco Rabanne NFT collection.
Location: Selfridges 64, 14
Get Married in the Metaverse
Well, fashion is all about love, and apparently, you can get married in Decentraland to anyone you love! Closeup City Hall of Love celebrates love by creating an opportunity to say yes to your love even when you can't do that in real life. In their own words, it's built on the foundation of love and inclusivity. It serves as a sanctuary for couples in all kinds of relationships to express and celebrate their love without fear and judgment.
After a short ceremony, you and your partner will be able to mint your marriage NFT! To celebrate, according to Sqube statistics, 183 people have visited the place in just 30 days.
Wish you all happy virtual marriages!
Source NFT Plazas