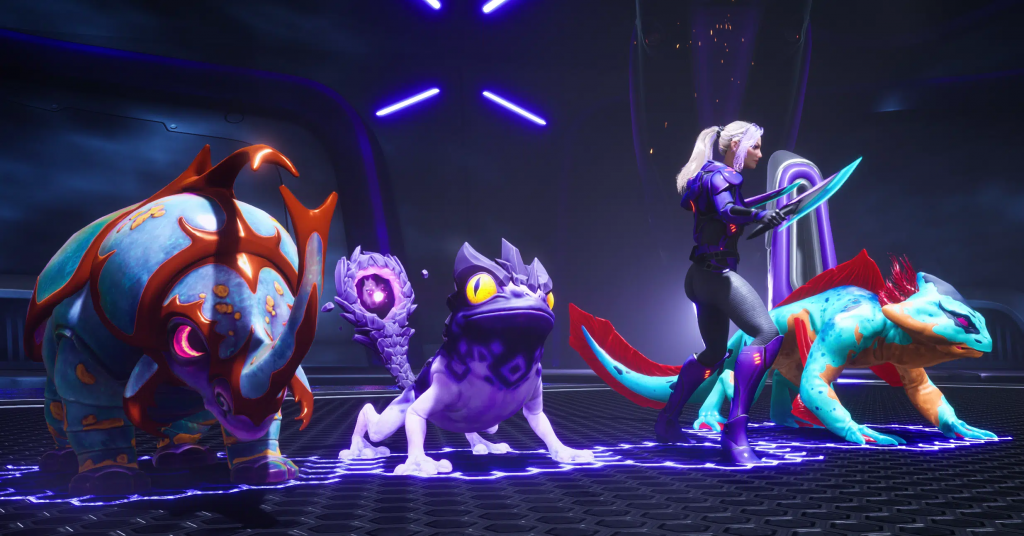 What is Illuvium?
Illuvium is an upcoming series of games and the world's first Interoperable Blockchain Game universe. It includes an open-world exploration creature collector called Overworld, a city-builder called Zero, and an auto-battler game called Arena. All games are built on the Ethereum blockchain.

Illuvium Overworld – the open-world collection game – is free-to-play, and will be available on both PC and Mac. Players embark on an adventure to help their stranded crew by exploring epic alien landscapes, capturing Illuvials, conquering a shattered planet, and eventually uncovering the story behind the cataclysmic events that created this world. In the Overworld Beta, you can explore, collect resources and capture Illuvials to become the most dominant Ranger. So, there is much to be expected from the Overworld beta release.
To capture Illuvials, players must avoid deadly hazards and search for valuable resources that their drones collect, including shards, gemstones, and consumables. These resources let players craft and upgrade gear, such as helmets, jetpacks, boots, and weapons. Players with better gear can navigate the world easier and overcome more challenging battles.
Winning battles against opposing teams allow players to capture additional Illuvials. These Illuvials can then be used in Arena or sold on the Illuvidex market exchange. Players need to enhance their kit, armaments, drone, and Illuvials to improve their chances of victory in Arena and climb the leaderboard.
In addition to Illuvium Overworld and Arena, there is Illuvium Zero, a city-builder game that allows players to develop their own NFT land and acquire fuel, necessary for gaining access to higher-stage regions in Illuvium Overworld. Players can also purchase fuel on the Illuvidex market exchange.
Illuvium Game NFTs
Illuvium NFTs come in two main types: Land NFTs and Collectible NFTs. Land NFTs represent virtual plots of land on the planet. The land can be utilised to gain fuel inside the game, which can be used to explore additional areas and regions. Collectible NFTs include Illuvials that fight by your side. Other types of NFTs will be added and announced as further development of the game continues. . The current Illuvium Overworld Beta has not announced interaction with previously held NFTs.
What Will the Illuvium Beta Look Like?
The Beta of Overworld introduces players to the Crimson Waste region on the planet, where you can explore, harvest plants, mine deposits, and capture Illuvials. Using your daily allocated fuel, you can climb your way to the top of the leaderboard and improve your Rangers gear and upgrade your drone.
As you progress further, you can test your deck in higher-stage zones (S0, S1, S2, S3) to capture higher Tier Illuvials. All players with access to Arena Private Beta 2 (PB2) automatically gain access to the Overworld Private Beta.
Top Tips For Entering the Illuvium Game Beta
To access the Illuvium Overworld Beta, you can register on the official Illuvium website and check out their Discord and Socials for upcoming giveaways! For those already diving into the game, here are a few tips and tricks to help get you started: all Rangers begin their journey with two Illuvials in their deck and a handful of cured shards. With your team backing you up, you can win battles and capture Illuvials. However, risk-averse Rangers can mine mineral deposits and harvest plants in the Stage 0 zone to preserve their daily fuel allowance and gather the resources they need to better equip their Ranger. Have fun exploring Crimson Waste, unlocking its secrets, and building your dream team!
Win a Private Illuvium Beta Spot With NFTevening!
We partnered with the team at Illuvium to offer our readers an amazing 50 Private Beta spots via a raffle, which will give you access to Illuvium Overworld Beta and Illuvium Arena PB2. You have until the 20th of December to enter the raffle!

If you already have access to the Arena PB, winning the raffle will give you automatic access to Overworld.
To enter the raffle::
The Illuvium game universe offers a truly groundbreaking gaming experience, being one of the most anticipated beta releases to date. Free-to-play players can still fully experience the gameplay of Illuvium Overworld. So don't miss out on this opportunity to be among the first to experience the future of gaming!
Source NFT Evening