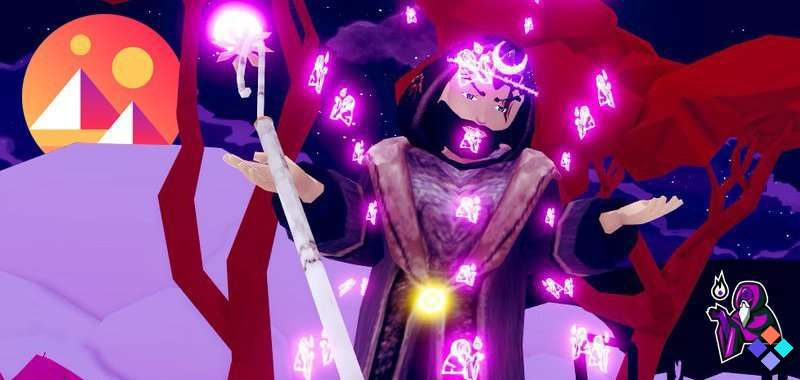 Today I am talking to Neyha, the co-founder and CEO of Wilderness P2E, a fantasy-themed MMORPG based in Decentraland. She's been the project lead for Wilderness P2E since December '21, building this gaming ecosystem fueled with some wizard-themed NFT rewards and engaging multiplayer gameplay mechanics. She is a software engineer by trade with an ardent fascination for art and design. Neyha admits that residing in the Metaverse and exploring while building this game has helped her widen her horizons of self-discovery and growth.
Tell me what your IRL life looks like when you're not in the Metaverse?
I reside in a hill station called Mussoorie, hidden somewhere in the mountains of northern India, more like IRL Wilderness. I live alone with my computers and a big load of Himalayan Tea Bags and Wine. A normal day for me starts with a scintillating cup of warm tea before I log in and meet my friends in the Metaverse and ends with me relishing some wine IRL while my Decentraland avatar enjoys the WIldy wine that we offer as party favors during Wild Nights at Wilderness P2E.
Living on a hill that hasn't got much going on but some scenic views, I do enjoy the peace and quiet and the natural beauty, but it makes the Metaverse somewhat more dazzling, being so contrasting to my IRL world. Besides this, I love music and instruments. I've been a bass player and am looking to indulge more in creating music NFTs and using them for our gameplay background.
What is your background, and how did you end up in Decentraland?
Before Decentraland, I worked in the Banking and Fintech Industry as a Software Engineer. I was an analyst in the architecture of Digital Banking applications. There was a boom of web3 and crypto tech in my industry, and I was exposed to a lot of conferences and research papers by my peers. I was fascinated by the scalability and application of this industry and wanted to begin my own quest here. Decentraland was the first platform I explored, and I was enthralled by its beauty, both in terms of its brilliant SDK and the visual experience as a new user.
How did you and other founders come up with the idea of Wilderness?
When I first entered Decentraland, I wanted to explore but also build Art galleries with some tech utility for the visitors. I reconnected with one of my college seniors who was also exploring crypto, had been in FINTECH himself, and wanted to start an NFT Wearables business.
We realized that we could expand on our fascination with art and also use our Software development skills by creating a gaming ecosystem where we offer tech-first gameplay mechanics combined with artistically inclined NFT rewards that double as Decentraland Wearables that users earn by playing.
When did you join Decentraland, and what was your first impression?
I joined Decentraland in September 2021 and my first reaction was – wow this is so avant-garde! I was mesmerized by the beauty of how expansive it was and the infinite possibilities of what it could become. I used to keep walking around stumbling upon different parcels. It was such a diverse environment, full of varied ideas and designs.
What role does digital fashion play in the Wilderness game?
Wilderness was started with the idea of making it a very Art-Deco place that offers gaming portals to users. So we focused on vintage-styled Wizard-themed wearables, mainly Robes and Crowns. It was after we operationalized and set up the gaming structure a bit that we had a chance to revisit the fashion of Wilderness. Since then, we've been focusing on its avant-garde aspect and revamping the game's digital fashion.
Cyberpunk wizards, Wild Attire for parties, pet themed wizard cloaks are some of the few designs in the Wilderness Bazaar catalog. Even though gameplay mechanics and the stability of the economic environment of our P2E game are the foundation, digital fashion remains the effervescent center as it signifies who we are. Our Wild Wearables represent our gaming ecosystem as well as our artistic temperament.
How do you see the future of digital wearables?
We can be who we want to be in the Metaverse, and digital fashion is the gateway. Digital Wearables are the gateway to our identities in the virtual world, and the future will be dazzling.
The future of digital fashion is expansive and the possibilities are endless. IRL fashion itself holds the opportunities to expand on ideas based on diverse cultures, fashion styles & categories. Digital fashion gives the opportunity to embrace the overarching catalog of fashion that transcends any worldly boundaries and roadblocks. There was recently an IRL fashion show in which they used pixel art on models. Digital fashion art is so amusing that instead of IRL fashion being copied in the digital world, it's actually the other way around, given how expansive and diverse it is. With smart wearables coming in, the future of digital fashion in Decentraland would only give even more areas of experimentation, and linked wearables shall give more room for inter-operability opportunities.
What is the biggest challenge for you as a creator?
Given my engineering background, I sometimes find my thinking abilities too mechanical when it comes to fashion and design ideation for Wilderness P2E. My mind works algorithmically, and I'd rather have a free flow of ideas for more amusing artwork at Wilderness P2E. This is usually solved by collaborating with the brilliant designers and artists of Decentraland, like – Michi Todd, Refraction, Yannakis, and more. I'm looking forward to learning more and more from my talented peers.
What is the future of gaming?
Gaming has always been a huge industry with a gigantic market share which is only expected to rise. Speaking in accordance with qualitative aspects of this industry, I believe we are moving into an era of more immersive gameplay experiences. Games have been centralized for quite some time now. Web3 gaming is giving rise to a community of gamers who are able to extract economic value from the hours they spend engaging with their games. This is a whole new industry to dive into and explore.
How would you describe the P2E concept, and what is the biggest misconception people have about it?
The P2E concept offers an enjoyable gameplay experience to users while also allowing and encouraging them to make money within the platform. For me, the current misconception has been the idea of looking at P2E gameplay experiences as merely transactional when it is much more profound than farming coins. P2E games are built on communities that grow together both in terms of social and economic value. The experience of living in engaging gameplay mechanics while also being able to earn and meet other gamers in the Metaverse who are also earning alongside you is a scintillating aspect often overlooked.
How do you see the future of Wilderness in 5 years – where will it be?
Wilderness has been very tech-oriented till now. It's now that we have operationalized all the gameplay mechanics and are building more community-engaging aspects. We are also expanding on our fashion catalog, dwelling on new digital fashion ideation, and looking to collaborate with more such fashion ventures.
As for the future, we are keen to make Wilderness an AI-enabled immersive metaverse experience that adds social and economic value to a user. Users can enter this universe, play games, earn cryptocurrency, but also engage with other Wild community members. We have been trying to make Wilderness more immersive with each passing sprint. We have added an immersive Bazaar where players can test out the wearable NFTs that they are looking to buy. We have added an AI-enabled NPC – Bob, who one can talk to about general life or the game (I wouldn't recommend that though, Bob is sort of grumpy).
How does Metaverse, overall, shape your life right now?
Metaverse has given me some of the most influential people in my life. I have grown as a person throughout the last year. I have explored new dimensions of my interests and abilities that I never saw before. It has been a journey of self-exploration and discovery.
From the moment I wake up, I look forward to spawning in Decentraland and meeting my friends, and maybe even sharing my Chai' with them. The beauty lies in the sense of sentiment. We are from distant parts of the earth, but we are so close in the Metaverse. Metaverse has made us find and love people we may have never met IRL.
Metaverse has no boundaries and has rendered societal barriers expendable. It lies on the foundation of collective growth, something I abide by. The love and acceptance that can be exuded by Metaverse are blissful, and the freedom of identity just fascinates me, and I look forward to how far we can take the concept of life in the Metaverse.
Source NFT Plazas