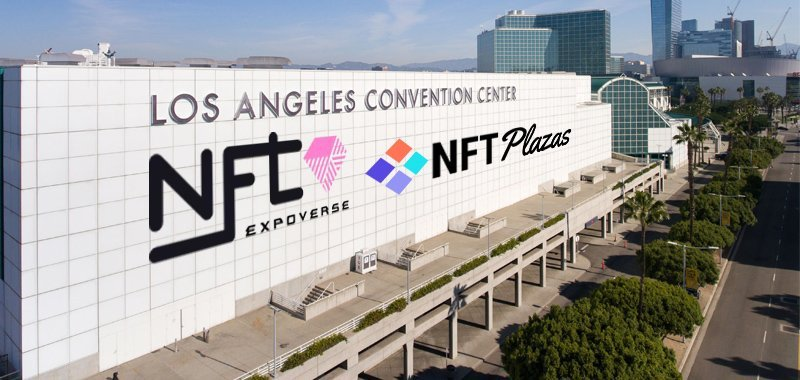 We're proud to announce that NFT Plazas has joined forces with NFT Expoverse as a media partner. The upcoming three-day event will be full of educational talks, incredible exhibitions, and exclusive NFT drops for attendees. Whether you're an entrepreneur, artist, collector, gamer, or digital enthusiast, you won't want to miss this!
Tickets & Location
NFT Expoverse is taking place in Los Angeles between July 29 and July 31, every day from 11am to 6pm, at the Los Angeles Convention Centre. The event will showcase the Web3 industry and the developments unfolding in various segments such as DeFi, dApps, cryptocurrencies, P2E gaming, and NFT arts and collectibles.
There are several tiers of tickets available. The General Admission 1 Day ticket costs $125; the 3 Day ticket is $225; the Industry All Access 3 Day Pass is $600; VIP All Access 3 Day Pass is $1,300; and the special Student Rate 3 Day General Admission is $150.
What to Expect
Along with networking opportunities, there is an exciting lineup of over 150 influential speakers and educators who will talk about their skills and expertise in their respective fields, meaning that participants will be able to take advantage of hours of invaluable content, knowledge, seminars, and more.
Attendees will also be treated to special appearances from high-profile industry entrepreneurs, content creators, and celebrities, who will share their secrets and interact with their fans. The event will feature special NFT drops by game developers, artists, auction houses, fashion brands, sports teams, musicians, metaverses, and more.
There will be over 300 exhibitors representing the most innovative companies in the Web3 space and demonstrating their products and services through interactive experiences. Talented digital artists will host live presentations using AR and VR technologies, and unique metaverse experiences will take place, brought directly by the companies and creators behind them, with exclusive early access for attendees.
And, let's not forget, the VIP afterparty where you'll be able to meet, greet and have a fun time with the biggest personalities of the blockchain space!
Source NFT Plazas