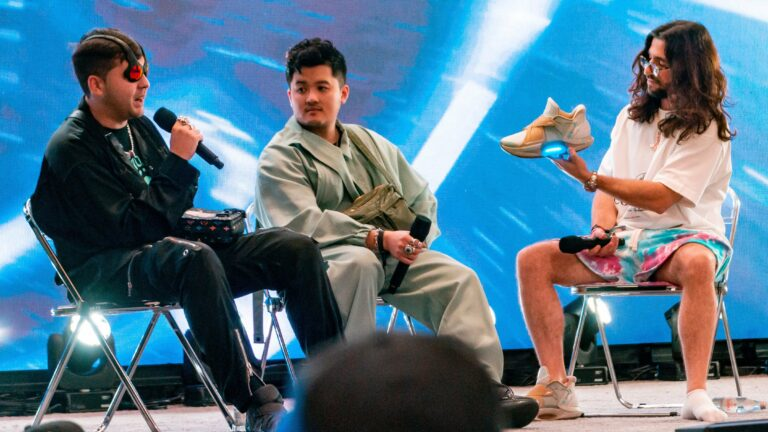 The importance of the creative process within the NFT space cannot be understated. After all, Web3 would not exist if not for the innovative melding of art and technology as it exists via the blockchain. So for people and brands creating at the intersection of physical and digital, conception and presentation both weigh heavily on the creative process.
To bridge the gap between our palpable physical reality and a digitized existence presented to us by way of the metaverse, uncharted territory must be conquered. This is perhaps why big-name brands, like Nike, have opted to make their grand entrance into Web3 by way of established market leaders like RTFKT. Through a sort of surrogacy, brands can hedge their bets on blockchain tech while funding those manning the front lines.
But regardless of how quickly things move in Web3, nothing happens overnight. While market conditions and unconscionable events have sent the blockchain industry into a difficult phase, RTFKT, during their panel at nft now x Mana Common's The Gateway, exhibited precisely why building a quality project/product is a long-play, not a short-cut to success. Working from this point, RTFKT Co-Founders Steven Vasilev and Chris Le gave the collective NFT community something to think about by providing a sneak peek into their forthcoming Cryptokicks smart footwear line.
Digital meets physical in the most literal way
During The Gateway panel "Merging Worlds: Fashion, Lore, and Empowering Creators," Vasilev and Le took the stage with influential Web3 builder and Rug Radio founder Farokh Sarmad to have an informal conversation about what had been transpiring within RTFKT. Considering the young company was acquired by Nike almost exactly one year prior, the collective NFT community has kept the metaverse fashion house in its sights as a champion of Web3.
Vasilev and Le did not disappoint. The pair not only showed up wearing prototypes of the highly anticipated "Cryptokicks" shoes that have been making the rounds on social media as of late, currently in development by RTFKT and Nike, but offered some insight into what the near future might hold for fans of the brand.
"It's basically RTFKT's smart watch in a sneaker," Vasilev explained to the room. "In terms of functionality, they have accelerometers, auto-lacing, and lighting. They have anything you can imagine a shoe can have in terms of haptics and vibration. For us, we're using them as a tool to merge worlds."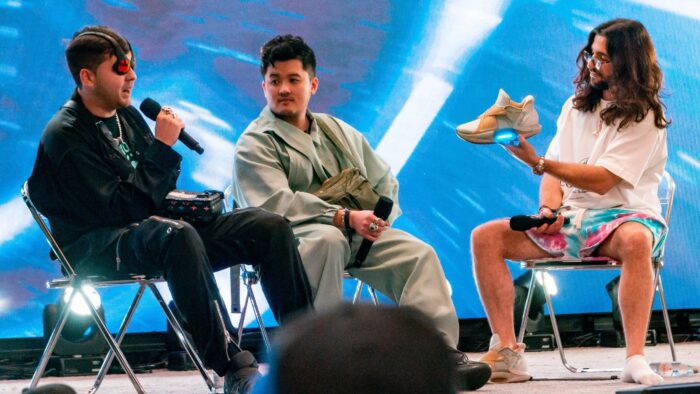 Alongside an app that can control the shoes, allowing owners to change features at the press of a button, Vasilev noted that decades of Nike tech went into the creation of the forthcoming footwear line, which he says is the first true Web3 sneaker. Despite the wealth of information he offered up during the panel, he ultimately noted that full details will be released on December 5.
RTFKT, and the journey to icon status
Even beyond the forthcoming Cryptokicks project, Vasilev and Le made it clear that RTFKT will venture far beyond the current scope of digital wearables. In speaking on connecting RTFKT IP going forward, Le said that projects from the company's past will continue to influence lore and storytelling going forward.
"This is the storytelling phase of RTFKT. This is probably a stretch, but I really believe we're going to crush the Marvel Cinematic Universe down the road," said Le. "We're going deep and we have really great story writers. We're making sure all plot holes are filled because we're trying to set the tone and environment for our community to come in and add to the story."
For years now, RTFKT has existed as a premiere source for metaverse fashion. Early on in its journey, the budding company became an NFT community favorite through innovative digital wearable collabs with acclaimed young creator FEWOCiOUS — and of course, CLONE X creative partner Takashi Murakami. RTFKT achieved a unique presence in the NFT space as a company built by and for the non-fungible community, and hopes to continue to capitalize on this NFT-native connection.
"I think we're the first brand to fuse fashion, sneakers, and crypto in a way that hasn't been done before," Vasilev added. "What we're trying to build is a platform for new designers and new collaborators to come in. We want to build with our community."
Source NFT Now