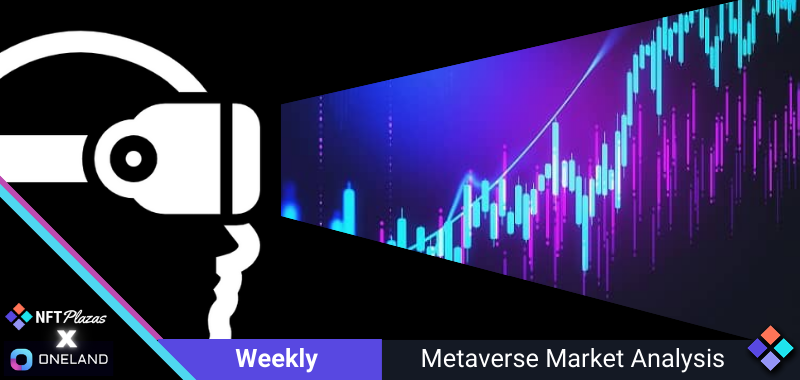 Welcome to Metaverse Market Analysis! Every Monday we bring you the latest stats and data on the overall state of the Metaverse market. This column is in partnership with the incredible team from OneLand, a financial platform for virtual lands in the Metaverse. This week brings the OneLand Metaverse Market Analysis stats for January 23-29, 2023.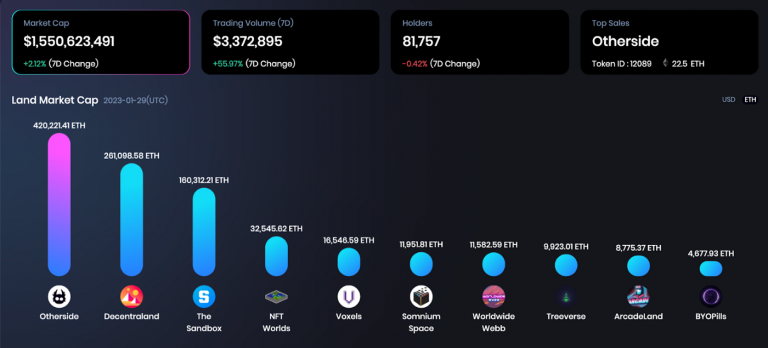 OneLand 7-day data indicates total land cap for the 10 metaverse projects listed on OneLand increased 0.63% for the week to 937,635 ETH, or $US 1.55 billion (+2.1%).
Context:
Decentraland's sale of an Estate for 75.28 ETH led to a positive week, with trade activity doubling and land cap up 5.5% to bypass 250k ETH.
Somnium Space recorded its highest daily trade volume (10.0 ETH) in over 4 months.
ETH price held its yearly gains — +1.1% (7D).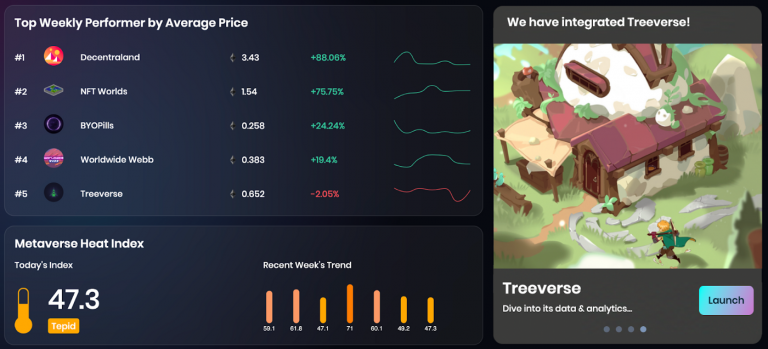 Highlight: NFT Worlds
Renewed hype around NFT Worlds is impacting its economy, in the past 7 days alone recording its top sale (3.8 ETH), highest daily trading volume (130 ETH), highest daily sales count (68) and most daily unique traders (173) in 6 months!
Weekly volume soared 754% to 321 ETH, to rank 2nd on OneLand's Meta Rankings ahead of Decentraland (+95%) and The Sandbox. Plus, NFT Worlds' in-game currency $WRLD2.0 rocketed 113% (up 260% since Jan 1).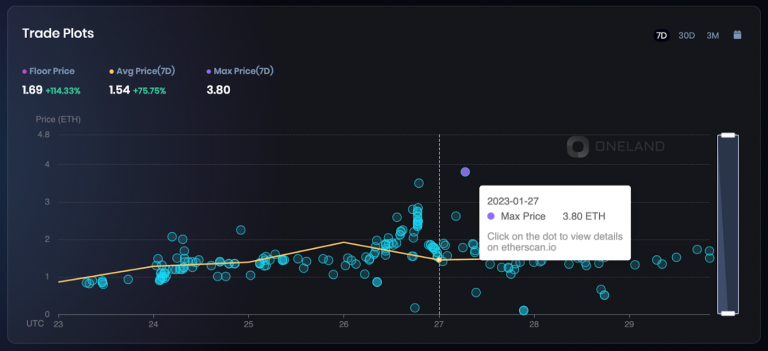 Besides, holder numbers fell by 30 as diamond hands continue to consolidate. Twitter Space listener numbers are on the up, from several hundred over recent months to hit 1.7k in the most recent Weekly WRLD.
***
For explanations of our data calculations, check https://docs.oneland.world.
Join us Tuesdays at 5am UTC (that's Paris 6am, Beijing 1pm, Sydney 4pm) for a Metaverse Data Dive. In the process, we'll show you how easy it is to navigate oneland.world and hone in on the data you want.
For comprehensive market and Metaverse project data, find out more on oneland.world and follow the latest updates on Twitter.
Source NFT Plazas