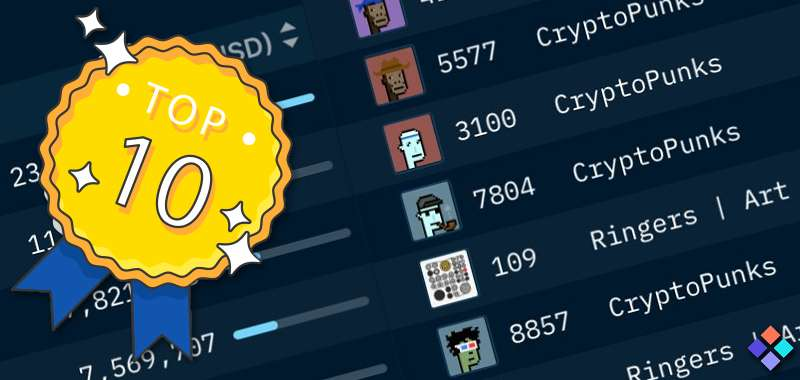 As the end of the year fast approaches, let's have some fun and look at the 10 most expensive NFT collectibles ever sold, as revealed by data analytics firm, Nansen. A great majority on this list are CryptoPunks NFTs, which fall under the Yuga Labs umbrella, with several other contenders in the mix as well.
CryptoPunks #5822 – $23.7 million
This NFT sold for a staggering $23.7 million. At the time of purchase (February 2022), it set a record as the biggest NFT collectibles purchase, recently earning it a worthy position in the latest Guinness Book of Records.
CryptoPunks #4156 – $10 + million
This highly sought-after NFT had some controversy around its sale and ownership. The holder had a disagreement with the founders of CryptoPunks, Larva Labs, over the copyright restrictions on ownership.
CryptoPunks #5577 $7+ million
It hasn't been confirmed but it's suspected that the founder of Compound DeFi protocol, Robert Leshner, purchased this cowboy-in-hat NFT back in February.
CrpytoPunks#3100 – $7.5 million
Sold in March 2021 for $7.58 million, this headband-wearing alien CryptoPunks NFT also sold 1 time prior. That first sale happened in July 2017.
CryptoPunks #7804 – $7.5 million
Sold for a whopping $7.5 million this CryptoPunk NFT adorns a forward-facing cap, small shades, and a pipe.
NFTs sold for less than $7 million
Ringers #109 – $6.93 million
With a $6.93 million price tag Ringers #109 set a record for the highest NFT sale from the Art Blocks curated collection created by Dmitri Cherniak.
CrpytoPunks#8857 – $6.6 million
Sporting 3-D glasses and wild hair, this NFT sold for $6.6 million in September 2021.
Ringers #879 – $5.9 million
Another Dmitri Cherniak NFT curated by Art Blocks and affectionately known as the 'goose ringer' sold in August 2021 for just short of $6 million.
CrpytoPunks#5217 – $5.4 million
In July 2021, this CryptoPunks NFT went for $5.4 million. Not much is known about the buyer.
CrpytoPunks#7252 – $5.3 million
This CryptoPunks NFT dons an earring, chinstrap, and 'crazy' hair. It sold in Aug of 2021 for $5.33M to a VC company called Dragonfly.
Earlier in the year, we also shared the 10 most expensive NFTs sold to date. Like this list, that one also featured top digital artists and exclusive NFTs. Let's see what next year has to hold and if any of these records will be shattered. Exciting times ahead!
Source NFT Plazas