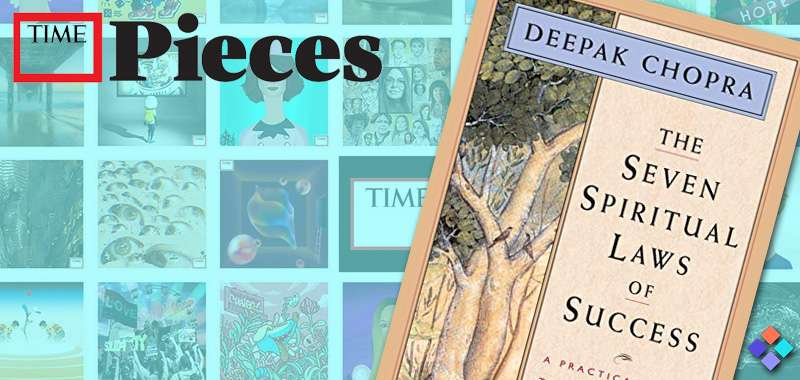 TIMEPieces has partnered with best-selling author, Deepak Chopra, for an all-new NFT collection. An exclusive set of limited edition artwork scheduled to arrive January 2023.
Who's involved in this collaboration?
TIMEPieces, the Web3 arm of TIME magazine, has partnered with the Seva.Love Metaverse. Deepak Chopra co-founded the platform with the mission to promote "wellbeing through the metaverse and beyond." Chopra found fame as a multi-bestselling author and world-renowned pioneer in integrative medicine. The collection will commemorate Chopra's bestselling book, The Seven Spiritual Laws of Success reaching its 25th anniversary year.
TIMEPieces x Deepak Chopra: The Seven Collection features 73 NFT artists from various backgrounds.
What's in the collection?
Unique book cover art for the NFT book The Seven Spiritual Laws of Success. The NFT book is based on the original bestseller.
New book content from Chopra.
Access to 3D sculptures and 3D environments by Artifex.
Additionally, TIMEPieces will allocate 1% of primary sales to NeverAlone Mental Health Initiative. Deepak Chopra chairs the project which supports mental well-being programs in the Web3 space. As a result, this collaboration will positively impact multiple segments and Web3 communities.\
Also, it's worth noting that TIMEPieces' partnering with Deepak Chopra for this NFT collection is not their only collaboration of this scale. In November, 2021, it teamed up with the Photography NFT group FOTO. As a result of the collaboration, FOTO artwork pieces are integrated into the TIMEPieces ecosystem. Now, this current collaboration expands TIMEPieces foray into the Web3 art space.
"TIMEPieces is thrilled to commemorate the 25th anniversary of Deepak's book in web3 with this new collection. We look forward to sharing his current take on the spiritual laws of success and the visual interpretations of more than 70 incredible artists with a whole new generation," – Maya Draisin – Chief Brand Officer, TIME.
In summary, this is a spectacular collaboration and a stellar representation of what's possible in the expanding Web3 space.
Source NFT Plazas