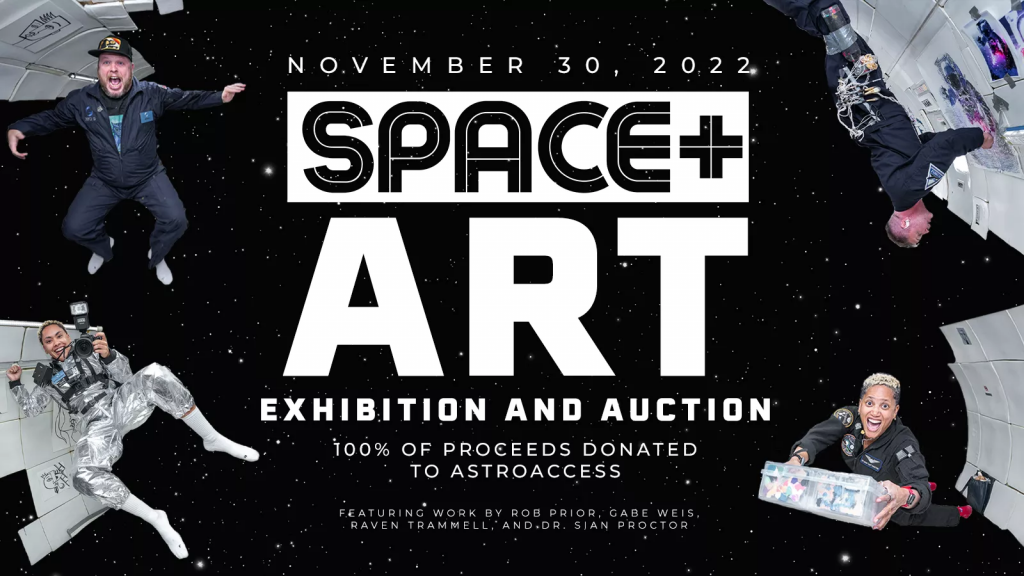 Uplift Aerospace Holds Exclusive Space+Art Auction to Raise Funds for Non-Profit AstroAccess
Uplift Aerospace (NRP Stone – Symbol: NRPI) is honoured to announce that they will be holding the Space+Art Auction during Art Basel to raise funds for AstroAccess on November 30, 2022 at The Powerhouse Miami. Uplift's private space program, Space+, will be exhibiting and auctioning unique artworks created in microgravity by top artists and in collaboration with astronaut trainees during the Space+5 commercial astronaut training program.
During the Space+5 mission, Rob Prior, Gabe Weis, Raven Trammell, and Dr. Sian Proctor participated in commercial astronaut training to create artwork that will be auctioned at Art Basel and donated to AstroAccess as the official philanthropic beneficiary of the Space+5 mission, with all of the proceeds going to support their mission of increasing disability inclusion in space.
The first phase of the Space+5 training took place on October 23rd when the crew flew on a ZeroG flight at NASA's Kennedy Space Center in Cape Canaveral, Florida. The five Space+ astronaut candidates flew in microgravity with commercial astronaut and artist Dr. Sian Proctor, artist and producer Rob Prior, mixed-media and NFT artist Gabe Weis, and photographer Raven Trammel. The flight's objectives were to explore art creation in microgravity environments as well as to prepare the astronaut candidates for moving and working in a weightless environment and gathering scientific data for human health and fitness.
From November 18-21 this year, the Space+5 completed a world first commercial astronaut training including individuals with disabilities at the University of Arizona's Biosphere 2 in Tucson, Arizona with three AstroAccess ambassadors: Sheila Xu, Eric Shear, and Mary Cooper. Both Sheila and Eric are members of the deaf community and Mary is a below-the-knee amputee. The crew and AstroAccess ambassadors collaborated with artist and astronaut Dr. Sian Proctor to create four unique paintings during crew teamwork training. This second phase of the Space+5 commercial astronaut program was held in collaboration with the Center for Human Space Exploration at the Biosphere 2, and included spacesuit operations, fire safety, and spacecraft egress over water training procedures for all participants.
CL7
The legendary CL7 is a private and secretive art dealer in the physical world who bridges the physical to the digital by developing his visions into digital art work for the strong communities of NFTs. He is a premier collector with over 5,000 NFTs on Nifty Gateway, and he holds some of the biggest grails in this space.
He is a specialist in French/Italian architectural antiquities from the 8th through the 12th century (the Medieval period) and the 15th century through the 18th century (Gothic, Renaissance, Louis XIII, Louis XIV, Louis XV, Regency, Louis XVI original/authentic periods) including modern arts (Art Nouveau and Art Deco from Place Stanislas in Nancy city, Lorraine, East of France, corner of Switzerland country).
He studied at private schools at The Louvre Museum and The Drouot-Richelieu in Paris over 2 decades ago. His family's business has a priority for high-end quality art and mid-long term excellent investments, including rare, unique and exquisite historical pieces.
CL7 is renovating a private museum in Lorraine, France, to bring exposure and authenticity to the NFT digital art world. The museum will consist of four floors including traditional, physical artworks and NFTs. The architectural foundation of the museum is a medieval structure built in 920-950AD, a historical part of the 700-person village where his lineage comes from.
Dr. Proctor is a geoscientist, explorer, space artist, and astronaut. She is the mission pilot for the Inspiration4 all-civilian orbital mission to space. She is also one of The Explorer's Club 50: Fifty People Changing the World. Her motto is called Space2inspire where she encourages people to use their unique, one-of-a-kind strengths, and passion to inspire those within their reach and beyond. She believes that we need to actively strive for a J.E.D.I. space: a just, equitable, diverse, and inclusive space as we advance human spaceflight.
She uses her afrofuturism space art to encourage conversations about women of color in the space industry. She's also an analog astronaut and has completed four analog missions including the all-female SENSORIA Mars 2020 mission at the Hawai'i Space Exploration Analog and Simulation (HI-SEAS) Habitat, the NASA funded 4-months Mars mission at HI-SEAS, a 2-weeks Mars mission at the Mars Desert Research Station (MDRS), and a 2-weeks Moon mission in the LunAres Habitat. She believes that when we solve for space, we also solve issues on Earth.
Drawing on his numerous skills as an illustrator, screenwriter, storyboard artist and more, Rob Prior's career spans over thirty years of gaming, comics, film, and television. Recognized as one of the top intellectual property creators by his peers, Rob is known for creating incredibly detailed worlds, characters and stories that enthrall audiences and captivate imaginations in both his pop art and fine art creations.
A staple of the comic con scene, it's easy to find Rob — look for the big crowd watching a possessed man paint with both hands, often with his eyes closed. Rob's art has traveled far and wide, and his works have been exhibited in museums and galleries across the U. S., Europe and Asia. His live painting sessions are a mesmerizing combination of art, entertainment, and excitement, and he's painted for audiences of hundreds and of thousands.
As a comic book artist, Rob has worked with Marvel, D. C., Todd McFarlane, Kevin Eastman and Image Comics, to name a few, with his most notable credits on Star Wars: the Force Awakens, Terminator, Deep Space 9, Game of Thrones and Heavy Metal. As a leading storyboard artist, he has provided storyboards for advertising campaigns such as Budweiser and Nikon, as well as for the gaming industry, for Titlist, 2K Games, and Buffy the Vampire Slayer. Rob also created all the storyboards and animatics for the video games Ghost Rider and The Darkness. Rob's illustrations have appeared as cover art and interior art material for Steve Jackson Games, TSR (Dungeons and Dragons), Wizards of The Coast, Battle of The Lords of The 23rd Century, and many others.
Gabe Weis is a mixed-media and NFT artist living in the Bay Area. The self-taught artist is inspired by urban art and stoic philosophy and uses a stream-of-consciousness approach to his work to explore perceptions of reality.
His physical and digital works are shown internationally. This past year, his work has been shown at the Venice Biennale, Picasso Museum, Seattle Art Fair, and various galleries throughout Asia and the United States.
Raven Trammell aka Raven50mm is a Social Documentary Photographer, photojournalist, and community builder. He captures living moments of real-life people, places, historical events, and even some of the top hip hop artists in the world through a heavy archive of concert photography.
Raven's photography career started at the age of 9 when he purchased his first film camera from a garage sale and started shooting in his hometown of Holland, Michigan. While mainly self-taught; Raven was able to study photography in depth during college which led him to be hired as the school's photo documentarian for various campus events. This role was the catalyst in developing Raven's natural style of photography.
Raven has been minting his photography as NFTs since February 2021. Within his first year of NFTs, Raven has sold over 100 photography NFTs, donated thousands to the Los Angeles community, and founded the 50mm Collective.
Seeing early success with selling out the first pieces of his collection, PRAYING FOR CHANGE. He went on to explore the possibilities of fusing web3 and social change and what that would look like within the Los Angeles community. His following collection, HUSSLE AND MOTIVATE sold out in 12 hours and provided a 20% donation of total primary sales to Crete Academy, a school in South LA dedicated to serving students experiencing homelessness and poverty.
As an early pioneer in the web3 space, he feels a direct responsibility to ensure diverse representation becomes the forefront of web3. Raven's current photography projects are focused on exploring themes of transition and self-portraiture within his own life experiences. As well as video documentation of the extreme nature of motorcycle life in Los Angeles.
ABOUT UPLIFT AEROSPACE
Uplift Aerospace, Inc. is an emerging leader in the rapidly transforming space industry, pioneering revolutionary systems to manufacture, trade, and deliver products for a multiplanetary economy. 
MEDIA CONTACT: [email protected]
US OTC Symbol: NRPI; CUSIP: 62940J200. For the latest updates, visit upliftaerospace.com and follow @upliftaerospace on Facebook, Instagram, and Twitter.
Disclosures and Caution Concerning Forward-Looking Statements: This release contains forward-looking statements, which are made pursuant to the safe harbor provisions of the Private Securities Litigation Reform Act of 1995. Expressions of future goals and similar expressions reflecting something other than historical fact are intended to identify forward-looking statements, but are not the exclusive means of identifying such statements. These forward-looking statements involve a number of risks and uncertainties, including the timely development and market acceptance of products and technologies, economic and market factors, successful integration of acquisitions, the ability to secure additional sources of financing, the ability to reduce operating expenses and other factors. The actual results that the company achieves may differ materially from any forward-looking statements due to such risks and uncertainties. The Company, its management, or affiliates, undertakes no obligation to revise or update any forward-looking statements in order to reflect events or circumstances that may arise after the date of this release.
Source NFT CULTURE