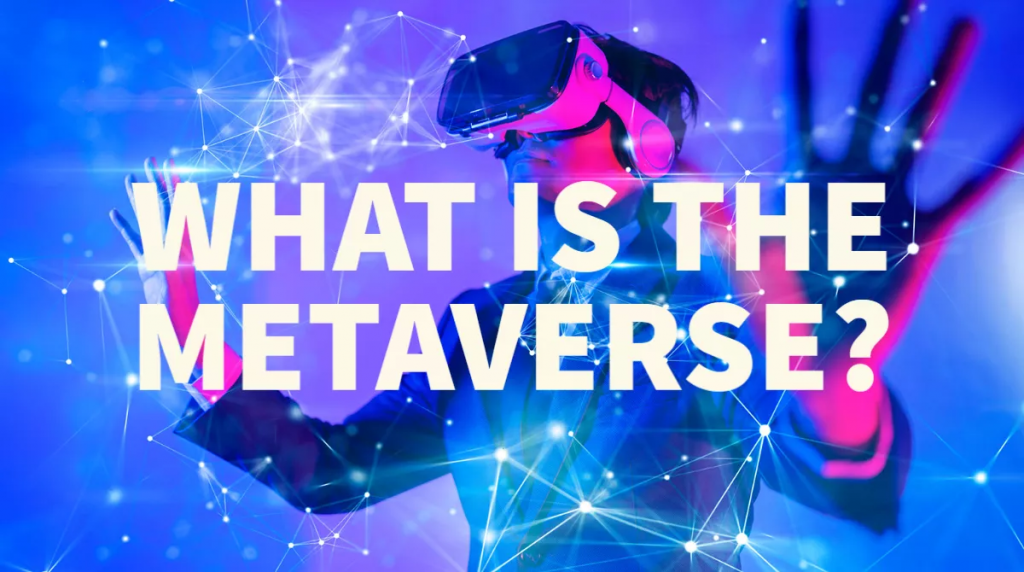 Before we start talking about Mataverse lets check metaverse nft meaning. The term 'metaverse' is a combination of 'meta' and 'universe.' It's mostly used to allude to Web 3.0, a much-anticipated future incarnation of the internet. Online 3-D or virtually integrated settings that give users virtual reality and augmented reality experiences are projected to grow in popularity as the internet evolves.
What Is The Metaverse?
Both existing and future integrated digital systems centered on virtual and augmented reality are referred to as the metaverse. It is widely regarded as the internet's next frontier, with the IT industry and other industries seeing it as a huge economic and financial potential.
Devices such as VR headsets, virtual glasses, cellphones, and other gadgets will enable users access to 3-D virtual or augmented reality environments where they can connect with people, work, make deals, visit remote places, and access opportunities for education, all in an environment mediated by technology in innovative and enveloping ways.
The metaverse is not limited to a single form of experience. Instead, it refers to a series of enveloping virtual experiences that will be accessible to users in the future, allowing them to engage in a variety of diverse activities in entirely digital environments.
The metaverse is thus not a single digital world, but a collection of digital spaces and experiences that are now being developed by companies in order to provide more realistic and immersive digital experiences. The technology offers a wide range of possible applications. They are ranging from augmented reality collaboration platforms that might improve cooperation and integration to work productivity systems for remote teams.
Some parts of the metaverse are currently implemented into internet-enabled video games like Second Life, Minecraft, and Fortnite. These games provide rich social and virtual experiences with a persistent virtual environment in which users from all over the world can participate at the same time. While not identical to virtual reality, the metaverse will provide more virtual reality experiences.
Many social media and internet corporations, like Meta Platforms (previously Facebook) and Microsoft, are significantly investing in Social VR with the purpose of building platforms where individuals can interact socially or work remotely via Microsoft Teams.
How Is The Metaverse Used Today?
Facebook stated in Fall 2021 that it will change its name to Meta Platforms and spend extensively on developing metaverse experiences. It will do so by utilizing its current ownership of Oculus, a virtual reality hardware business. Immersive virtual reality experiences, according to Meta Platforms, are the way people will connect on social media in the future. Meta's concept, on the other hand, is speculative and would rely on technology and server capacity that does not yet exist.
Meanwhile, Microsoft (MSFT) is focusing on adapting existing technology for the metaverse. They offer a mixed reality technology called Mesh that allows users to view augmented reality surroundings without having to acquire a virtual reality headset via their computer or smartphone.
Roblox (RBLX) is a company that creates integrated virtual experiences for gamers. Roblox is an online platform where users may play digital games. It is presently targeted toward teenagers, while adult gaming is one of the company's goals for the next period.
Nvidia Corp (NVDA) is another company working on metaverse projects. It is developing an Omniverse platform that can link 3D virtual worlds in a shared environment and is now being used to create simulations of buildings and industries.
Nike (NKE) is also pursuing a metaverse strategy by registering digital trademarks for its primary emblems in order to create virtual Nike footwear and apparel. Also, they are launching Nikeland on the Roblox platform, where gamers can play sports games.
The Metaverse Potential in Future
Many companies will be developing the architectures, software, and hardware that will power the metaverse version of Web 3.0, hence the metaverse is predicted to revolutionize the IT industry. However, because the metaverse proposes to change things as simple as how consumers buy groceries, navigate around a city, tour an apartment, and engage with businesses and advertisements as a consumer, it will also affect companies beyond the technological arena.
Many businesses can disrupt industries by providing more effective and useful methods to accomplish things like teaching students or workers, providing services, promoting, and communicating with friends or colleagues via the metaverse. Companies that can effectively implement virtual and augmented reality will certainly perform well and generate profits for their shareholders. Not all metaverse visions, however, will be successful or theoretically feasible, and some may encounter obstacles such as a lack of user interest, privacy rules, security issues, economic inefficiencies, or unpredictable mental health ramifications.
Outside of virtual economies in gaming, where game corporations often design their own tokens and currencies, the link between cryptocurrency and the metaverse is unclear. There are currently no crypto players who are set to capture market share in the metaverse or who have a clear strategy for how to capitalize on the Web 3.0 transition. Furthermore, legislative changes affecting the cryptocurrency industry are still in the works, which might have a substantial influence on the growth of the metaverse cryptocurrency market. In order to use metaverse, you need crypto and you can get crypto
Conclusion
While the metaverse is generating a lot of buzzes, most of it appears to be generated by the hype put out by IT and social media corporations. It remains to be seen whether any company's concept for the metaverse will be technologically feasible or achieve market share.
Source NFT CULTURE