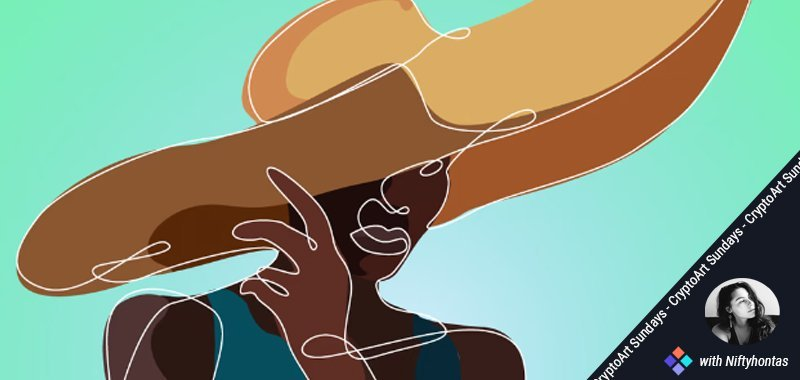 Welcome to another epic round of CryptoArt Sundays! I'm so excited to introduce you to Ace Wilborne, an extremely talented artist with the most stunning artworks and style!
Her iconic Iya Oba (Queen Mother) hand-drawn artworks depict the beauty of black women and African culture, with the emphasis on women empowerment, culture and inclusivity. Not only is Ace a full time graphic designer and creator, but since joining the NFT space she has also taught herself Solidity Smart Contract writing, building minting dApps (websites) both from scratch and using WordPress, and developed a PFP project from start to finish.
So, let's find out more about her journey in the web3 scene, and what she thinks about the future of NFT art!
How did you find out about the NFT space, and what attracted you to create your own NFTs?
In my artistic journey I have always been looking for ways to bring my art in front of an audience. Starting in the art scene, it can be quite difficult to discover your niche and especially WHERE to find your audience.
My interest for NFTs began when I was scrolling through Facebook and saw that a friend of mine shared an article where someone in my hometown sold an art piece for a huge amount of money. What got my interest was not the amount of money, it was that he sold his piece as an NFT for a certain amount of ETH.
So I began researching NFTs. Luckily I have been saving up some crypto, especially BTC, so it wasn't hard understanding the connection with Ethereum. I stumbled upon platforms like OpenSea, Foundation, Mintable and Rarible and experimented with them so find out which was the cheapest to mint my first works on.
How often do you create?
I create EVERY DAY, not particularly for this collection. But creating is my job, literally. I am a Graphic Designer at an Online Marketing agency, and I studied Graphic Design at Willem de Kooning Art Academy in The Netherlands.
What is your creative process?
Before I start creating I look up inspiration since I like to base my art on real life things. Though some of mine is pure fiction, I do like to use real life references. I then start sketching and then scan and complete the piece digitally. I almost never stop to take a step back and review my work until I think it's done, because I'm afraid I might get too perfectionistic about it and change things.
Are there any CryptoArtists you would love to collaborate with?
Definitely! I have been in contact with a bunch of different artists on Twitter. I never managed to successfully collaborate with any of them, since I did not think it would be in my schedule back then. But I am always open to pick that back up.
What do you think the future of CryptoArt will look like?
Even though a lot of people in the web3/NFT space predict that it might die out, I feel like it's only the start for new/upcoming artists. I came into the scene when CryptoArt was already hot, I experienced both the bull and bear market, and currently witnessing it gaining more attention as we go! Selling my art as CryptoArt allowed me to earn from it for the first time as an independent artist. The market has been unstable for a while, but that goes for everything that is new.
What are you currently working on?
I am currently exploring new styles that still fit within my artistic identity. I just recently dropped four separate edition pieces on OpenSea in a collection called "Dohmen". I feel like I'm still finding myself as an artist and there's new ideas going through my head every day. Other than that I'm just taking it easy with pushing myself to create a new piece to sell, since college requests my attention but I also experienced a burnout during the bull market in NFTs earlier this year.
Where can collectors find your work?
My work is available on both OpenSea and Foundation.
Source NFT Plazas