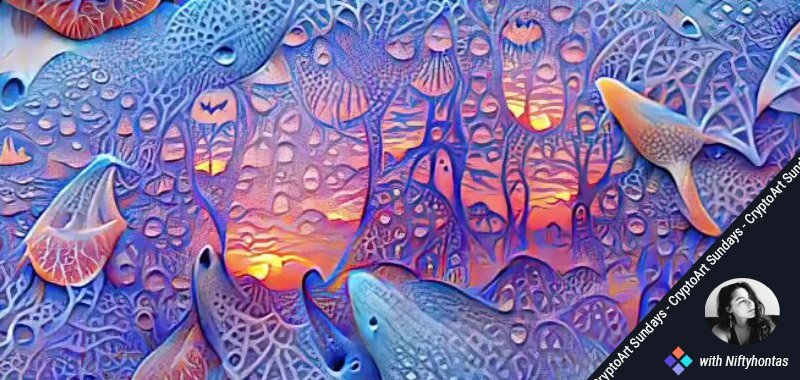 It's time for a cup of coffee and CryptoArt Sundays! Meet Drew Medina, a AAA game developer for over 24 years and a leading AI artist.
Born in New York City, Medina studied Film and Animation in Philadelphia, and then became a full-time game developer. No doubt that his weird, intricate and obscure creations capture the viewer's imagination right away. You can tell there are no boundaries to his creativity, and he was born with that spark of artistry!
So let's find out more in our interview below about his journey in the NFT world thus far! I highly recommend you check out his living, moving and animated creations on Foundation.
How did you find out about the NFT space, and what attracted you to create your own NFTs?
I was researching the GPU shortage situation, which lead me to learning about crypto and ETH mining. Right at the same time I happened to be searching for AI tools for holographic art creation. I guess I stumbled into how artists were using AI for real art, much more than depth maps and other process-related uses I was looking for. I fell in love with the art and started following the artists and noticed they were also NFT artists.
How often do you create?
I opened an AI notebook, triggering a new obsession. I have always tried to create something everyday for the last 30 years, finding AI has supercharged that as well as having a community to share it with.
What is your creative process?
My process involves using my own art, photos and drawings as an "init" image that evolves into something special that I describe using text. I also create using purely text, which is much more challenging to control but can give wild results. Both require lots of iteration and throw away work.
Are there any CryptoArtists you would love to collaborate with?
One day I would love to collaborate with musicians, the emotional possibilities get me excited!
What are you currently working on?
I'm currently creating AI animated "zooms" and video style transfer AI art and holography.
Where can collectors find your work?
Please check out my website for links to my NFTs and background info on me as a digital artist and game developer.
Source NFT Plazas