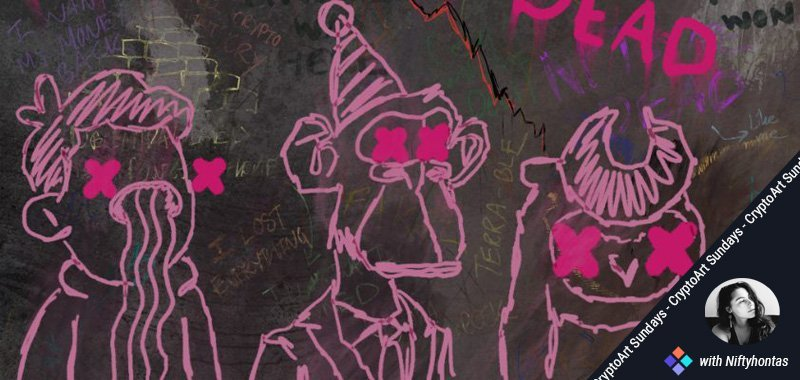 Happy Sunday folks, it's time for another round of CryptoArt Sundays! This week I'm excited to introduce you to the wonderful art of MJ Fellow Actuary aka Michael Jordan.
Miachel describes himself as a 'meta artist' who uses a variety of styles to express the idea that beauty comes in many different forms. He started exploring the blockchain for art in 2017, but has always been a doodler at heart.
He even has a YouTube channel with over 30k followers. The channel is dedicated to teaching people about Actuarial Science, as he is a Chartered Enterprise Risk Actuary and also a Fellow of the Actuarial Society of South Africa.
Now let's dive in and find out more about his NFT art journey!
How did you find out about the NFT space, and what attracted you to create your own NFTs?
So I first heard about NFTs back in 2017 when someone in our Bitcoin group told us about CryptoKittens! I was also making art at the time and I remember the one gallery asked me how I could prove that my printed digital pieces would be a true 1/1 and that I wouldn't reprint them over and over again.
I told him I'm sure I can use the blockchain. I went online and there was a site called Ascribe that did just that, unfortunately it wasn't very popular and it closed. This was towards the end of 2018. Then when Covid hit one year later, I knew I wasn't going to be able to exhibit physically and so I applied to join SuperRare, I merely did it to exhibit, I never thought I'd actually sell a piece. And then wow, its been a crazy ride with over $100k in sales.
How often do you create?
I create as often as I can, sometimes I just can't and other times I can't stop. When that spirit of creativity comes, you need to let it do its thing and not interrupt it, even it means missing a few deadlines in other areas of life.
What is your creative process?
My creative process is to go with the flow, I know that sounds cliché but I try not force anything and rather let the piece emerge naturally rather than trying to control each step of the process.
Are there any CryptoArtists you would love to collaborate with?
Fortunately I've been able to collaborate with many artists, we did a piece called the NFT Community that had over 150 CryptoArtists participate, it's still my highest selling piece. I'd love to collaborate with Coldie and I don't think anyone would say no to a collaboration with XCopy!
What do you think the future of CryptoArt will look like?
I think the future of CryptoArt is the future of art, I think NFTs will become the industry standard, even for physical pieces because of the anti-fraud and other logistic benefits of NFTs.
What are you currently working on?
I'm currently working on a piece where a man looks into a mirror but his reflection is blindfolded.
Where can collectors find your work?
Collectors can find my work on SuperRare where my username is the same as my education YouTube Channel – MJ the Fellow Actuary.
Source NFT Plazas