NFT events are broken. This fact shouldn't be news to anyone within Web3. While the vast community of creators and builders have flourished in curating offshoot activations surrounding NFT.NYC and the like, the conferences and conventions themselves continue to fall short.
Of course, there are exceptions. When the NFT community itself is the planner of such NFT conventions (like VeeCon, The Gateway, etc.), Web3 rejoices. Perhaps this is because those in Web3 know what their peers want to see, feel, and experience. In contrast, many popular NFT conventions seem to be a predatory echo of Web2 in Web3 clothing.
So why do we continue to populate these conventional conferences and use them as a home base? Why doesn't the NFT space go its own way? This is the attitude of many within the community, perhaps most notably, the enigmatic artist known as Trippy. Through Trippy Labs, a multidisciplinary Web3 creative studio, the anonymous creator aims to make Web3 events more, well, Web3. How? By producing experiences that are made by and for the NFT space.
Beyond Basel
During the 2022 iteration of Art Basel Miami Beach, the who's who of Web3 assembled at the tip of The Sunshine State to celebrate the past year's feats and look toward a decentralized future. While nft now x Mana Common's The Gateway sought to welcome the blockchain community to its five-day Web3 metropolis, on the other side of the city, Trippy Labs was curating a different vibe with Beyond Basel.
"With the state of the market, everything going on with FTX, and everyone questioning the state of NFTs and crypto in general, it was so important for us to pull off this event," Trippy said in an interview with nft now. "I feel like [nft now] really crushed it during the daytime, then as soon as [The Gateway] shut down, we started up."
Encompassing a full seven acres and featuring two outdoor stages and a 14,000-square-foot gallery, Beyond Basel set out to be the definitive Web3 festival. Packed with innovative visual art displays, gaming events coordinated by FaZe Clan, an interactive live voice-to-image AI booth, performances from influential electronic artists, and more, Beyond undoubtedly set the bar for what a dusk till dawn Web3 experience could (and perhaps should) be.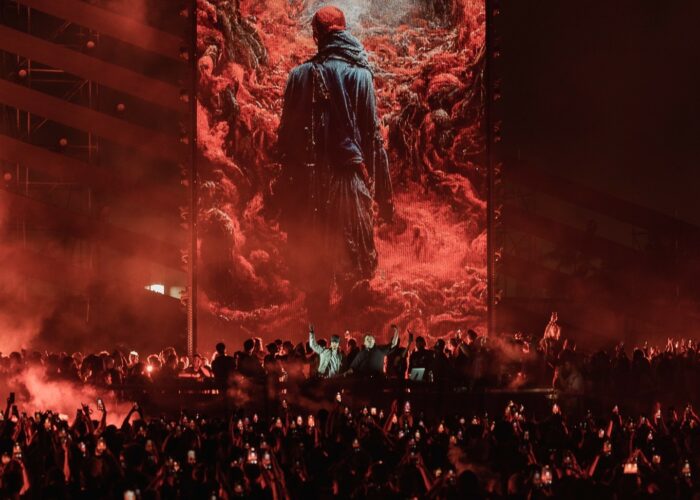 While the immersive art installations, cocktails, live music, and abundance of lasers screamed "party," when the three-day event was complete, it became even more apparent how important IRL Web3 experiences are to blockchain culture. If the true utility of NFT events is the benefit of face-to-face interconnectivity, then to have robust and successful IRL experiences, the Web3 community must be their architects.
"[At NFT events] I'm meeting people from the last year or two that I might have spent time with on Clubhouse or Twitter Spaces during the first wave of NFTs. But then I'm also commingling with a lot of artists from the past decade who I've maybe shared pieces from on Instagram or done a creative project with and just never met in real life," said Trippy. "I think that's one of the underlying goals of events like Beyond Basel — trying to weave as many different creatives and technologists and interesting minds together."
NFT events, created by Web3 communities
Contrary to popular belief (or the actions of bad actors), NFT events exist not to get wasted while speculating about which coins will moon next but for blockchain-based communities to meet and network in real life. This is precisely why Beyond Basel was marketed broadly as a networking event and celebration of art rather than a party with star-studded headliners. In addition to shaping public perception so NFT events can be communicated to their full potential, Trippy says the success of these activations comes down to having skin in the game.
"A lot of the success around events stems from longevity in the NFT space, constantly showing up in that scene, and trust," said Trippy. "I did the same event last year at the same venue with many of the same partners with not as big of a roster, but many of the same artists as well. So [event success] was kind of a continuation of both Trippy as a brand being developed on socials for almost a decade and Trippy Labs as a collective specifically showing up in the NFT space over the last couple of years."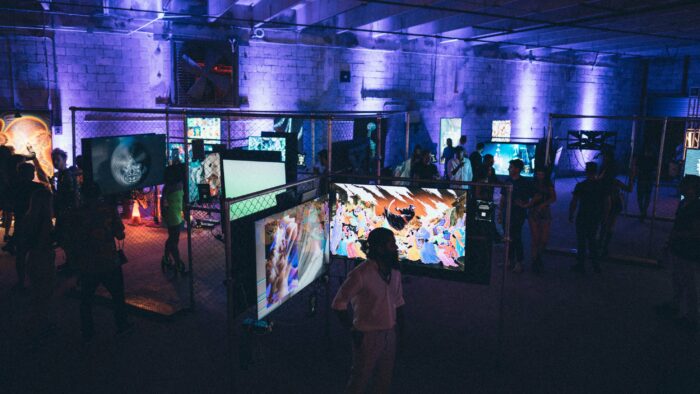 While a lasting presence is undoubtedly helpful in getting NFT events off the ground, a pattern emerges when we look at the successes and failures of these events over the past few years. And it's a pattern that depicts NFT events created and run by those within the NFT community as being the most successful, accessible, and by all accounts, enjoyable. On the other hand, NFT events created by corporations or out-of-touch organizations are shockingly expensive, confusing, and sometimes just downright laughable.
"Every time one of these conferences comes around, people realize more and more that these events should be giving money directly back to the NFT community," said Trippy. "If someone made a chart of things that funnel money out of the community, and people saw how much money some of these conferences pulled in, I think they would really not be happy about supporting them."
To reiterate: the fact that big-name NFT events are broken shouldn't be new to Web3 communities. But as for what can be done about them siphoning time (and money) out of the ecosystem, according to Trippy, it really is all a matter of community action. "That model definitely has to change. If a bunch of us can align more on events, like, 'Oh, here's a few of us that have thrown events around the conferences. Can we all come together and kind of change up the calendar in upcoming years?' I think that will happen as time allows."
Source NFT Now