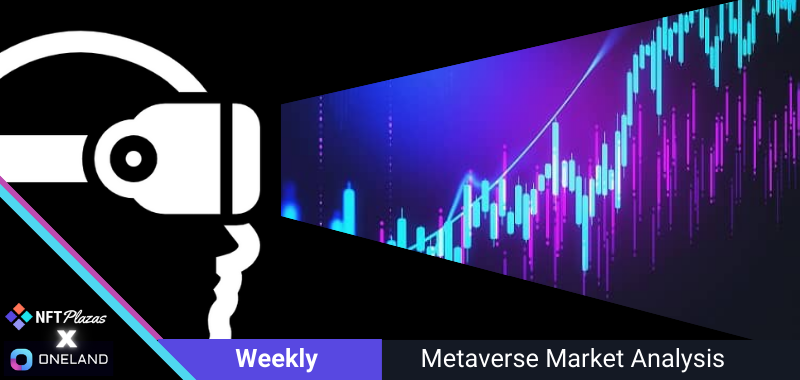 Welcome to Metaverse Market Analysis! Every Monday we bring you the latest stats and data on the overall state of the Metaverse market. This column is in partnership with the incredible team from OneLand, a financial platform for virtual lands in the Metaverse.
Highlights:
Decentraland and Otherside pull VRE land caps to the downside.
Cheaper land prices invite renewed interest in OG projects Decentraland, The Sandbox, Somnium Space and Otherside.
Worldwide Webb has a sluggish October, but then gears up for big things as its Alpha game opens to the public on Halloween!
Read on, as we also break down October also for Voxels, NFTWorlds, BYOPills, Arcade Land & Treeverse.
Market Analysis
The Metaverse land market shrank through October, reversing the temporary upward trend of the previous month. OneLand 30-day data reveals that the combined land market cap of The Sandbox, Decentraland, Voxels, Somnium Space, WorldwideWebb, NFT Worlds, Otherside, BYOPills, Arcade Land and Treeverse ended the month down 11.4% at 903,418.87 ETH or approximately $1.42 billion.
Meta Rankings – October 2022
Top Sales (by Metaverse) – October 2022
Metaverse Tokens – October 2022
Metaverse Projects
The Sandbox
The Sandbox's 10-week Alpha Season 3 concluded Nov 1, and, as promised, we provide comparative data and analysis of the three Alpha Seasons to date.
Though elsewhere you may find analysis of the Seasons from a gaming, player and/or rewards earned perspective, here at OneLand, we break down the impact on the LANDs market.
Honing in on October, and we see that the market rejuvenation halted at the very same point that the price of ETH commenced its 21% rally from Oct 21–31. As the rejuvenation in LANDs cap (+9%) and average prices (+17.5%) petered out, trading activity remained fairly constant but was no match for that of September, rounding out the month down 40% and 48.5% respectively.
Decentraland
Decentraland's land cap declined 16% this month to 211,391 ETH, reversing its recent recovery and back to where it last sat in mid-September. Trading activity continued with the momentum of last month, volume up 50% MoM and sales 69%. Trading volume and sales have been picking up in the past couple months, as average prices (-11%) and market cap drop, and new investors pick up lands at cheap prices, leading to a rise in the number of unique holders (+0.5%).
Voxels
Voxels recorded slightly better land sales results in October, with volume recovering marginally (+10.3%) MoM following a 50% decrease last month. Though sales dove further to only 67, the average price of a parcel recovered 26.8%.
Voxels has been able to maintain a relatively stable land cap since July when it decided to put a pause on all marketing, partnerships and new land mints, and regardless of any fluctuations in the market or, more specifically, the price of ETH.
Somnium Space
Somnium Space kicked off its Quarternary Land Offering (QLO) on Oct 2. The QLO included, in addition to worlds, land parcels and estates, a catalog of exclusive NFT bikes, hover-bikes and avatars, all available for purchase and instant usability in the Metaverse.
The 4-week campaign led to a spike in sales numbers, but only on the low end, with the average price of a land parcel crashing 72%! Still, given current market conditions, 25 represents a large number of sales for the exclusive VR metaverse, while one may wonder if minting future lands on the cheaper side could represent a smarter strategy moving forward, as historically to date, parcel prices in Somnium Space have always tended to the expensive side — none of us will be holding our breaths though, while the market conditions look reasonably prime for a rebound.
Somnium Space rarely appears bothered by what the market says anyway, as its powers ahead with its vision to incorporate VR into the Metaverse and interoperably into the physical realm. In October, as usual, it was busy, methodically carrying out yet another planned series of activities, including an auction for the Czech National Theatre to support its recovering dancers, as well as representing itself among 4,500+ other companies and projects at the GITEX GLOBAL digital tech event in Dubai.
NFT Worlds
As noted in last month's report, things have been leveling out recently at NFT Worlds, the land market cap remaining stable, even as the price of ETH rallied 18%. Meanwhile, an integration with blockchain gaming API project MetaFab breathed some vitality back into the ecosystem, pushing prices to the upside.
Sales numbers (-38.2%) and average prices (+15.3%) picked up across the second half of the month, following the project clocking in on Oct 17 with a sale of 3.0 ETH, its highest in 2.5 months.
As reported in our last weekly wrap-up, with a Beta of its new game forecast to rear its head before the year is out, an upcoming Game Jam and some better marketing at play, we anticipate more positive market reaction for NFT Worlds as we head towards Christmas.
WorldwideWebb
Following a relatively stable August that brought hopes of a recovery, followed by a September in which these hopes were dashed, Worldwide Webb again saw falling trading volumes (-28%) and sales numbers (-30%) in October. Regardless, October may turn out a very positive month for the project — for a number of reasons.
Firstly, the average price of an Apartment edged its way upwards to round out the month at 0.516 ETH, up 4%, having just come off a yearly bottom of 0.43 ETH on Sep 30. A top sale of 2.45 ETH on Oct 25 (nothing to sing about, yet incredibly enough, its top sale in five months) offered some needed impetus and led to a small increase in market cap, even as the price of ETH rallied 18%. Unique holder numbers bottomed out on Oct 22, but quickly turned around and are on the way back up.
Besides, the team released an outstandingly cool cinematic trailer on Oct 9 to rave reviews, both from within the WorldwideWebb community and outside of it, portending some amazing things in the pipeline.
Besides, the slew of NFT integrations that have happened to date are about to make waves, as the team announced a public opening of a new-and-improved Alpha game on Oct 30 for Halloween, which runs into November (but no-one knows for how long!). As you read this, 2D pixelated versions of all of these avatars are roaming all over the Webb, which we highly recommend you check out.
Otherside
It was not a solid monthly performance in virtual land sales for Otherside. With its market domination no longer even a talking point these days, the land market cap of Otherdeeds still retreated further (-17.8%) this month to bottom out just above 400k ETH, after having flirted with 500k a month earlier.
Though sales were up 12%, volume reversed 25% MoM. A top sale of just 39.9 ETH represents a far cry from September, which recorded 13 sales all above this price. The average price of an Otherdeed fell 33% to end the month at only 3.01 ETH.
Otherdeed holders are always hanging out for any development, and when things are quiet, a hacking of the project's Twitter account will be big news, even if it only removed the project's name from its profile for a day. A more fitting talking point for the community was the launch of its first community-built mini-game Flappy Koda.
BYOPills
All major metrics turned to the negative side in October for BYOPills, with trading volume well down (-66.6%) MoM, and the market cap of BYOLands retreating further, down 13.7%. On the flip side, the project's launch of its 2D Pixel Apostles returned some vitality to the market — from Oct 16, there was a noticeable increase in the number of daily transfers.
Sales numbers recovered in the second half of the month, as October's third and fourth week's sales counts increased 285% and 63% respectively week-on-week.
Arcade Land
Arcade Land forged ahead with its efforts to build diverse communities in October, announcing three new collaborations — with Earn Guild, Souls of Meta and Horizon Land — that engage player communities, game development and a metaverse.
In its highest sale in nearly 3 months, a parcel sold for 11.79 ETH. That plus a 7.49 ETH land sale on Oct 12 were the two highest sales since early August, helped see some recovery in average price, up 16.4%. Nevertheless, land sales data for the month as a whole was not rosy, with volumes (-41.3%) and sales (-49.4%) down nearly by half MoM.
Looking forward, and Arcade Land announced that Land Sale details are set to be published in November, while the last week of October saw an encouraging increase in the number of Land holders, perhaps in anticipation of this event.
Meanwhile, the project will also be releasing its new website, while offering the community a first glimpse at some of its NFT assets. To view all the land sales information and data of Arcade Land and check the market reaction, don't forget you can find it all here.
Treeverse
It was a quiet month in trading of land plots in the Treeverse, with trading activity (-11.6%) and land cap (-1.35%) down for the month, and average prices steady. But we prefer to believe this to represent a relative period of tranquility prior to the event.
It is worth noting that an official announcement of Treeverse's Pre-Alpha is in the roadmap for Q4 2022, which we already one month into. At that time, they said they will publish its details, and distribute a form for Pre-Alpha. It is set to be a limited-access event, even incorporating an NDA, to test out the combat game loop and gain feedback on it.
Meanwhile, Treeverse's monthly report informed the community of a number of new player developments, including both a concept art and engineering update.
Source NFT Plazas