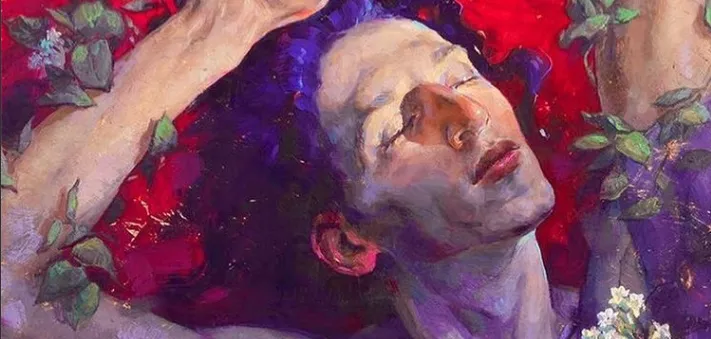 We asked her some questions to get an insight into her work: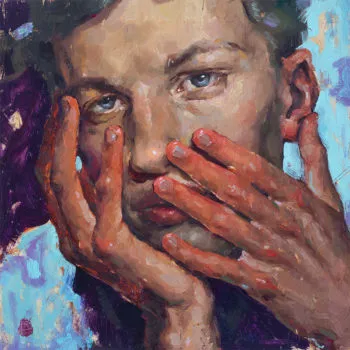 Tell us about yourself. What's your story? How did you become an artist?
My path as an artist began when I was around 27. I moved to Germany from Moscow, and this upheaval obviously gave me an impulse to paint, to do something that had been itching in my mind for a long time. I began to study painting techniques, made numerous copies and studies of great artists of the past and present. Before, like, two years ago when I finally have found my own voice (or at least started to explore it). Once in 2019, I discovered plywood panels, and since then it´s been my favorite material to paint on. This surface also changed my vision of color, texture. I should say, before that my brushstrokes were so hesitant and uncertain, colors were not vivid. But it all changed when I found my own voice and material that drives me crazy. I understood it immediately when after posting a few works in new style I got several messages from big galleries like Arcadia Gallery NYC or Bonnard Gallery NL. I guess it was a good sign.
Tell us about your art form? How is your artform unique with your signature style? What did you do to be able to be skilled in this style?
Have you made your art or has your art made you?
I paint with oils, and actually, it's a pretty traditional process. But since I´m a self-taught artist, I need to push my borders every day and learn something new constantly. This is my punishment and advantage at the same time. To make it clear – being a self-taught artist is hard because there are so many things in art you have to learn and figure out yourself, but at the same time you are not pushed into the framework of art education and therefore your brain works a bit more creatively. My main passion is colors and textures. Throughout these two years, I've been trying to find my way to capture that great human lure that cannot be told with words. Color is the power – that's how I would describe my signature style. Color has some kind of magical power over people. It excites and frightens, lures, and rejects. In my works, I want to convey this power – in every stroke, in every line. But if I were to pull my head out of the box with some pretty talking, I could simply say I paint in Contemporary Realism style.
Art definitely made me, helped me, and gave me chance to express myself and find myself. I remember the time before I started painting and it was pretty monochromic. I started to feel myself when I started to paint.
Tell us more about your journey as an artist? Did you face any obstacles? What were they? How did you overcome them?
I don't know why it took me so long to start painting. I can't help myself but think about what it would be like if I started, for example, at the age of 10, how different would it be now.
All my life I had been feeling that I had to express something, that this craving for art was always in me.
And now that I've finally found this passion for art I realized that the only obstacle I face is the time, or better to say it´s lack of time. I do have a main job that takes all my time and I have just a few hours a day or Sunday to go to my little cozy studio and paint. But I try to get what I can from this situation and use every spare minute I have. But I wish I could be a full-time artist one day and hope NFT will help me with that.
What made you become an NFT artist? How has it changed your life? What future do you see in the NFT space for your art?
As always, everything happened by pure chance. I came from a very traditional art world: galleries, art exhibitions, etc. A friend of mine (also a traditional artist) told me about NFT and blockchain. I didn´t understand a word but as a person deeply interested in new technologies and trends, I immediately fell in love with the concept. What impressed me the most was the responsiveness and solidarity of the NFT community: strangers were willing to help me, to share their knowledge, to teach about the important steps I had to take, and to sincerely support me when I began to doubt myself.
And now I´m not only a contemporary artist, but an NFT artist as well. Just transferring my oil paintings into NFTs at the beginning, I now create pieces specifically for NFT collections. For example, right now I'm working on a big project called "Decentralized Renaissance", paying tribute to the times of old and to the people creating history, as well as drawing a parallel with today's crypto world. The project is divided into several collections: these are hand-drawn artworks on wood that have been digitized and animated. Each piece hides symbols of the modern crypto world that intersects with historical facts and biographies.
What are your short-term and long-term goals with NFTs? Are you a full-time NFT artist or do you juggle between multiple projects?
My target is to create something significant and unique. Something that I can be totally proud of. Since I have a main job and it takes almost all my time it´s kind of difficult to dream about being a full-time artist. But I believe if I do my best I can achieve that level of artistic freedom.
Please tell us about the stories behind your work? What is the inspiration? What's your process?
My most powerful inspiration is people, their faces,  eyes, gestures. As well as the combination of colors in nature, the light falling on my sister's eyelashes,  beautiful thin fingers on the phone, an open ankle, veins on an arm. Traveling is one more source of inspiration,  people from other cultures, different smells and sounds.  Sometimes absolutely strange things can channel my vibe, and I immediately take photos of them for the future because you never know what will come out in handy. 
I adore people with a non-standard appearance, with unique beauty – the artist can spot such people in the crowd in a couple of seconds. These are people with expressive, explicit facial features or wonderfully deep and sad eyes. There is some kind of connection that is established and strengthened after I paint the portrait. I find a model on the street, in a cafe, on Instagram. Sometimes I can come out as a total creep, staring at a person, imagining writing his or her face, painting a nose with a beautiful hump, and adding a highlight to the edge of the pupil. Hope I don't make these people go paranoid.
As I mentioned before, my still-standing favorite is a  pressed wood panel. I sand them, grind them several times for durability, and remove deep cracks. The oil fits perfectly, and my attempts to destroy the board went well – the material still looked good after a fall from the  3rd floor. As for scenes and plots, it's all very simple –  either I look for an idea, or an idea finds me. In the first case, I think about the composition, look for images and color schemes. In the second case, I simply take inspiration from what I've seen and project my vision on the board. In both cases (and this is the coolest part), I  can never predict what will come out in the end. No matter how hard I try to plan, the creative wave always carries me away from the shore of rationality and logic.  The texture of the panel also plays an important role –  how the wood will interact with the pattern and color is impossible to predict. And I absolutely love it.
Source NFT Culture