There's no denying it: NFTs are fundamentally reshaping the digital economy, taking blockchain to unprecedented prominence in a new era of Web3. It all started with the first NFT ever created, called Quantum, which was minted by Kevin McCoy on Namecoin in 2014. But several other NFTs were launched on pre-Ethereum blockchains over the following years — for example, Spells of Genesis launched in 2015, and stands as the first-ever blockchain-based game. Rare Pepes came out in 2016 and helped kick off the first crypto art market.
However, these projects failed to reach widespread popularity. They remained mostly unknown to all but those who were well-versed in cryptocurrency and blockchain technologies.
For typical consumers, NFTs only began to gain mainstream momentum in 2017. Around this time, the first NFT collections were launched on the Ethereum blockchain. Previous blockchains made trading and transferring ownership impressively difficult. The Ethereum network and its smart contracts functionality enabled token creation, programming, storage, and trading built directly into the blockchain itself. These new features eased the onboarding process and increased access.
One of these earliest Ethereum projects was CryptoPunks, a collection launched by Larva Labs that has become synonymous with early NFT history. As a result, many of its individual pieces have sold for millions.
NFT interest soars
Prior to 2021, two catalysts arguably helped increase price points and speed public interest along. The first was the COVID-19 pandemic, which forced many people to be more digitally native and connect with each other on platforms like Twitter and Clubhouse, where the NFT community has built a strong presence.
The second was Beeple. The longtime artist turned into an NFT pioneer when he became the first creator to sell an NFT with a major auction house. When the Christie's auction for his "Everydays — The First 5000 Days" came to a close on March 11 at an eye-popping $69 million, NFTs could no longer be ignored.
The sale made headlines in papers around the world, and more sales soon followed. Edward Snowden's piece, Stay Free, sold for $5 million in April. In June, CryptoPunk #7523 sold for $11 million. In December, XCopy's "Right-click and Save As Guy" sold for $7 million.
While digital art and collectibles largely propelled 2021's boom, there are countless additional applications of NFT technology that also launched around this time and drew attention to the space. There are NFT-based virtual worlds, such as Decentraland and CryptoVoxels, and NFT-based blockchain games like Axie Infinity and Zed Run.
As adoption has increased, so have the sales volumes and price points. This led to an explosion of interest from companies and brands looking to launch their own NFT projects and capitalize on market growth. Companies like Coca-Cola and Taco Bell have created NFTs around popular food and beverage products. Other brands, like Hot Wheels and Adidas, have begun selling NFTs connected to their physical products. There are even reports of NFT collections by brands like Gucci selling for far more than the price of their flagship product!
The future of NFTs
Right now, NFTs are still in their infancy. With the possible applications of the technology seemingly limitless, it's anyone's guess where NFTs go from here.
It's been widely speculated that NFTs could play some role in the metaverse of the future, mainly by acting as a digital representation of the physical objects you possess. This could also happen with your digital avatar. If NFTs are used to represent items in a video game on a unified blockchain, items and skins can be moved between all games using that blockchain.
However, some skeptics argue that NFTs don't really have a future. Rather, they say they are merely a passing fad and may ultimately be relegated to a niche part of a larger market, similar to the trajectory with collectible card games and other vintage collectibles. What vision of the future is accurate? It's honestly hard to say. Given how young NFTs are at the moment, the only way to know for sure is to wait and see. Where NFTs stand now is likely to look vastly different within a short period.
A timeline of innovative and popular NFTs
In this section, we'll cover some of the most notable NFT projects to date. But be warned — this list is far from exhaustive. So be sure to check out our resources on historical NFTs for a more in-depth blast from the past.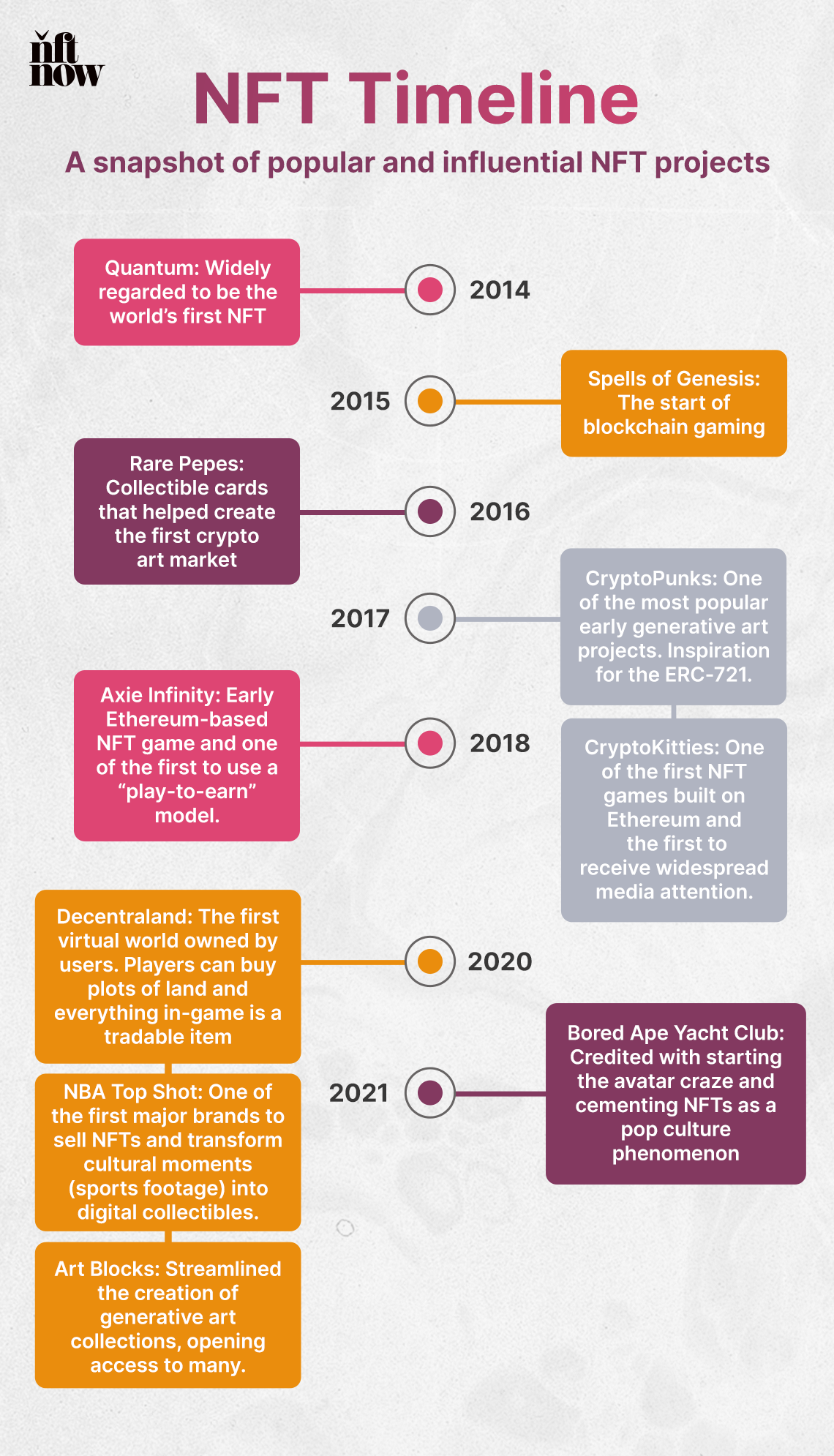 As noted, the world's first NFT was minted by Kevin McCoy on Namecoin in 2014. It's called "Quantum," and was sold in 2021 via Sotheby's for $1.47 million. This led to a subsequent lawsuit due to ownership disputes. Problems arose because McCoy originally minted "Quantum" on NameCoin, which is blockchain software modeled from Bitcoin's code. NameCoin registrations must be renewed regularly, but McCor failed to renew it in 2015.
Unfortunately, another party with the Twitter handle @EarlyNFT registered as the owner of the NFT ahead of McCoy's 2021 sale. The contents of the 2014 blockchain entry include the statement, "I assert title to the file at the URL http://static.mccoyspace.com/gifs/quantum.gif." And "Title transfers to whoever controls this blockchain entry." This seems to indicate that the Twitter user may, in fact, be the rightful owner — not McCoy.
However, given that NFTs are largely unregulated, it remains to be seen exactly how this will play out from a legal perspective.
FURTHER READING: Quantum: The Story Behind the First NFT and Its Controversial Sale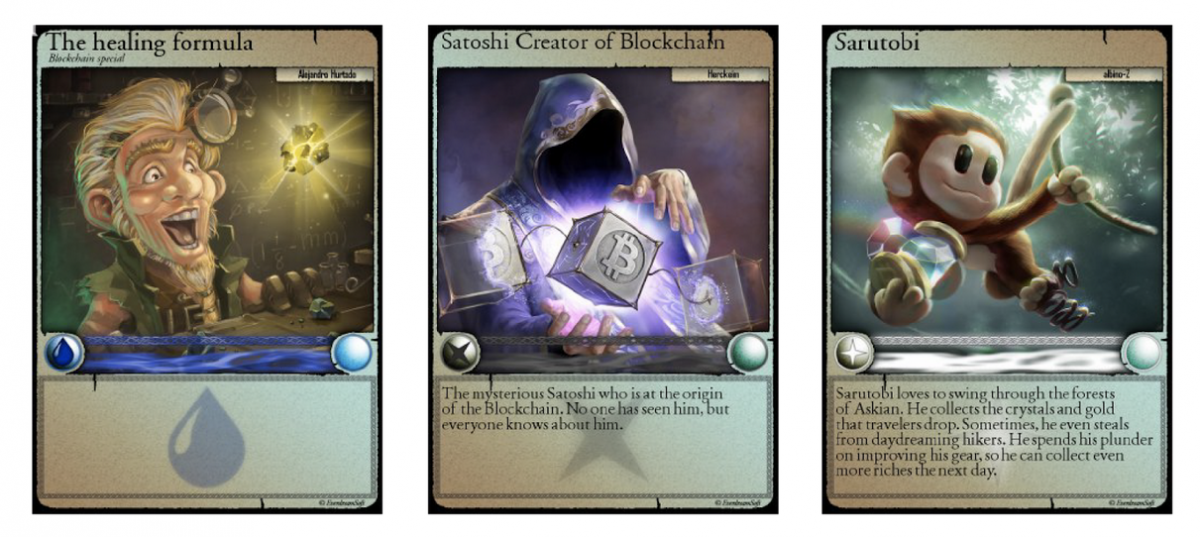 Spells of Genesis was created in 2015 by EverdreamSoft on top of Bitcoin. It's the very first blockchain trading card game. As such, it helped usher in a new era of gaming — one in which players have true ownership of their digital assets.
Each card contains a piece of art representing a historic moment in blockchain history. Players collect, trade, and combine cards to create a powerful deck. Once this is done, they can challenge various opponents.
FURTHER READING: 8 Dynamic NFT Card Games You Can Play Today
The Rare Pepes tokens are digital collectible cards that were minted by blockchain pioneers in 2016. The first Rare Pepes were mined in block 428,919 in September of 2016. They stand as one of the first art experiments on the blockchain, helping spawn the early crypto art movement.
The Rare Pepe Wallet was created by developer Joe Looney shortly after. It's a web-based, encrypted wallet that runs on Counterparty. It lets users trade and destroy their Rare Pepes.
The tokens were initially traded almost exclusively on Counterparty. However, after NFT sales started to skyrocket in 2021, some Rare Pepe owners used a software protocol called Emblem Vault to reconfigure their tokens to run on the Ethereum blockchain. Many of these were then listed and sold on OpenSea for hundreds of thousands of dollars.
Out of the nearly 1,800 cards issued across 36 series, the Series 1, Card 1 is the rarest and most valuable. It pays homage to Satoshi Nakamoto, the person or group that created Bitcoin. It's called the Nakamoto Card, and holding one (there are only 300 total) is the only way to gain entry into the 300 Club.
FURTHER READING: Rare Pepe Pioneer Joe Looney on Paving the Way for NFTs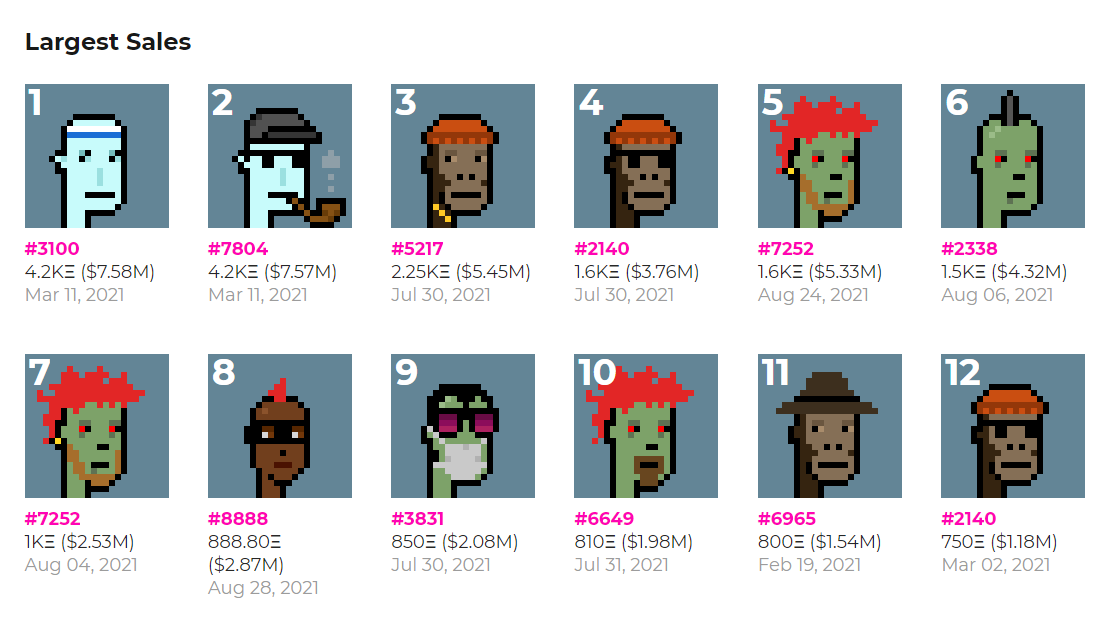 CryptoPunks first hit the market in 2017 and was launched by product studio Larva Labs. The project was one of the earliest NFT generative art collections ever launched, and it directly inspired the current crop of popular generative PFP projects, like Bored Ape Yacht Club. In this respect, it's one of the most influential NFT projects of all time.
Each Punk is algorithmically generated and entirely unique, with some characteristics rarer than others.
To date, CryptoPunks is still one of the most sought-after NFT collectibles, and any NFT from the collection is considered a rare and exclusive item in the community. The Punks themselves typically go for hundreds of thousands, with some trades easily climbing into the millions. And it's not just collectors that are after these valuable NFTs. Some companies, like Visa, have also purchased Punks in the past, which has further driven up scarcity and demand among NFT aficionados.
FURTHER READING: A Guide to CryptoPunks NFTs: Pricing, How to Buy, and More

CryptoKitties was created by Canadian studio Dapper Labs and launched in 2017. It's one of the first blockchain games to be built on Ethereum, and it was the first project to receive widespread media attention. It was also the inspiration for ERC-721, an open standard that describes how to build NFTs on Ethereum virtual machine (EVM) compatible blockchains.
CryptoKitties is a collectible game where players purchase, breed, and trade virtual cats. Each cat is assigned 12 unique traits, including fur patterns, accent colors, eye shape, and nose shape. The attributes have varying levels of rarity, and attributes are designed to be passed down through the breeding mechanics of the game. Each cat is 100% unique.
Of course, breeding your CryptoKitties isn't free. You'll need to spend ETH on the platform to trade and breed your cats. However, because you can effectively generate new assets via breeding and then sell that new NFT on the open market, the game comes with a unique appeal for many prospective gamers.
READ MORE: 12 Historical NFTs That Shaped the Foundation of Web3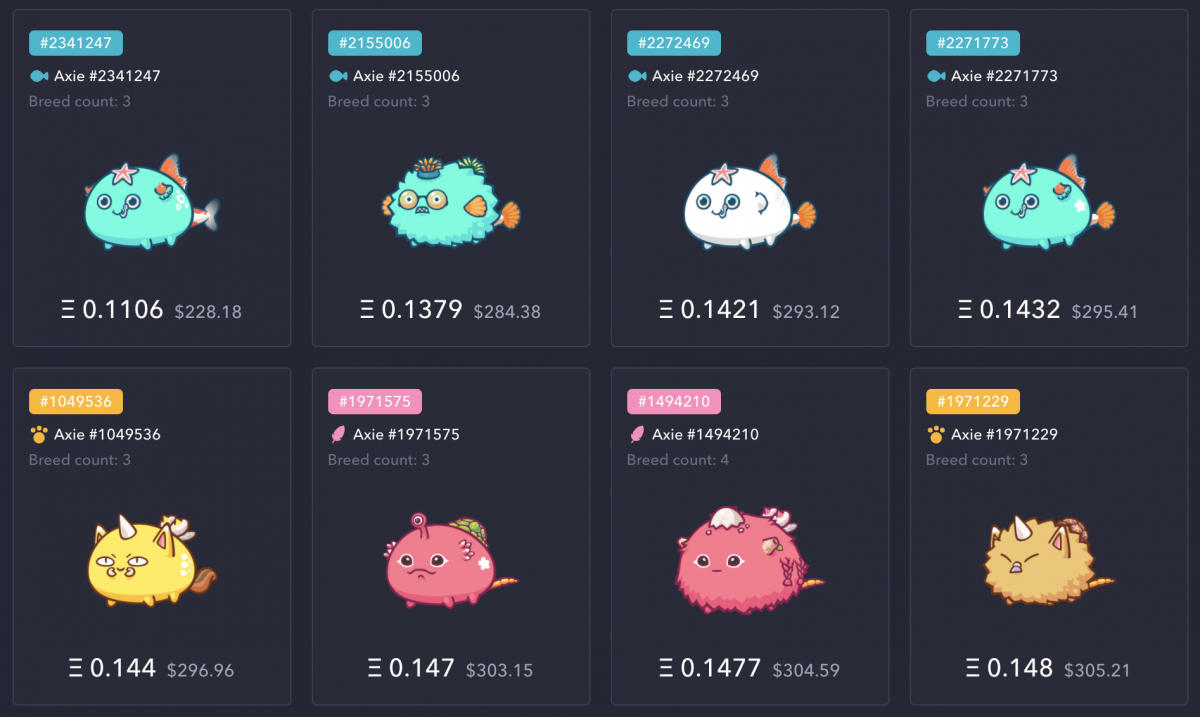 One of the first blockchain games, Axie Infinity is an online video game based around NFTs and Ethereum. It was created by Vietnamese studio Sky Mavis.​​ Players collect creatures called Axies, and then they use them to fight, build, and achieve victory within the game. The platform also features a marketplace where individuals can sell game items and Axies to other players.
First launched in 2018, Axie uses a "play-to-earn" model, meaning that users can earn in-game cryptocurrency by simply playing. This is an innovative approach that you won't see with too many other NFTs, as it effectively allows Axie users to increase their overall market value by engaging with the game.
However, the game isn't without its faults. Some have likened the game's payout system to gambling, and the buy-in price for new players has dropped dramatically in recent years.
FURTHER READING: The Dawn of P2E Giants? An Inside Look at Axie Infinity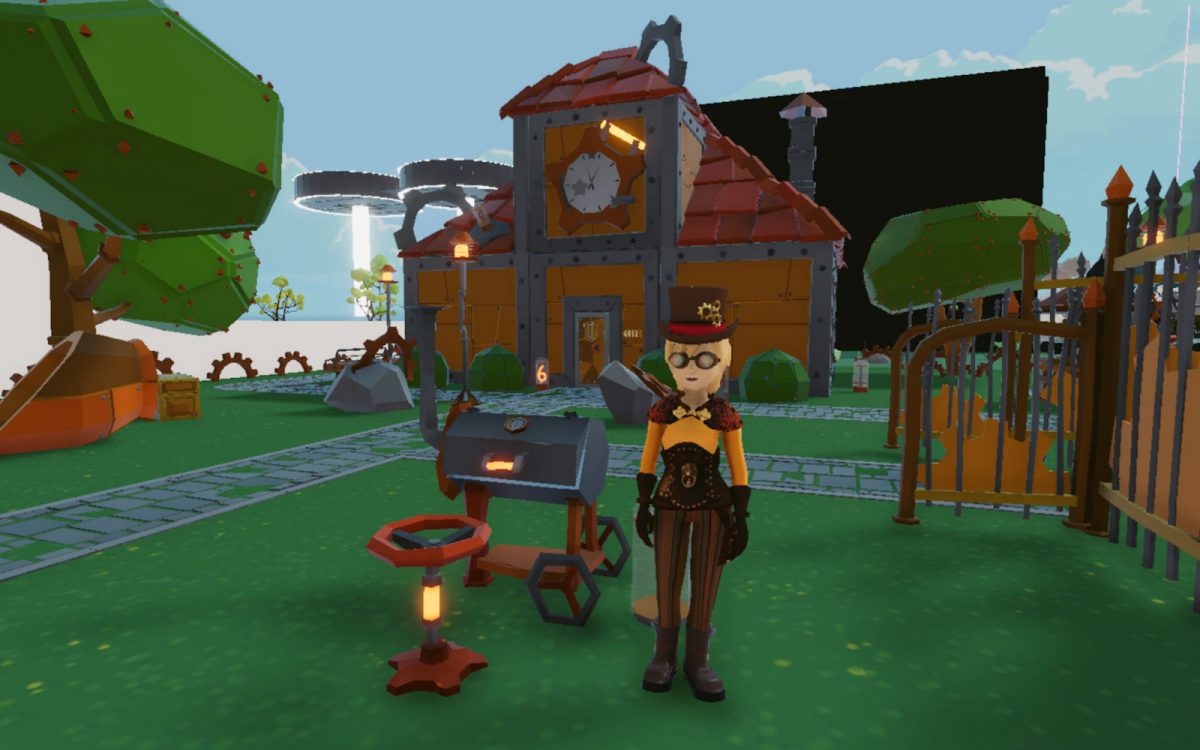 Decentraland is a browser-based game where users can buy and sell virtual plots of land and in-game items. It was created by Argentinians Ari Meilich and Esteban Ordano, who began working on the project in 2015. It went live in 2020, and it's currently run by the nonprofit Decentraland Foundation.
Everything in the game is a sellable item. This includes avatar wearables, estates, and the land on which these estates sit. This is a unique change of pace for NFT ownership, as it transforms digital collections into interactive objects that have a function and value – they aren't just units of data sitting on a blockchain. Additionally, it stands as the first virtual world owned by users.
Along with virtual world CryptoVoxels, Decentraland is often cited as one of the earliest demonstrable models for the metaverse.
Admittedly, the game itself has been plagued by subpar development, poor reviews, and lower player counts for years. However, that hasn't stopped big brands and celebrities from buying their virtual plots and setting up shop on the platform. Though the game has seen technical improvements recently, it's safe to say that Decentraland is an ambitious undertaking that may be limited by the browser technology it relies on to be truly immersive. That said, some speculators believe that the game could take the market by storm — if it can overcome its own technical hurdles.
READ MORE: Decentraland: The Ultimate Game for Your Virtual Land Hustle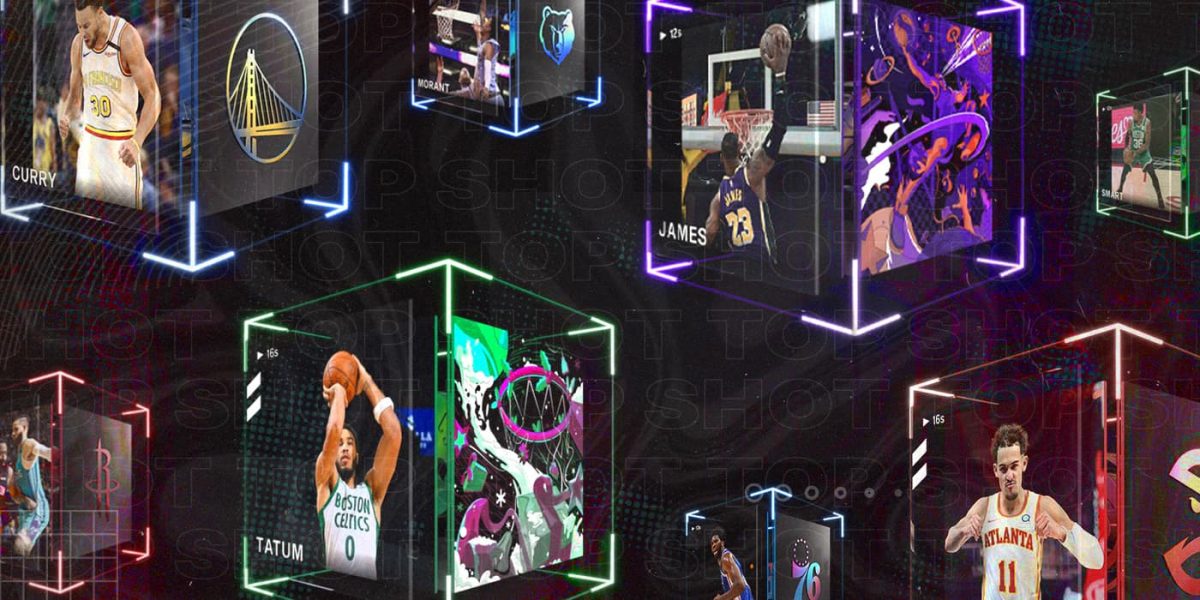 One of the more popular NFT collections on the market is NBA Top Shot. The NFT project lets sports fans own a piece of the game they love. This collection is one of the first to transform cultural moments — via sports footage — into digital collectibles.
And thanks to the prominence of the NBA brand, the project helped drive mainstream awareness for blockchain and NFTs as few things could. For any doubters out there, the numbers largely speak for themselves. In 2021 alone, the virtual platform had more than 1.1 million registered users who traded some $800 million in NFTs.
Top Shot allows users to purchase NFTs created using video clips of their favorite players and key basketball moments. The clips are cut and numbered in a series, and multiple copies are minted to create varying levels of rarity. Compared with most of the other popular NFTs, Top Shot remains one of the most affordable NFTs for starting collectors, with most selling for well under $100 upon release and purchasable through standard fiat currencies.
FURTHER READING: A Guide to NBA Top Shot NFTs: Videos Are the New Trading Cards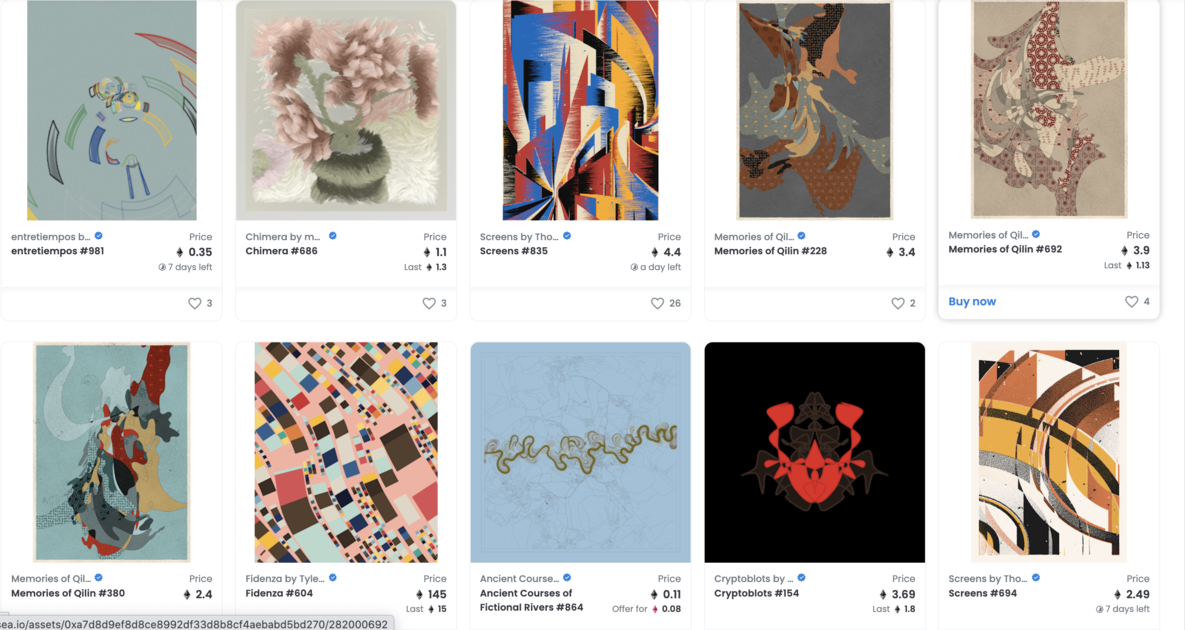 Art Blocks launched in 2020 and dramatically streamlined the creation of generative art. If you're looking for truly unique NFTs, Art Blocks can help you flesh out your NFT portfolio in interesting (and remarkably fast!) ways. It uses generative scripts to create unique works of computer-generated art. Simply select a project that you like, and then mint an NFT from that collection. Your result will be randomly generated on demand, so you won't know exactly what your NFT will look like until you make the purchase.
As you'd see with a traditional art gallery, the collections that Art Blocks provide are often curated and have a high standard for uniqueness and NFT individuality. Art Blocks also collaborates with coding creatives from around the world to create its Curated Galleries, which are designed to offer the best of the best in digitally generated NFT artwork.
FURTHER READING: Art Blocks: Snowfro, Tyler Hobbs, and More on the Rise of Generative NFT Art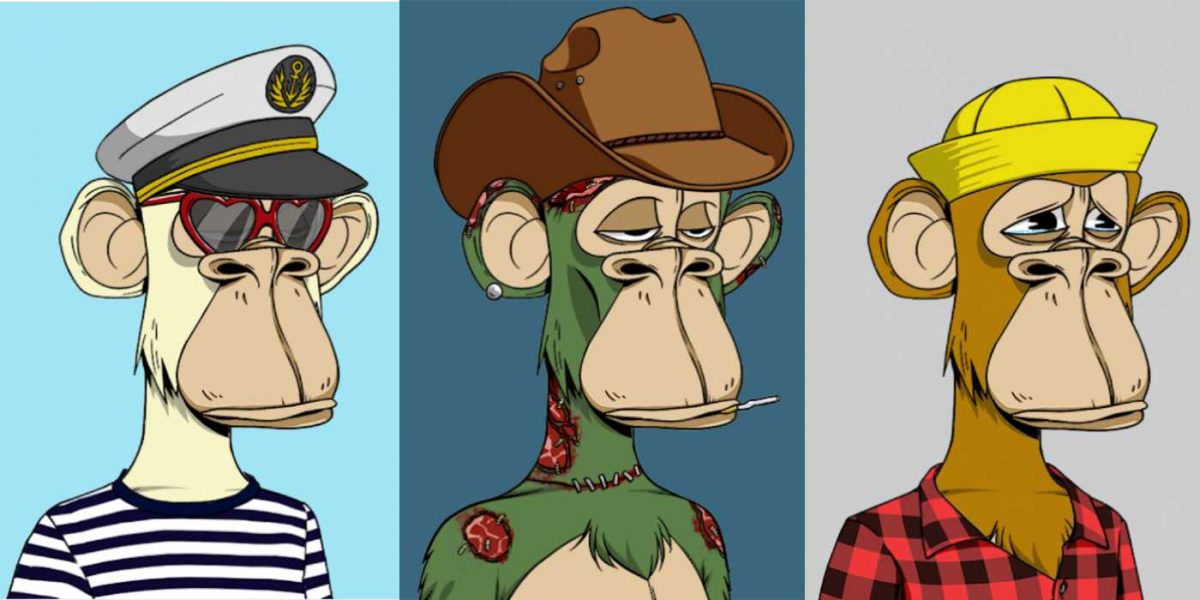 A wildly popular PFP NFT, Bored Ape Yacht Club has received massive critical acclaim since its founding. It was created by product studio Yuga Labs. The collection features 10,000 unique NFTs, and NFT holders have full commercialization rights to the Ape that they own.
With most Ape sales going for hundreds of thousands of dollars, this NFT collection is considered one of the most prominent and profitable examples of the medium. Bored Ape also played a major role in kicking off the avatar craze (using NFTs as profile pictures). In many ways, it's directly responsible for cementing NFTs as a pop culture phenomenon.
However, the art behind the BAYC NFTs isn't exactly what started the Bored Ape craze. The status and prestige of owning one of these highly valued NFTs greatly increases their value and demand. In this respect, the community aspect is key to the brand's success – and it certainly helps that a number of prominent celebrities are members of the BAYC community.
Ultimately, owning a BAYC NFT is the price of admission to the Bored Ape Yacht Club community. Once in, owners get access to exclusive merchandise, live events, voting rights, and more.
Source NFT Now