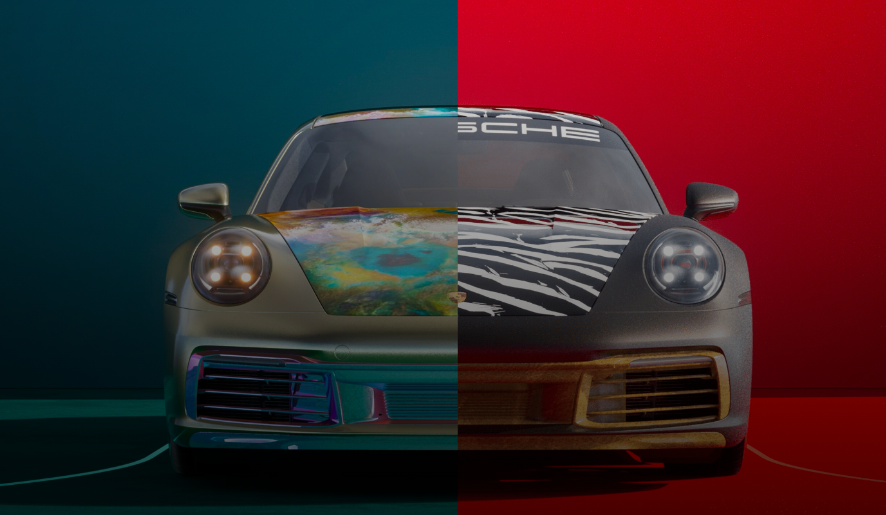 Recently, Porsche unveiled plans to release a 7,500-piece NFT collection based on the classic Porsche 911. It will drop in January 2023, with Hamburg designer and 3D artist Patrick Vogel set to create each piece in the collection. At nft now and Mana Common's The Gateway at Art Basel, Porsche revealed the details of its upcoming release.
"If a project wants to be successful, it needs to bring people together," explained Porsche's Director of Brand Management and Partnerships Deniz Keskin while speaking at the panel. "Web3 is exactly in the same spirit. Porsche isn't going into the space for some economic reason. We're going there because we want to engage with you to build something."
In fact, the German automaker aims to make its NFT designs a decentralized proposition — enabling consumers to have a hand in curating tomorrow's blockchain assets.
Porsche's emphasis on community co-creation
People who buy a Porsche NFT will be able to help shape the design of their digital token by choosing a "route" for it, selecting from Performance, Lifestyle, or Heritage options. These routes reflect a particular characteristic of the company's brand identity, and they will modify the overall design of the NFT itself. In the months following the collection's release, Vogel will work with user input to ready each NFT as a 3D asset in Unreal Engine 5.
Lars Krämer, Porsche's manager of innovation and methods, likewise underscored the importance of collaborative NFT creation in the company's upcoming release. Noting that the team's Discord channel has shot up to 13,000 active users since the announcement yesterday, Krämer explained that holders will be invited to collaborative input sessions on what future NFT designs might look like or involve.
"The core of the project is the community," reiterated Krämer. "We want to get into contact with you guys and have co-creation. That's the goal. I'm looking forward to having the first co-creation session with holders in the future. We can test designs of the artists in the future and bring you guys together with the artists and our whole team."
Krämer also explained that future NFT utility will involve access to exclusive physical and virtual events and merchandise. Keskin emphasized that some of Porsche's future Web3 plans are still in flux by design — the goal is very much to evolve the company's NFT initiatives alongside the community of Porsche enthusiasts.
"We look at [these releases] almost like seasons in a TV show," Keskin said. "What you see now is like season one. We'll see what we learn from this [first collection] and how we write the story moving forward. Don't expect a second season to be exactly like this one. We really want to [evolve] along with the community, [to] advance this journey."
Relinquishing artistic control
The 3D artist Patrick Vogel, who will create each NFT in the collection, acknowledged that the creation process for Porsche was uniquely Web3 in nature. "Web3 is always about what comes next," Vogel explained. "You always have this co-creation in mind. It's different than normal creation in Web2. I love to work with iconic stuff. I love to do really weird art. Colorful, playful. And if Porsche calls you and says, 'Hey, can you do this?" You say, 'Of course.'"
Belgian visual artist Vexx, who is also working with Vogel and the Porsche team to create the designs used in the NFT release, added to the sentiment of co-creation: "Giving up artistic control is part of the Web3 mentality. It's more open. Since I was young, I've been posting my art on social media. People copy it — that stuff happens. It's something you have to embrace and nurture. [With this project,] people will be able to adapt their NFT to [suit] their interests. They can go with whatever style they want."
Balancing choice with chance
Krämer noted that Porsche enthusiasts' final NFT will be a product of both holder preference and randomization. Porsche fans won't know what they're getting even when they specify what route or style they'd like their NFT to be. Like Keskin, Krämer explained that whatever comes next in the Porsche NFT initiative will be influenced by the collaborative sessions they hold with community members.
"We're really looking forward to getting you to the co-creation sessions to help us decide what 'season two' will be," Krämer said. The team also enticed the audience by offering a POAP opportunity for fans that interact with Porsche's exhibit at The Gateway: A Web3 Metropolis on Flagler Street. Those that do so will have a better chance at getting on the inaugural release's allowlist, which is scheduled to open sometime in December.
Editor's note: An earlier version of this article said that Porsche's Discord server had 30,000 active users. This has been corrected to 13,000 active users. It also said the team offered a "POAP-like opportunity". This was also corrected.
Source NFT Now