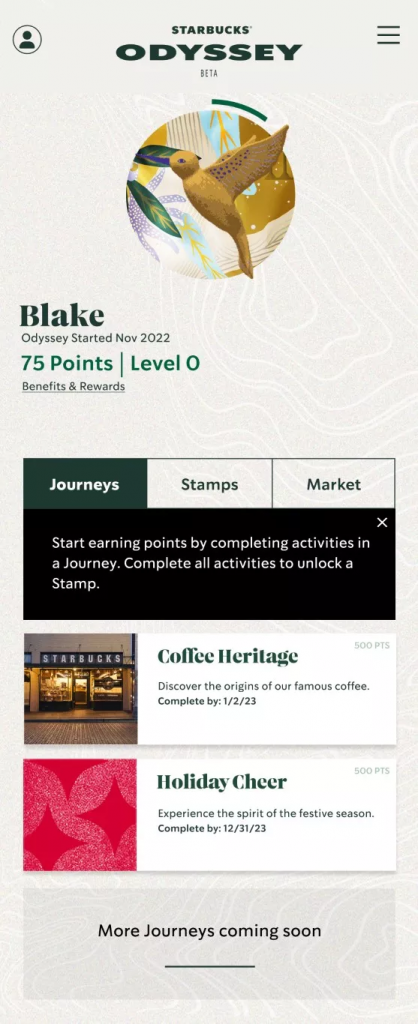 Starbucks today is launching a blockchain-based loyalty program that allows users to earn points for every purchase made through the app. These points can then be redeemed for exclusive offers and merchandise. The company also announced plans to launch a digital currency called Starbucks Coin (SC) that will be used within the app.
The Journeys represent an opportunity for Starbucks to engage with consumers through digital media and offer them rewards based on their purchase behavior. For instance, if someone buys a Frappuccino, they might receive a reward such as a coupon code for a future visit to the store. Or, if someone buys a latte, they might get a discount on their next order.
Starbucks Odyssey will weave together our past, present, and future… offering ways to enrich your coffee knowledge with interactive experiences. This isn't just a new way to experience Starbucks. It's an invitation to join us on our journey and come together over coffee.
Starbucks Odyssey is a new experience powered by Web3 technology that will offer Starbucks Rewards members in the U.S. the opportunity to earn and purchase digital collectible Stamps (NFTs) that will unlock access to new benefits and experiences that can't be found anywhere else.
Starbucks Rewards members can join the waitlist to become eligible to receive an invitation to join Odyssey. Upon receiving an invitation, members will use their Starbucks Rewards login to join Odyssey and start engaging in 'Journeys,' a series of activities like interactive games or challenges that deepen their knowledge of coffee and Starbucks. Members will be rewarded for completing Journeys with a 'Journey Stamp' (NFT). Soon, members will also be able to purchase 'limited-edition Stamps' (NFTs) through the built-in marketplace within the Starbucks Odyssey web app experience.
Each digital collectible Stamp will include a point value and the Stamps can be bought or sold among members within the marketplace, with ownership secured on a blockchain.
As Stamps are collected, members' Points will increase, unlocking access to unique rewards and experiences that could range from a virtual espresso martini making class, to unique merchandise and artist collaborations, to invitations to exclusive events at Starbucks Reserve Roasteries or even the opportunity to join a trip to Starbucks Hacienda Alsacia coffee farm in Costa Rica.
Starbucks Odyssey will eliminate the barrier to entry to a traditional Web3 marketplace by allowing members to purchase limited-edition Stamps directly with a credit card. No crypto wallet or cryptocurrency will be required – making the Starbucks Odyssey experience an engaging and easy way for members to access this new technology and claim an ownership stake in their loyalty to Starbucks.
Source NFT CULTURE