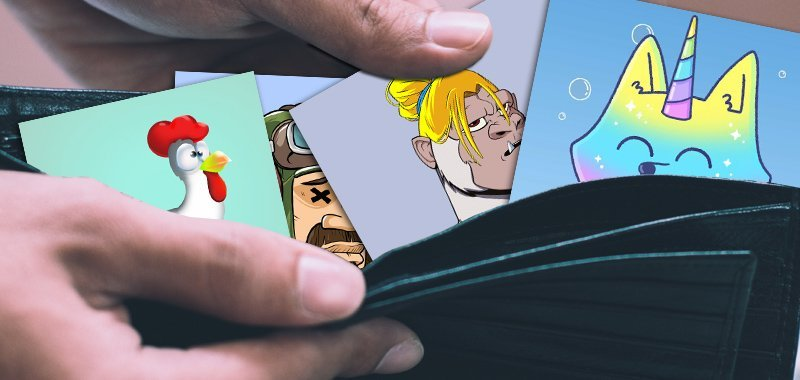 There's been a rapid growth in the number of NFT users in the past one year, and using a robust and secure wallet to store and trade NFTs of all sorts is vital.
NFT wallets are usually cryptocurrency wallets with further utilities aside from storing and trading crypto assets. Generally, most crypto wallets can store NFTs apart from their original use cases of holding crypto assets. With your wallet, you can purchase, sell, or hold both cryptocurrencies and NFTs, a sort of safe haven for all your NFTs.
Let's take a look at the most well-known and reliable NFT wallets:
MetaMask
Trust
CoinBase
Enjin
Coinnomi
MetaMask
Developed by ConsenSys, MetaMask is a crypto wallet that supports the storage and trading of digital assets on the blockchain ecosystem. Far away from being just a desktop browser plugin on web browsers, it has become a mobile wallet for both Andriod and iOS devices since 2020.
It primarily stores digital assets and hosts a series of decentralized applications–dApps. The MetaMask mobile application comes with an extension that allows users to store their wallet passwords and private keys, which gives users control over their wallets and another layer of security over their private keys. It can be used to store tokens developed on Ethereum's blockchain like ERC-20 and ERC-721.
ERC-20 tokens are fungible tokens that can be exchanged for one another that match their equivalence. There are more than 500,000 ERC-20 tokens, of which some are USDT, BNB, XRP DOGE, and ETH, to mention but a few. ERC-721 tokens are the non-fungible tokens –NFTs– special digital assets that are unique and always discerned by their respective unique properties.
The MetaMask mobile wallet is user-friendly and easy to navigate, even for a crypto or blockchain first-timer. The NFT wallet can be accessed by just sliding your screen to the left or clicking on the "NFTs" interface on the right-hand side.
In order to stay up to date on market trends, the MetaMask mobile app comes with a browser that provides access to market trends on crypto/blockchain-related topics without exiting the app. Furthermore, MetaMask users can also access various dApps, DeFi, games, etc. on the Ethereum blockchain.
Coinbase Wallet
Coinbase is an example of a centralized digital wallet used for storage purposes and trading digital assets–fungible and non-fungible tokens. It is a user-friendly app, although not decentralized. The Coinbase wallet is special when it comes to storage and trading of NFTs because of the following:
Seamless transaction: Unlike other wallets that require a wallet address before you can transfer tokens to another user, Coinbase allows users to transfer tokens to another user with just their username.
Coinbase makes fiat currencies easily accessible, thereby making it easier for newbie NFT users to start trading seamlessly and instantly.
Coinbase keeps you up to date with its notifications for price alerts and other related transactions.
Accessibility of wallets through dApps.
Makes provision for the personal cloud that enables users to back up their seed phrase.
Although Coinbase is an exchange platform, it also has a separate wallet; this means you can either store and trade your assets on the exchange platform or on its decentralized wallet. To access the NFT wallet on Coinbase wallet, all you have to do is just swipe your mobile screen to the right-hand side where you have the "collectibles" inscription.
Trust wallet
Trust wallet is another kind of decentralized wallet that stores digital assets and supports the trading of digital assets. Asset trading on Trust wallets includes: sending, receiving, buying, and swapping. Unlike centralized wallets, the Trust wallet has access to dApps, it is user-friendly and does not store the user's personal information.
As the Trust wallet supports the trading of digital assets, it does not hold or control them; the wallet only makes digital assets accessible to users. It is more like a bridge between users and their preferred assets. It also supports both Android and iOS mobile devices.
The Trust wallet is one of the best to store NFTs because of its interoperability between quite a handful of blockchains. The Trust wallet can store and trade NFTs built on Ethereum, Solana, Binance Smart Chain, and Polygon. The NFT wallet can be accessed by just sliding to the left or clicking on the "NFTs" inscription on the right-hand side, just next to the "Tokens" inscription.
Enjin Wallet
The Enjin ecosystem is a gaming platform that incorporates products that enables the development, trading, and monetization of tokens on a blockchain. It is built on the Ethereum blockchain with its native token $ENJ as the ticker, an ERC-20 token standard. The platform serves various purposes for gaming, NFTs, and other dApps.
The ecosystem is uniquely built and comprises the Enjin platform, Wallet, Marketplace, and other tools which support game development. The Enjin wallet is an incredible wallet suitable for storing NFTs and the wallet is exclusive to mobile devices; i.e., the wallet does not support desktop computers or PC.
It is user-friendly and highly secured, being a decentralized wallet; it enables users to store and trade in-game NFTs and other collectibles. It can also be used to mint NFTs, and as such, users can send NFTs via QR codes.

Coinomi Wallet
The Coinomi wallet is the oldest multi-chain wallet that supports over 125 blockchain ecosystems and supports multiple cryptocurrencies in this regard. Founded in 2014, the wallet is a non-custodial wallet that supports both mobile devices and desktop computers and it has never been hacked.
The wallet has in-built exchanges which enable an instant exchange of all supported assets. It incorporates a dApp browser and also supports web 3.0.

Aside from security which is paramount to all wallets, a good and suitable wallet for NFTs should allow easy navigation through digital assets and be able to store all assets in a single wallet. Different blockchains require different NFT wallets while some marketplaces are also specific regarding their supported NFT wallets.
When deciding which wallet to opt for, it suffices to consider wallets that are interoperable with a wide range of blockchains and marketplaces. Right now, the most widely supported NFT wallet across blockchains is Coinomi but with regards to marketplaces, it is MetaMask.
Source NFT Plazas