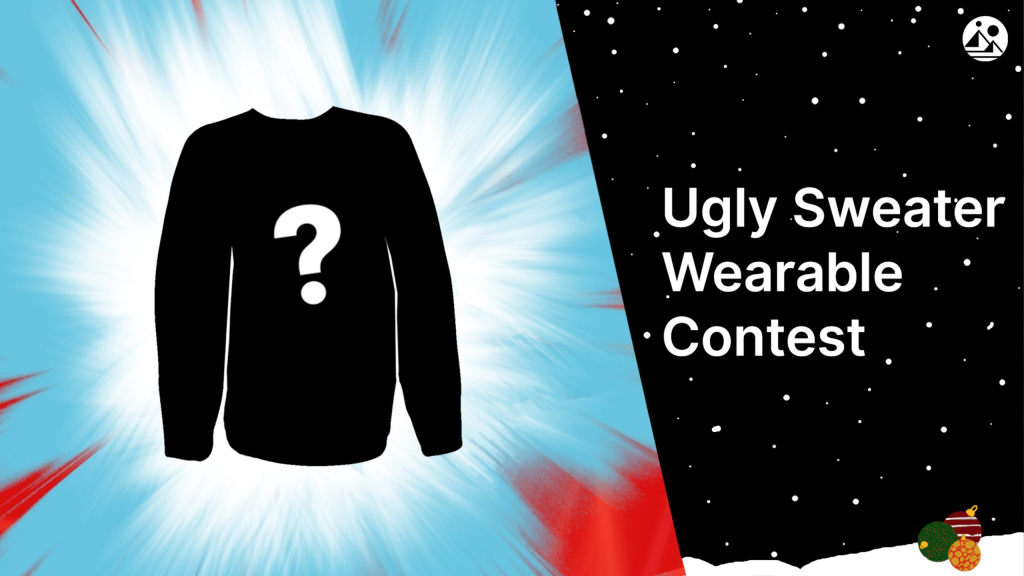 It is time to wear a holiday-themed "ugly sweater" because it is snowing and windy outdoors. Wearable! How strange can things become in an infinite metaverse?
Examples of "ugly" holiday sweaters in the real world are only as strange as one can make them using yarn, pompoms, sequins, and tiny jingle bells (okay, that actually allows for an endless amount of bizarre creations). How would a collection of "ugly sweaters" look if they were designed in Blender and worn in Decentraland?
Based on the innumerable strange and bizarre Wearables the DCL community has already created, this Ugly Sweater Wearable Contest is guaranteed to deliver some winter Wearables that attract attention. Designers, start generating!
What are the requirements for entry?
Anyone is able to participate in the contest. Simply create, upload, and submit your ugliest holiday or winter-themed sweater. Wearable according to specifications: https://forms.gle/eMQJx2SVZ4EL6xAe9
On the form, we require your email address, the URL to your Wearable in the Marketplace, some other relevant information, and other details so that we may contact you if you win.
Significant dates
The giveaway began on 1 December and will conclude on 19 December at 7AM UTC. Winners will be contacted shortly thereafter through email.
Prizes
1st Place: 800 MANA
2nd-10th Place: 600 MANA
In addition, all winning works will be highlighted on the Decentraland Twitter account!
Rules
All submitted wearables must be accepted and published on the Decentraland Marketplace by the contest's end date.
The concept of a "ugly holiday sweater" must be reflected by winter or holiday-themed garments.
Each participant is restricted to submitting a maximum of three Wearables and one prize.
By entering the competition, participants grant the Decentraland Foundation permission to use their submitted Wearables in marketing materials and to promote them on social media.
MANA rewards will only be sent to the wallet account of the Creator whose Wearable is linked to the Marketplace.
Only entries submitted using the official contest application form by the December 19, 2022, 7AM UTC deadline will be considered.
Source NFT NEWspro