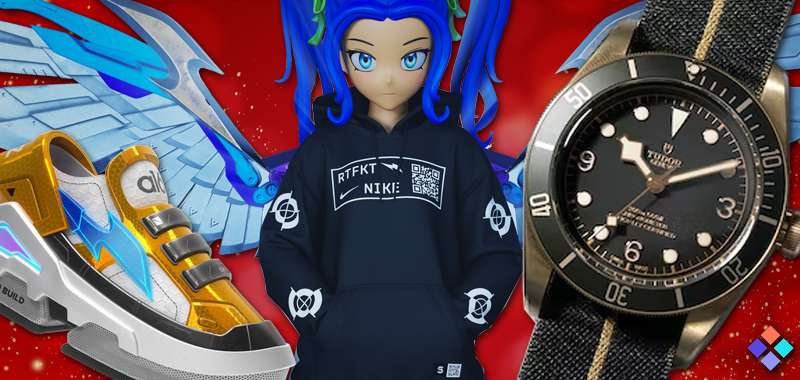 The Non-Fungible Token (NFT) has etched its name among the most successful projects backed by blockchain technology. Its success can be credited in large to the relentless content creators who stop at nothing to quench the thirst for remarkable NFTs. Since the advent of the NFT, several upgrades and modifications have been introduced by these creators to add value to the NFT landscape. One of these emerging concepts comes in the shape of the much-lauded Phygital.
What is Phygital?
Phygital refers to physical or real-world items backed by digital tokens (NFTs) or NFTs backed by real-world or physical assets. "Phygital" is a composite word derived from "physical and digital" to reflect and establish a synergy between the physical world and the decentralized space. Furthermore, Phygital NFTs or Phygital assets incorporate dual features to define a new level of NFT uniqueness.
Phygital concepts can be utilized in various capacities, but in the decentralized space, it paves the way for a revolutionized NFT infrastructure. The tokenization of a physical item serves as a backup for a proof-of-ownership recorded on an immutable public ledger (blockchain). In addition, Phygital aims to bring decentralized experiences to the physical world such that NFTs can now be backed with real-world assets, adding to their rarity score, which defines their uniqueness and values.
How Phygital NFT Works
As explained earlier, a Phygital NFT is double-faced. In the digital space, it has a digital format minted on a blockchain network via a smart contract. While in the physical world, it has a corresponding physical asset. Both items in the heterogeneous realms are connected with a unique identifier, such as a QR code tag or embedded microchip.
For example, a creator can mint a wristwatch NFT on a blockchain network and have a corresponding physical timepiece connected to the NFT. In such a case, the bar code or QR code of the physical item can be included in the traits of the NFT to bridge the two assets. Quite a number of reputable brands have NFTs backed by real-world assets or utilities, including VeeFriends, Azuki, Franck Muller, RTFKT, GAP, Adidas, and more.
Types of Phygital NFTs
Phygital NFTs can exist in various forms, including art, collectibles, designer gear, fashion accessories, and clothing, with the latter proving the most popular. Several examples of Phygital NFTs within the fashion sector include:
Wrist Watches
Just as an elegant timepiece will beautify the user's wrist in the physical world, it will also function as a fashion accessory in the decentralized space. This has led reputable brands like Rolex, Franck Muller, Bulgari, The WatchBox, Breitling, and more, to debut in this ecosystem. At the moment, Rolex remains within its research stage, while Frank Muller, Bulgari, and The WatchBox have all made significant progress within this exciting new trend. For most, acquiring an NFT timepiece comes with a physical watch, however, WatchBox operates a little differently.
As such, WatchBox has corresponding physical watches for its NFTs, but the physical items remain held in a high security vault. Meanwhile, for Breitling, owning any of its watches manufactured after 2013 will qualify holders for a retrospective NFT with several utilities. In essence, the accompanying NFT will also serve as a decentralized proof of ownership of each piece.
Furthermore, Italian watchmaker, Panerai, also debuted into the landscape of wristwatch Phygital NFTs with its "Radiomir Eilean Experience Edition." Resulting in a collection of 50 glamorous wristwatches partnered with a respective NFT. These NFTs then include several utilities, including a special Mediterranean cruise along Italy's Amalfi coast in June 2022.
Clothing
Another Phygital NFT in the decentralized space comes in the shape of clothing items which include face caps, hoodies, sweatshirts, T-shirts and more.
In December 2021, Adidas Originals debuted in the Metaverse with 30,000 NFTs, which sold out in a few minutes after the public auction. Holders of these NFTs are entitled to 4 Adidas physical products, which holders can claim by burning their NFTs.
GAP also partnered with Brandon Sines (designer of Frank Ape NFT) to launch its premier GAP hoodie NFTs on the Tezos blockchain. Each of these limited 100 NFTs comes with a physical GAP hoodie.
Sneakers
The humble sneaker represents another wearable Phygital NFT trending in the decentralized space. With Nike owned RTFKT representing a major brand blazing a trail in Phygital sneaker NFTs. Each "open edition" NFT is paired with a pair of physical sneakers for all holders who acquired the RTFKT NFTs within 6 weeks of its launch.
Art Collectible Phygital
Damien Hirst, a British artist, debuted in this landscape with his 10,000 "dot" paintings dubbed "The Currency" which he originally painted in 2016. All these paintings have corresponding NFTs, which then debuted on the blockchain in 2021. Each buyer of these NFTs had a year to decide whether to redeem the physical drawing and burn the NFT. Or forsake the physical painting to be destroyed by Damien while buyers hold on to the digital counterpart. Once the dust had settled, only 5,149 buyers had redeemed their physical paintings.
His second edition of the Phygital NFT began on February 12, 2022, with a limited 7,000+ collection dubbed "The Empresses." These NFTs also come with physical paintings that can stay up to 3 years for buyers to redeem them or stick to the digital piece.
Advantages of Phygital NFTs
Phygital NFTs can curb the Menace of Counterfeit Items
Counterfeiters will stop at nothing to mimic reputable brands' products. The advent of Phygital NFTs will address this imbalance since each item can be verified on blockchain networks. For example, it'll be hard for anyone to sell a fake GAP hoodie as an NFT or a physical hoodie since it will have a counterpart that remains fully verifiable on a blockchain network. It will also reduce the theft of physical collectibles backed by NFTs since criminals will find it difficult to sell them on without a legitimate claim.
Phygital NFTs will widen the Brand's Customer Base
The advent of Phygital NFTs allows several brands to reach out to more potential customers, especially in the decentralized space. Brands adopting this concept will gain more customers and reach a broader target audience.
Phygital NFTs add more utilities to both digital and physical assets.
It also opens Phygital items to collaboration with other heterogeneous brands or items.
Physical assets add more rarity scores to their corresponding NFTs.
Conclusion
Phygital NFTs paved the way for additional NFT use cases by extending their utility to the physical world. The concept of backing NFTs with physical assets is not restricted to the above-highlighted items; it can be extended to various capacities as brands deem fit. Furthermore, brands can also reward their loyal customers with NFTs by minting corresponding NFTs to their physical products, as done by Givenchy. Givenchy rewards its customers with NFTs that will serve as a ticket to a membership program in 2023, alongside other utilities yet to be unveiled.
Source NFT Plazas