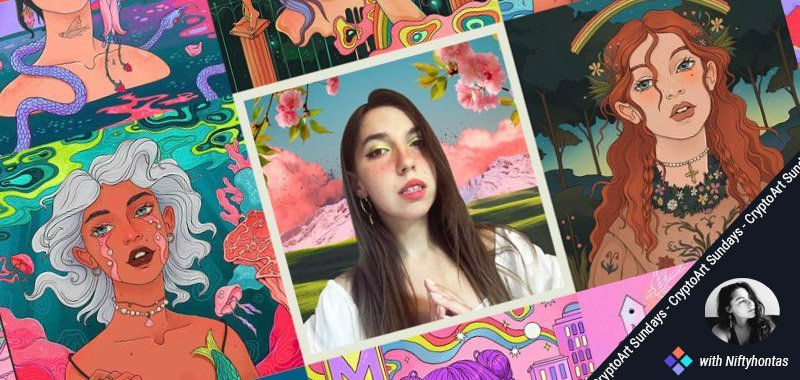 Welcome to another round of CryptoArt Sundays, where we highlight amazing artists in the space. This week I caught up with the super talented Anna-Maria, and I'm just absolutely in love with her art. I want every single piece!
Anna-Maria is a digital artist hailing from Crimea. Her unique style is expressed through her romantic take on surrealistic, psychedelic art. She's currently working on her own project called The Daily Muse, which consists of stunning, women-inspired, hand drawn artworks.
So let's dive in and find out more about her NFT art and how she got started in this space.
How did you find out about the NFT space, and what attracted you to create your own NFTs?
I first heard about NFTs in December 2020 but for a long time I was sure that it only works for big and famous artists. But luckily in October 2021 I met a new friend who convinced me that I was good enough and also introduced me to Kelsey Cole. After a few conversations with her, I jumped into NFT space and am super happy since then and grateful for the support!
How often do you create?
At the moment I create every day and treat it like a full time job. I draw at least 8 hours per day (but often much more).
Are there any CryptoArtists you would love to collaborate with?
Yeah there are a lot of them! For example: hoshipeachart, halorena, raquelcasilda, tiffatronn, and annfable. I can continue this list endlessly. My plans for the future include the creation of an interactive site-garden with the participation of many artists and for charitable purposes. But this idea is still in development.
What do you think the future of CryptoArt will look like?
I believe that the future will be bright! More and more talented artists are joining the community, collaborating and surprising with their ideas everyday. I am also passionate about the idea of combining science and art and I want to believe that in the future virtual galleries will look even more real than physical ones, and NFT art will affect all the senses of human body.
What are you currently working on?
I'm currently working on a hand drawn pfp collection 'The Daily Muse' which celebrates the beauty, diversity and inexhaustible source of inspiration in the female personality every day!
Where can collectors find your work?
I always look forward to them at OpenSea and Foundation.
Source NFT Plazas