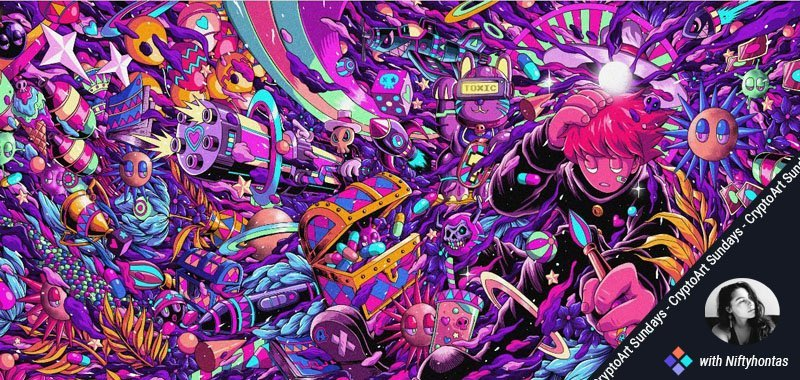 Welcome to another exciting round of CryptoArt Sundays! This week we have NFT artist Jeff Aphisit in the house. He's a an absolute rockstar illustrator and artist hailing from Bangkok, Thailand.
I love his quirky and colourful style of art. Jeff has been in the NFT scene for more than one year already, and in the interview below he shares his experience so far and what he thinks the future of NFTs and CryptoArt will look like.
Let's dive in!
How did you find out about the NFT space, and what attracted you to create your own NFTs?
I know NFTs through social media and from my favourite artists like Mr Misang, PUCK, James Jean. I feel that NFTs give a chance to artists to be themselves 100%. That is the reason why I entered this space.
How often do you create?
One piece per 1-2 months.
What is your creative process?
I tend to use my feelings at that moment to define the concept of my work, much like writing a diary. After that, I'll start sketching and composing things on a small paper and draw on a large sheet of paper again and paint with digital tools.
Are there any CryptoArtists you would love to collaborate with?
Sure! There are many artists I admire and would love to work with. But if I had to choose only one, it would be James Jean.
What do you think the future of CryptoArt will look like?
I think NFT is a technology that is only just getting started. In the future, I don't know if it will be as popular as it is now or not. But I believe it won't go away. And it would be one choice for artists and collectors to buy and sell digital artworks in the future.
What are you currently working on?
I am now a full-time artist working on physical and digital art and create NFT work on the Foundation platform.
Where can collectors find your work?
You can follow my work on Twitter, Instagram and Foundation or click to view other works here.
Source NFT Plazas