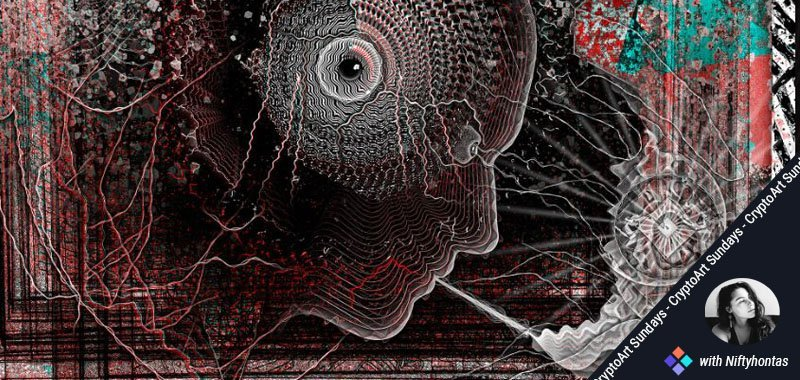 It's time for another round of CryptoArt Sundays! Today I introduce you to the superstar that is Nuwan Shilpa, a most talented psychedelic and visionary artist from Sri Lanka.
Nuwan has become a devout disciple in seeking the sublime through psychedelic and visionary states of consciousness. Their art is an expression arising from this seeking, and the artworks are like digital mind trips inspired by their perception of liberal spiritual dimensions. Yes, they are is quite extraordinary pieces!
Let's dive in and found out more about their NFT art journey!
How did you find out about the NFT space?
I've known about the NFTs for a while but never took it seriously. It was only around September of 2021 that I began to understand the potential of NFTs for artists. I reached out to Outpsyd who gave me a quick introduction and knowledge to start my NFT art journey.
What attracted you to create your own NFTs?
First and foremost, the digital provenance for the art I create. The idea that digital artwork can have a proper provenance on par with physical works, or possibly even better, was revolutionary for me!
Secondly, as a psychedelic and visionary artist, the idea of decentralization, resonates very well with my artistic vision.
Thirdly, being able to be a part of a truly global art movement and community, I've never before had the privilege of associating and knowing this many artists before I got involved in the NFT space. And these are highly meaningful relations, not just likes and follows.
How often do you create?
As often as I'm able to. Even if I'm not sitting down at the computer creating art, my brain is constantly running with the ideation processes.
What is your creative process?
Excellent question! Experimentation is key! I have quite an erratic creative process; usually, almost all my work begins with photographs that I take. And I put it on the computer and start to experiment, and some idea is born out of it, and I follow through. I often see myself as an artistic tool itself, than a creator, facilitating and mediating for the art to manifest into this reality.
Are there any CryptoArtists you would love to collaborate with?
There are many! Almost too many! I'm very much interested in collaborating with artists from the psychedelic and visionary art realms, Ben Ridgeway, Filip Zaruba, Jake Kobrin, comes to mind.
On a side note, an excellent resource for discovering visionary artists is psynft.xyz.
What do you think the future of CryptoArt will look like?
I can only imagine. I'm recently discovering the potential of NFTs beyond that of being just an artwork. With utility value, programmability and interactivity, I'm very excited! I know it will usher in a new era in art, and it's already started!
What are you currently working on?
From a creative point of view, these days I'm experimenting with AI art. It's been constantly surprising me in its versatility. I'm using my own artwork as starting points and then using the AI as a tool to sort of dive into the depths of the works. I'm discovering new dimensions within my work!
Also, I have a few ideas for some new art pieces, but I lack the technical knowledge to execute them, so I'm learning 3D modeling and animation.
From an NFT standpoint, I'm exploring the possibility of minting using my own smart contracts, moving towards platform independency.