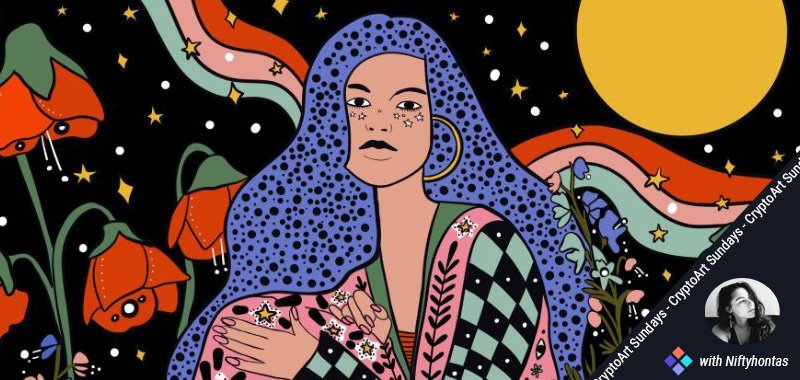 Greetings to all the NFT art lovers out there, I'm excited to bring you another epic round of CryptoArt Sundays. Meet the The Mystic, an absolute glowing star in the world of art, and certainly one of my favorite latest artists.
I was lucky to come across her art whilst doing my usual Twitter scrolling, and I immediately knew I just have to interview this incredible artist and get to know more about her art and NFT journey. I think her name, The Mystic, says it all. Her art is mystical, feminine, magical, gentle, and uplifting.
So let's dive in and find out more about her NFT art and her experience in Web3 so far!
How did you find out about the NFT space and what attracted you to create your own NFTs?
I was literally breastfeeding my newborn daughter one night in bed and read an article about NFTs. I was already looking for a creative outlet because my once creative job in the digital space was becoming mundane. As soon as I understood the concept of NFTs I fell in love, to me it's the future of art.
How often do you create?
Whenever I get the chance! Once the baby goes to sleep I sometimes find myself drawing for hours. The creative process is so relaxing and soothing to me.
What is your creative process?
I usually have a general idea of a subject, then I pull a color palette together with my Pantone chips. From there, I pull some inspiration from vintage Moroccan textiles. Once I start drawing, I completely zone out. To me it's an outlet. When I create I zone out, I clear out all my anxieties and I feel like you can see it with some of the intense patterns I use.
Are there any CryptoArtists you would love to collaborate with?
There are so many amazing artists in the space it's really hard to chose! I would really love to create some of my patterns into textiles IRL, so collaborating with a major fashion brand would be a dream!
What do you think the future of CryptoArt will look like?
I truly believe NFTs are the future of art. I think curation will also be a huge component. It has already started, but I could see NFTs being more prominent in advertising, retail, marketing and art galleries. NFTs are truly having a moment in art history, where more artists than ever before can get their work out there to be seen and provide a path to financial success in the art world.
What are you currently working on?
I am currently finishing up my ✰ IN THE ELEMENTS ✰ collection. It's made up of 20 mystic women and their connection to natural forces. It's my first editions style collection which I have loved because it has given me a chance to open my collector base at a much more affordable price point. I am also going to be creating more 1 of 1 pieces for my first collection "Ethereal Woman".
Where can collectors find your work?
All my work is on OpenSea! ✰ IN THE ELEMENTS ✰ collection here, and ✰ ETHEREAL WOMAN ✰ 1/1 collection here.
Source NFT Plazas