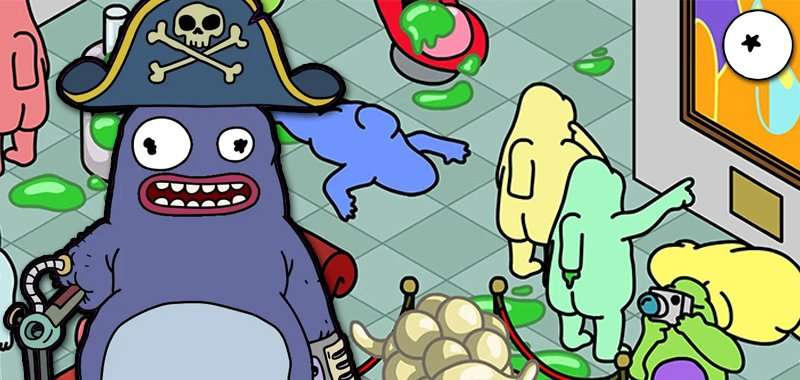 Right in the middle of an unprecedented bearish trend, a spectacular NFT project named Art Gobblers debuted on OpenSea. Against all odds, the collection recorded a sizeable trading volume in just a few days after its listing. This read will provide you with an expert guide to the Art Gobblers.
What are Art Gobblers?
Art Gobblers is a decentralized art factory where artists/creators can draw art with a drawing tool compatible with desktop computers, iPad, or Cintiq. The project was launched on October 31, 2022, and over 8,000 ETH was recorded in trading volume at a floor price of 13 ETH just 24 hours after launch.
Art Gobblers is the brainchild of Justin Roiland and Paradigm (a web3 investment firm), alongside some other contributors such as designers, animators, strategists, illustrators, and community builders. Justin is one of the early adopters and promoters of NFTs; he's the brain behind "The Smintons" artwork from "The Best I Could do collection," that sold on Nifty Gateway at $290k in January 2021.
What exactly are the Gobblers?
Gobblers are animated ERC-721 standard NFTs. They can be viewed as masterpiece NFTs that emit other NFTs and ERC-20 tokens ($GOO). When artists draw their art on blank pages, they are 'gobbled' (eaten) by Gobblers who transform them into 1/1 NFTs through gamification. All gobbled art belongs to the Gobbler that ate them on-chain and is permanently shown in their belly gallery. The on-premise drawing tool also contains a live record function that allows artists to playback the creation of their artwork.
Art Gobblers Ecosystem
The Art Gobblers platform runs on an interwoven framework where essential elements of the project will collectively establish a self-governing art ecosystem. As previously mentioned, Gobblers are animated NFTs with open or transparent bellies and serve as the backbone of this project and its ecosystem, as all other elements are directly or indirectly connected to them.
How?
The Gobbler's belly doubles as the gallery where gobbled art stays permanently and is displayed. In addition, the Gobblers also emit blank page NFTs using the $GOO token; these blank pages are where artists/creators craft their artwork. When artists have completed their drawings on these blank pages, they feed them to the Gobblers that then consume their work. In essence, the 'gobbling' process is similar to minting an NFT, however, the ownership of the art is transferred to the Gobbler that ate it. So, when an owner sells or transfers a Gobbler, all gobbled art pages go with it too.
Therefore, it is sufficient to refer to the Gobblers as NFTs that produce NFTs, as both the blank pages and art pages are non-fungible tokens. At launch, 2,000 Gobblers were minted, with 300 reserved for the team and contributors. Through the VRGDA mechanism however, community users and players will be able to mint another 8,000 Gobblers over the next ten years using $GOO.
What is the VRGDA Mechanism?
VRGDA (Variable Rate Gradual Dutch Auctions) is a custom-made NFT issuance mechanism designed by Paradigm for Art Gobbler. The mechanism closely aligns the supply of tokens with expected demand growth at a particular time
For instance, imagine Art Gobblers intend to sell 5 NFTs daily at 1 ETH/token. On the fourth day, 20 NFTs should have been sold, but 35 NFTs were sold due to a surge in demand. This means the project is 3 days ahead of its sales. With VRGDA in place, the price of each token will be algorithmically set higher using an exponential curve based on the available parameters. As a result, this will in turn make it harder to buy more Gobblers.
What if there is a shortfall?
Assuming they've sold 25 NFTs after seven days when they should have sold 35 NFTs, that means they are 2 days behind. With the above methodology of the VRGDA mechanism, 2-2 =0.25. So the new price for the Gobblers will be reduced to 0.25ETH to make it easier for investors and enthusiasts to purchase.
Pages
As previously stated, blank page NFTs are generated by Gobblers using $GOO tokens. To create a unique NFT drawing, 'glamination' is required, which refers to the process of minting artists' NFTs. The number of blank pages that can exist at any given time is limited by the VRGDA mechanism, which initially set the issuance rate at 69 pages per day and will gradually decrease to 10 pages per day.
$GOO
$GOO is an ERC-20 standard token emitted by the animated Art Gobblers. Gobblers are co-curators of a decentralized gallery within the ecosystem; they emit $GOO tokens used to make new blank pages where artists can draw their NFTs. Gobblers are exciting creatures that relish the smell of their $GOO; the magnitude of the $GOO in their tanks dictates how fast they emit yet more new $GOO. This makes the $GOO supply grow faster every day, from hundreds to billions, but with the VRGDA in place, prices will be algorithmically readjusted over time.
Legendary Gobblers
The Legendary Gobblers are the rarest Gobblers that will rule over the entire ecosystem. They will arrive at stipulated times for the next ten years. Users will have to burn many normal Gobblers to obtain a Legendary Gobbler.
Each Legendary Gobbler has been predestined to arrive when the VRGDA issues an additional 10% of the total supply. Since the total supply of Gobblers is 10,000, each Legendary Gobbler will come at every 1,000 (10% of 10,000) Gobblers issued. This also means only 10 Legendary Gobblers can ever exist.
How to Obtain a Legendary Gobbler
As a reminder, many standard Gobblers must be burned to acquire a Legendary Gobbler, and 69 Gobblers must be burned to obtain the first Legendary Gobbler. To offset the Gobblers that are burned, the Legendary Gobbler will emit $GOO at a rate that is double the combined rate of the burned Gobblers. For example, if the burned Gobblers were emitting a combined total of 6,900 $GOO (100 $GOO/Gobbler), the Legendary Gobbler would emit 6,900 x 2 = 13,800 $GOO.
Conclusion
Art Gobblers are exciting animated NFTs equipped with multifunctional features that allow the minting of on-chain drawing NFTs. They are a one-of-a-kind creature that harbors NFTs and mint ERC-20 tokens. Its remarkable custom-made VRGDA ensures tokens' distributions are in proportion to maintain a decentralized and self-sustainable ecosystem.
Source NFT Plazas