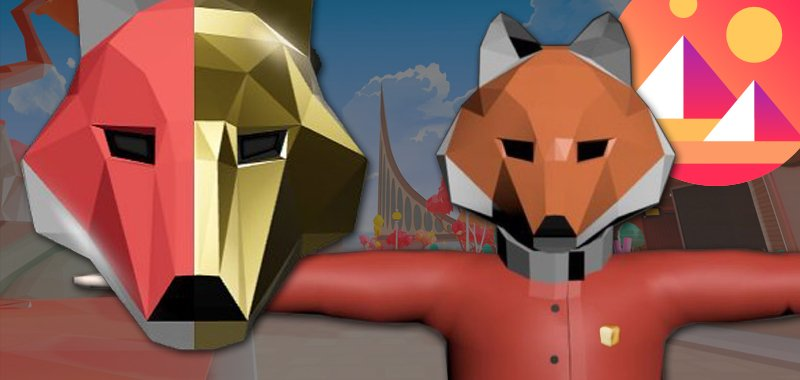 With the rising interest in the Metaverse, I have this curiosity to talk with different creators and get their perspectives on the future of the Decentraland. So, I recently talked with Metafox Crew, a group of three who, one Christmas evening, decided to join the metaverse.
Who is behind the Metafox Crew?
Two brothers (3D artist and developer) and a friend (crypto enthusiast). We got together at a Christmas dinner after the pandemic and fantasized about the future and new technologies. So our adventure began!
Where are you from, and what you've been doing before joining forces?
We used to do what we still do now! Our designer brings other stylish things to life outside the metaverse, our programmer works in an IT company as a data scientist, and our crypto expert works in the film industry, helping to bring stories to life on the big and small screen.
How many people are working with you, and what kind of people are working with you?
We don't need any other collaboration in NFT's creation process. But we would like to create an active group, sharing ideas for the next creation. So we have a private discord channel you can get in only if you mint our wearables and NFTs. So that's why an NFT is more than a simple jpeg. It certifies that you are in a specific group supported by a good blockchain.
Is your team remote?
Yes, two of us are in Italy, the other in Spain.
What is the story behind 3D limited-edition masks created by The Metafox Crew?
It initially began as a collection of artistic sketches made by our artist with the ultimate goal of choosing the two official crew helmets for Decentraland: the boss and the member levels.
Hence the idea was to modify the model and make it a unique NFT.
Was it initially planned for the Decentraland?
Yes, two of our masks: the Crew Member (the "classic" fox one) and the Golden Boss, have become Decentraland wearables!
Then with the various combinations and trials we did, we decided to create a collection of unique NFT masks as well, so we could indulge our imagination! The collection is in continuous development.
What is the biggest challenge of being a creator in web3 space?
There is already a lot of competitiveness, and everything is new. Everything is changing fast, and you always have to be ready!
What advice would you give to a newcomer?
Our advice is to start with small investments to get a good understanding of the mechanisms in this world, be patient, and understand when the time is right to launch!
Oh, and of course, to get some advertising on social media, not necessarily leaning on experts in the field, but also, like us, putting in the effort and imagination yourself.
Do you consider yourself a fashion brand?
No, we think of ourselves more as a crew.
What would you say about the cybersecurity aspect of the metaverse? Have you ever been scammed? What would you advise for others?
We have never been scammed. Security is the most important thing in the crypto world. There are different blockchains, and Ethereum is one of the most secure. Of course, there are a lot of scams here too, but you should research and choose a chain with a strong technology structure.
How should Decentraland wearables evolve in time?
Possibility of being worn in other metaverses as well.
What is the biggest joy of being a metaverse creator?
See your collections appreciated and worn by people from all over the world.
Would you consider making real-life pieces that would replicate the digital ones?
No, or at least for now. If anything, perhaps one day, we will create real gadgets rather than creating real versions of wearables.
Is metaverse fashion better than real-life fashion?
Not for now, but for sure, in the near future, it will.
Who are your favorite creators in the scene?
NikkiFuego, michi_todd, MetaJewels, Malloy, METATIGER.
Source NFT Plazas