Enter the world of H&M Loooptopia, a new metaverse experience inside the popular game, Roblox. This interactive virtual experience allows players to create clothing, play, and socialize in a futuristic digital world. The immersive nature of Loooptopia offers a unique and exciting experience for players of all ages.
What is H&M Loooptopia metaverse experience?
H&M Loooptopia is an in-game world within the Roblox game platform. Players can enter this digital realm and explore a futuristic city filled with H&M clothing stores, interactive games, and social areas. It's like a virtual mall where players can create fashion, play, and socialize with friends in a fully-immersive experience. The sleek design and high-tech atmosphere of Loooptopia adds to the overall excitement and appeal of the virtual world.
H&M finally enters the metaverse, despite being involved in a metaverse release rumor. The fashion brand step into the metaverse undoubtedly excites the gaming community.
How to play and explore Loooptopia?
To enter H&M Loooptopia, players must have the Roblox game installed on their computer or device. Then, players can search for "H&M Loooptopia" within the Roblox game and select it to begin playing.
Inside Loooptopia, players can move around using the arrow keys on their keyboard or by clicking and dragging with their mouse. They can also interact with objects and other players by clicking on them. As players explore the virtual world, they will also discover different areas to play games, and socialize with other players. The easy navigation of Loooptopia allows players to seamlessly move between different activities and areas.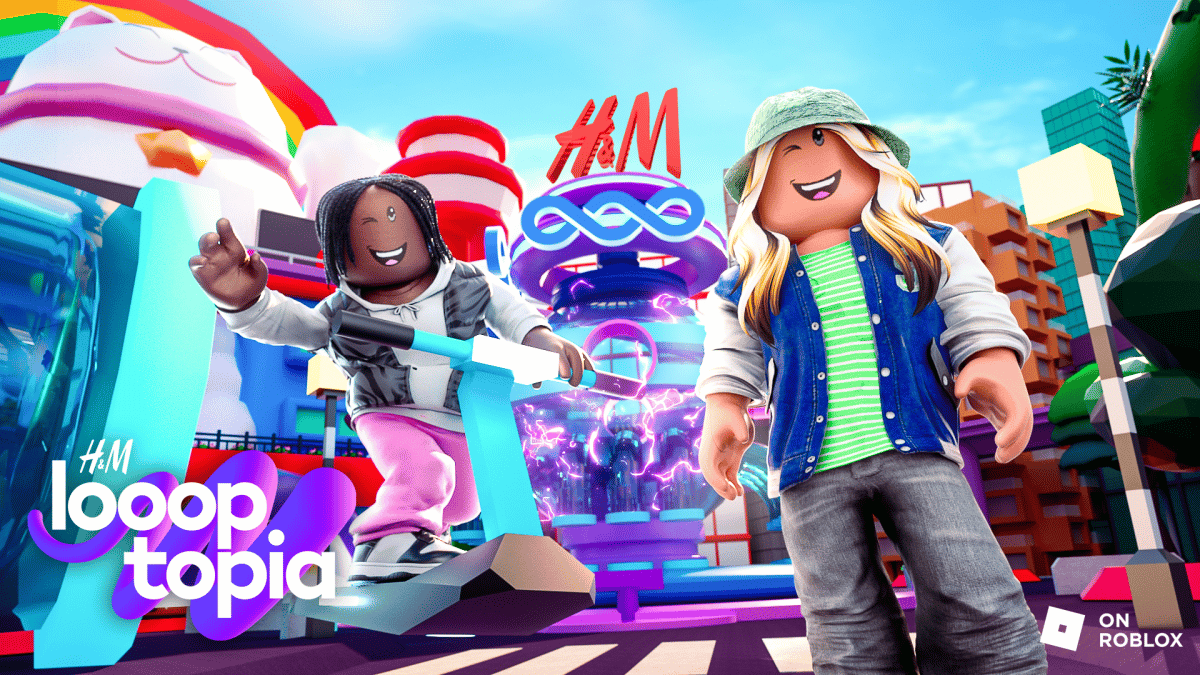 What to do inside H&M metaverse: Loooptopia
Fashion creation is a major attraction in Loooptopia, with a variety of H&M clothing stores available for players to browse. The virtual hubs offer a selection of clothes, shoes, and accessories for players to style their in-game characters. The ability to try on different outfits and mix and match different styles adds to the fun of creation in Loooptopia, teased on the official trailer.
In addition to create clothing, Loooptopia also offers a range of interactive games and activities. Players can create their own digital collectibles, take selfies to share with friends, and equip their in/game character with dances moves. Furthermore, there are also social areas where players can hang out and chat with each other. H&M even brings their recycling principles to Loooptopia, where you can recycle previous outfits to obtain super-rare elements. The diverse range of activities in Loooptopia ensures that there is always something new and exciting for players to try.
H&M Loooptopia is obviously a one-of-a-kind metaverse experience within the world of Roblox. Furthermore, players can play games, style their characters and socialize with friends in a fully-immersive virtual experience. The sleek design and high-tech atmosphere of Loooptopia, combined with the wide range of activities available, make it a must-try experience for players of all ages. So why wait? Join the fun and start exploring H&M's virtual world today!
Join Our New "To The Moon" daily Newsletter
Get our free, 5 minutes daily newsletter. Join 25,000+ NFT enthusiasts & stay on top 👊🌚Subscribe
Source NFT Evening