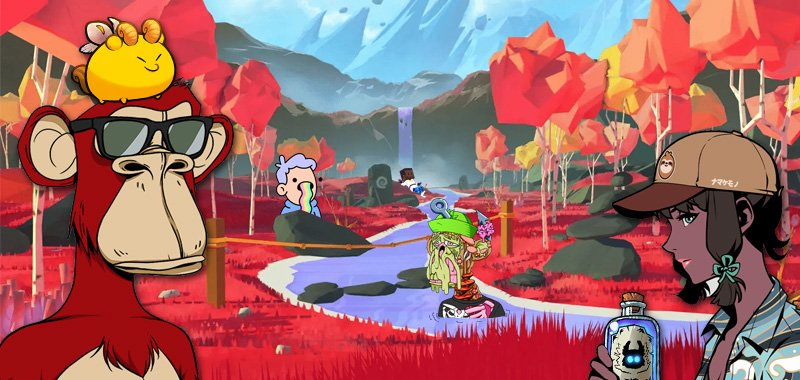 The entire cryptocurrency market has experienced a bad run this year in what has been called the "crypto winter." A number of factors are responsible for this, including rising inflation worldwide and increased skepticism about the crypto market.
While 2021 was a year of remarkable growth and gains for NFTs, the market has seen its overall worth reduce this year. The most popular NFTs from 2022 have taken a hit and Interest in the market has dropped, with people spending less on digital assets than before.
Despite this, many NFTs have shown their resilience as a growing technology and, more so, one necessary for the future. As a result, projects that have good use cases or offer users some sort of utility have made headway in these stormy clouds.
In this article, we'll be keeping up with some of the top NFTs in 2022 so you'll know what to keep an eye on and follow in 2023
Bored Ape Yacht Club (BAYC)
Bored Ape Yacht Club is one of the most popular NFT collections in the world. Its popularity and exclusive perks are perhaps some of the reasons why it has been able to survive the crypto winter. Not to say the collection didn't suffer some losses, but compared to many others, it has managed to stay afloat.
The project remains a top NFT in terms of popularity and cultural prominence. This is mainly due to its wide use amongst celebrities who flaunt it on social media as PFPs. In addition, the NFT offers its holders some real-life utility and benefits that are exclusively enjoyed. This exclusivity is one of the things it has utilized to cement itself as a top collection.
Otherdeeds for Otherside
Otherdeeds is another collection from Yuga Labs, the makers of BAYC. The NFT collection, allowing you to buy parcels of land was launched in a dramatic fashion earlier this year in May, resulting in crashing Ethereum networking and sending gas prices to all-time highs.
Aside from building on the popularity of the BAYC, Otherdeeds themselves have exciting benefits they could offer the users. For instance, holders of the parcels could mine the lands to uncover resources and assets.
However, even though the crypto winter has left it trading in numbers lower than it started, the collection remains a top choice NFT for enthusiasts and collectors.
Axie Infinity "Axies"
2022 hasn't been the year for Axie Infinity, but the popular game has held its ground, and so has its "Axies." Earlier in the year, the game suffered an exploit that wiped off over $650 million from its Ronin bridge.
Its Axies, which are in-game characters, are one of the things responsible for the game's success. Aside from its use in the game, players can trade the Axies as NFTs on different marketplaces. In addition, players can also grow, breed, and even lend out the characters to other players to earn passive income.
The game's popularity and attractive features are why Axies remain desired NFTs. If not for the thrilling experience the game offers but for the various means users can earn income through them.
Meebits
This NFT collection launched in 2021 by Larva Labs, creators of CryptoPunks, immediately rose to stardom and has remained so. The collection consists of 20,000 NFTs, which are 33D-rendered voxels – similar to characters in Minecraft.
One of the main selling points of the collection is the possibility of their use in various metaverses. In total, the collection has recorded over $512 million in all-time sales, according to data from CryptoSlam.
Mutant Ape Yacht Club (MAYC)
This NFT project built on the Bored Ape Yacht Club's popularity helped it to stardom. Like other collections from Yuga Labs, the collection has held its ground as a top NFT despite the troubles the NFT market witnessed this year.
While MAYC can't match BAYC in terms of popularity and price, it gives its holder access to the BAYC ecosystem, exclusive real-life benefits, and access to future NFT drops.
Another benefit is that holders can commercialize their NFTs and earn through them, which adds to the value of holding them long-term.
Azuki
Azuki is one of the most successful projects that launched in 2022. The anime-themed collection launched in January and sold out with a volume of $30 million in just three minutes. Considering that the collection brings classic shows such as Cowboy Bepop and Samurai Champloo to mind making it a good choice PFP, it is no surprise it achieved that quick success.
Despite the poor form of the NFT market this year, the project has held on strong and currently has a floor price of 11ETH.
In addition, the project also offers its holders access to a metaverse called "The Garden."
Doodles
Doodles is a collection of 10,000 hand-drawn NFT projects launched by Evan Keast, Scott Martin, and Jordan Castro. The collection features colorful characters, including cats, aliens, and apes, in manners true to the Doodles brand.
Like most top NFT collections, the project is community-driven, and some of its community features are why it remains a top NFT collection. This is in addition to exclusive benefits that members enjoy and the ability to vote in decisions in the community.
Decentraland
Decentraland is much similar to Otherdeeds as it comprises NFTs representing land ownership in a Metaverse. In this case, the Metaverse is the Decentraland world.
These parcels of land are like traditional real estate but, in this case, for the decentralized virtual world. The possibilities are limitless, but an exciting possibility is bringing animated NFT characters to life.
Likewise, users can build lands in Decentraland to replicate real-world infrastructures and services. While the ecosystem is worth over $1.3 billion, it has suffered its fair share of the crypto winter.
Nonetheless, Decentraland remains one of the most sought-after NFTs in 2022. 
Source NFT Plazas