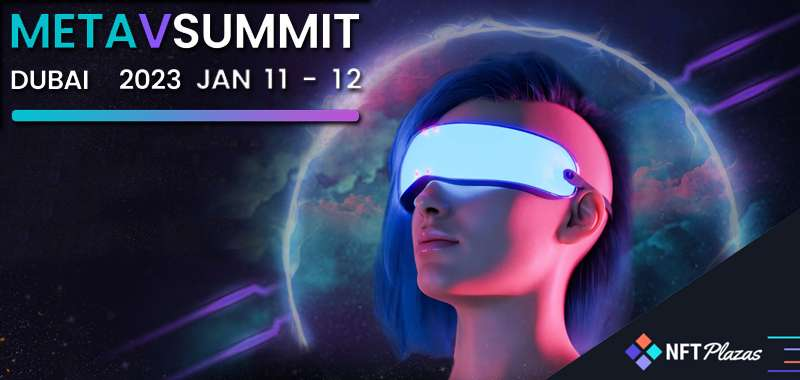 As the NFT world takes a short breath to steady itself for what's to come in 2023, NFT Plazas has already placed itself in the thick of the New Year's action. This time around, joining the forthcoming METAVSUMMIT as a proud media partner to usher in the very latest in NFTs, crypto and the Metaverse.
From January 11-12 a wide range of thought leaders operating within the Web3 space will converge on the Dubai World Trade Centre. Where they will share valuable insights into the ever-evolving blockchain industry and help newcomers get a foothold in the market. As a result, providing a 'not to be missed' opportunity for those looking to make a mark in 2023.
What's in Store for this Year's Event
Over 2 jam packed days, METAVSUMMIT will focus on educating attendees on the very latest developments in NFTs, the Metaverse, AI, and the Blockchain. While additionally providing amazing networking and business opportunities with powerful players within the Web3 space.
At the event, over 50 exhibitors will be joined by more than 3000 physical attendees and 300+ founders, all converging for one of the biggest conferences in the Web3 calendar. Inside, experts from around the globe will share their vast pool of knowledge in order to facilitate the next phase of Web3 growth.
Taking up the baton of industry experts, the event will welcome a huge number of guest speakers, including Mohammad BinHendi of BinHendi Enterprises, founder of IBC group, Mario Nawfal, NFT expers at Dancing Seahorse, Rini Basiron, Undeads CEO, Leo Kahn, and much more.
"METAVSUMMIT organizes great Web 3.0 and Blockchain investment events with high quality engaging participants, can't wait till the next one" – Daniel Gouldman – Unbanked CEO
How to Buy Tickets, Participate and More!
Those looking to get the year off to a flying start can purchase one of three tiers of ticket depending on the level of access they require. As such, the Delegate Pass will service anyone looking to learn more about the inner workings of the Web3 industry. The VIP Delegate Pass will offer further meet and greet opportunities access to analytics plus a pass to an exclusive post-event party. In addition, METAVERSUMMIT also offers an Exhibitor Pass that will provide access to 3 people for all of the event's activities.
So, join NFT Plazas in Dubai for METAVSUMMIT, the first major Web3 event of 2023.
Source NFT Plazas