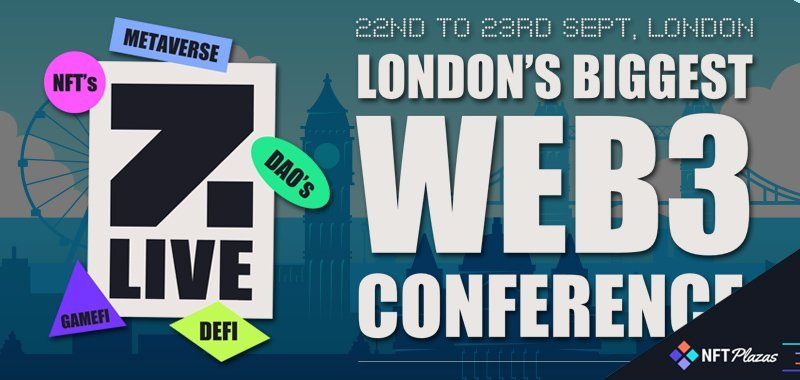 It's time for the second annual web3 conference in London once again! We have teamed up with Zebu Live, London's biggest web3 event, as an official media partner, and we're super excited to help bring together the crypto and NFT community together!
A Worldclass Experience
Zebu Live is a two-day full on immersive experience that will take place both live and online between September 22 and 23, 2022. There will be over 1,200 web3 professionals from around the world, and 120 of the top speakers sharing their knowledge and experience on NFTs, DeFi, the Metaverse, and Crypto.
Participants will have the opportunity to network with leading industry professionals and learn from over 25 workshops, take part in a startup pitch competition, explore a mind-bending NFT gallery curated by Ethereal Collective, startup booths, and an alpha stage. Those who can't join the IRL event can watch the live stream of the main stage on YouTube, Twitter, and LinkedIn. The event will also later be uploaded on YouTube for those who can't make it on those days.
Some of the speakers in the line-up include Steven Bartlett from Thirdweb & Social Chain, Stani Kulechov from Aave, Anna Shakola from Cointelegraph Accelerator, Sarah Buxton from Gala Games, and many more.
Web3 Parties All Week Long
Zebu Live welcomes all types of visitors, from beginners to expert alike, or those just looking to connect with a crypto community. The lineup will feature a diverse audience of early stage startups, institutional, retail, and VC investors. The aim of the event is to educate big web2 native organizations, tradfi companies, and legacy brands and break down the barrier to enter web3.
In addition, Zebu Live is part of the massive London Web3 Week running from September 19-25, with ongoing parties and networking opportunities all week long. There will be famous DJs, and leading NFT artists and companies to keep everyone in high spirits!
The conference will be at the stunning Kesington Conference and Events Centre in London, with a grand after party taking place on September 23rd from 7PM – 11:30PM which will include some of the grooviest DJs, mouth-watering appetizers, and an open bar. This will be followed by an after after party at the infamous KOKO nightclub in Camden which is free to access with a ticket.
Source NFT Plazas