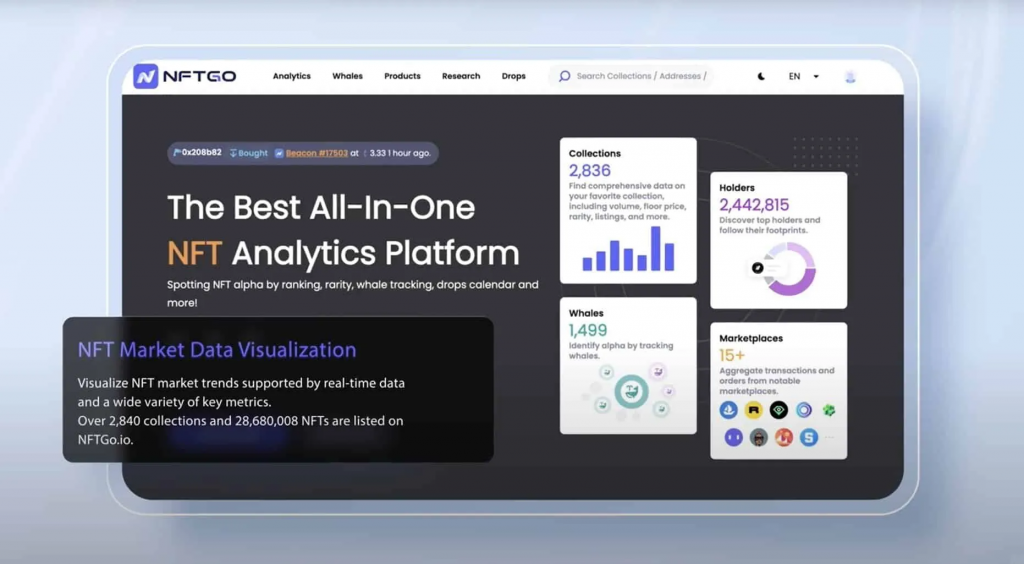 Without a doubt, keeping track of the lightning pace of the NFT space is one of the biggest challenges for NFT traders. Luckily, we have more and more tools that can be helpful in that regard, and one such tool is NFTGo. This all-in-one NFT analytics platform is packed with features that could take your NFT trading to the next level.
In this guide, we'll walk through one of the best resources on NFTGo, the watchlist feature, and explain how to use it.
All about the watchlist feature on NFTGo
As many will know, it's easy to get lost in the sea of new and emerging NFT projects that launch every single day. Even if one has just a couple of NFT projects they are interested in, it can be very difficult to keep tabs on them. Indeed, attempting to follow multiple projects can easily lead to missing important information about any one of them. And when it comes to NFT trading, information is the most important asset.
In order to address this, NFTGo launched its watchlist feature. This tool can help you monitor NFTs you might want to buy, as well as the ones you already own. So what exactly can the watchlist do? Let's break it down.
Step 1: Build your collection dashboard
Basically, the collection dashboard on NFTGo allows you to assemble many different NFT collections in one place. This is a major asset for NFT traders who frequently analyze multiple projects at a time before making buying decisions. After all, you want to make sure you're deploying your precious ETH in the right places, right?
To help with these decisions, NFTGo's collection dashboard displays valuable metrics for each collection that you add to the dashboard. For example, the collection dashboard shows market cap & volume, floor price trend, whale activities, blue-chip holder activities, and more for each collection.
Clearly, metrics like these help traders make better-informed decisions about which collections they buy into. For one thing, these measures will reveal which collections have the highest trading volume out of the collections on your NFTGo dashboard. In addition, you can see which collections have floor prices that are trending up and have the most long-term holders, among other things.
What NFTs are whales buying? Track smart money with NFTGo
One tactic that many NFT traders swear by is tracking smart money. In essence, smart money is a label given to wallets that have been historically profitable. In other words, tracking smart money in NFTs involves watching the wallets of whales (wallets with substantial assets) to see which NFT collections they are buying into.
The NFTGo watchlist also allows people to log multiple wallet addresses in one place. Thus, it makes tracking smart money easier than ever.
The wallet tracker works similarly to the collection dashboard. That is to say, it includes a number of key metrics for each wallet address. This includes stats like holding value, profits, and losses.
As a result, users can get a perfect snapshot of how certain wallets have been performing. So if you're shopping around for collections to start considering, you can quickly find which collections that whales are buying and holding. On the other hand, you can also see when whale wallets are starting to sell certain collections.
Obviously, simply glancing at whale wallets and aping into random NFT collections is not a recipe for continued success. However, tracking smart money over time and finding some big collectors whose track record impresses you can be really helpful. And if nothing else, seeing one or many whale wallets selling a collection at high volume can be a clear indication not to buy a collection at that time.
One advanced tactic that NFTGo points out is actually watching other people's watchlists. If you observe many smart money wallets adding a particular NFT collection, this may be a sign that people are looking at and considering buying into that project.
Create your NFT dashboard
Lastly, there's the NFT dashboard from NFTGo. While the collection dashboard puts full collections in one place, the NFT dashboard does this with specific NFTs within a collection. This allows you to highlight that one NFT you've taken a liking to. You can even add NFTs to your dashboard according to traits, rarity, or other metrics.
The NFT dashboard shows the last price an NFT sold for, the floor price of its collection, and the NFT's rarity rank within that collection. Although marketplaces like OpenSea and LooksRare allow users to favorite NFTs, the NFT dashboard includes some useful metrics to go along with the other NFTGo features.
NFTGo has a trading aggregator and many other tools
Overall, NFTGo clearly has a lot to offer both experienced and novice NFT traders. To that end, the platform actually announced its upcoming trading aggregator in late June. To sum up, the trading aggregator allows you to buy multiple ERC-721 and ERC-1155 NFTs in a single transaction. As a result, traders can reduce the gas fees they have to pay when buying many NFTs.
Not only that, but the trading aggregator can also help you find the lowest price for all of the items in your cart. And if that wasn't enough, it will even detect and remove any suspicious items automatically.
In conclusion, there are a lot of analytics tools for NFTs, both paid and free. Some will naturally be better than others. With that said, the best ones can certainly help you on your way to becoming a profitable NFT trader. So if you want to take your trading strategy to another level, NFTGo's feature-packed platform may well be an attractive option to consider.
Source NFT EVENING