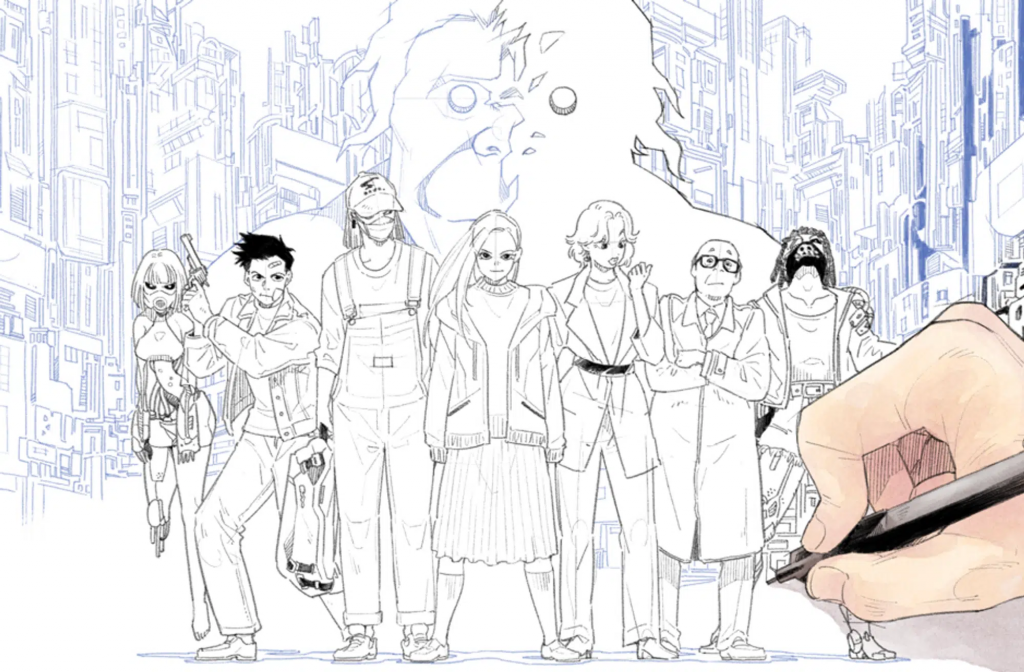 Leading Japanese directors, Yukihiko Tsutsumi, Katsuyuki Motohiro, and Yuichi Sato are all set to drop NFTs from their SUPER SAPIENSS entertainment DAO. The project aims to usher in a new era of entertainment in Japan. SUPER SAPIENSS will launch the NFTs on December 17. Let's take a closer look at what the SUPER SAPIENSS project is all about.
What is SUPER SAPIENSS?
SUPER SAPIENSS is a unique entertainment project from Yukihiko Tsutsumi, Katsuyuki Motohiro, and Yuichi Sato. The three directors have been at the forefront of the Japanese entertainment and film industry's growth. What's more, producer Takeshi Moriya has joined the project as a board member to create and visualize its original story.
In a first for Japan, the four will jointly produce and direct the project together with their fans. To be sure, in the team's own words, this is a "super independent project made with fans". As a creator-first project, SUPER SAPIENSS IP has immense use cases such as webtoon comics and movie creation. To make this a reality, the project will be co-created with the SUPER SAPIENSS entertainment DAO.
What are SUPER SAPIENSS NFTs?
SUPER SAPIENSS NFTs are generative art NFTs based on director Tsutsumi's original character proposal. Manga artist, Chobi developed the artwork for both the NFTs and the SUPER SAPIENSS webtoon. Notably, the NFT creatives focus on Japanese culture, which is becoming increasingly popular across the globe. The project will use these NFTs as a fundraising and community-creation tool.
For holders, the NFTs offers a range of utilities. This includes commercial rights over the NFTs, with holders' NFTs appearing in webtoons and/or live-action film productions. Additionally, holders gain early alpha about the project, the right to suggest ESP ideas for the project, and much more.
When is the NFT sale?
SUPER SAPIENSS NFTs will have both a pre-sale and a public sale, with only allowlist members allowed to join the former. A total of 1,093 allow listed members can mint the NFTs from 00:00 EST to 23:30 EST on December 17 during the first pre-sale. Here, 5,465 NFTs will be available, with a maximum of five mints per person.
Next, the second pre-sale will go live between 00:00 EST on December 18 and 00:00 EST on December 19. Any NFTs unsold in the previous sale will be available to mint during this sale. Finally, the public sale opens at 22:00 EST on December 19, closing 24 hours later. Only 1,000 NFTs will be available for this. To clarify – the allowlist does not guarantee the right to purchase, but allow listed users can mint on a first-come-first-serve basis.
As the allowlist drawing is still underway, this is a great opportunity for you to apply for a spot. Head over to the project's website to apply before the deadline at 10:00 AM EST on December 8. For additional details, make sure to follow SUPER SAPIENSS on Twitter and join its Discord server.
For more information on SUPER SAPIENSS NFT, please refer to the SUPER SAPIENSS NFT white paper in English and SUPER SAPIENSS NFT white paper in Japanese.
SUPER SAPIENSS Project Founders
Director: Yukihiko Tsutsumi (Director of Office Crescendo Inc.): The master well known for the numerous "AGGRESSIVE" masterpieces in Japanese film/TV drama industry.
Director: Katsuyuki Motohiro (Member of Planning Department in Production I.G): Director of "BAYSIDE SHAKEDOWN2", the highest-grossing Live-Action film in Japan.
Director: Yuichi Satou(Member of Kyodo Television): One of the best Japanese film directors for the precise descriptions in its creation.
Producer: Takeshi Moriya(Atmovie Inc. – CEO and Founder): Veteran producer famous for the success of "MIDNIGHT SWAN", a winner of picture of the year in the Japanese academy award 2021.
Advisor on WEBTOON comics; Supervising Director of NFT design: Youhei Sadoshima (Cork Inc. – CEO and Founder)
Project Promotion Advisor: Hironao Kunimitsu (Financie Inc. – CEO and Founder)
Source NFT Plazas