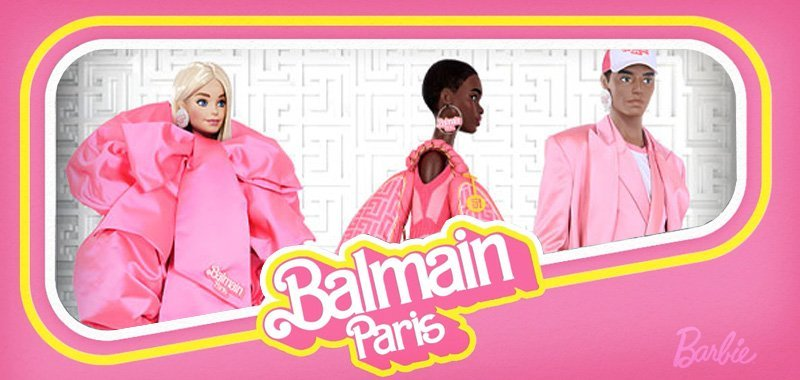 Fashion and pop culture arbiter Barbie is teaming up with luxury French fashion label Balmain, to drop a series of exclusive NFTs. The duo will also launch a ready-to-wear fashion and accessory collection, which will see the iconography of Barbie enter the world of wearable fashion under the Balmain banner.
Bidding for the Balmain x Barbie NFTs starts on mintNFT from January 11th, while the ready-to-wear collection is set to be available for purchase at Balmain's physical and online stores from January 13th.
The NFT series includes three one-of-a-kind Barbie and Ken avatars, all of which being styled head-to-toe in distinct Balmain designs. The NFTs will also come with a bespoke, one-of-a-kind set of Barbie-sized Balmain pieces, allowing holders to reap both digital and physical satisfaction from their ownership.
Creative Director of Balmain, Oliver Rousteing, provided insight into the 50+ piece of Balmain x Barbie ready-to-wear fashion and accessories line, stating that the logo-heavy, celebratory collection does not have a particular target audience in mind.
"As our campaign images make very clear, Barbie and Balmain are embarking upon a distinctly multicultural, inclusive and always joy-filled adventure. For this collaboration, we are building upon the New French Style of Balmain's most recent collections, once again showing that Balmain is inspired by the truly diverse and exciting beauty found on today's Parisian boulevards and avenues. This collection also rejects any arbitrary gender limitations-this is an almost 100% unisex collection. For, just as today's Barbie makes clear, there's nothing holding us back anymore."
Barbie and Balmain have also launched a digital campaign to promote the partnership, where those interested can gain a sneak-peek look at what the ready-to-wear collection has to offer through viewing the outfits of modelling Barbie avatars.
Source NFT Plazas