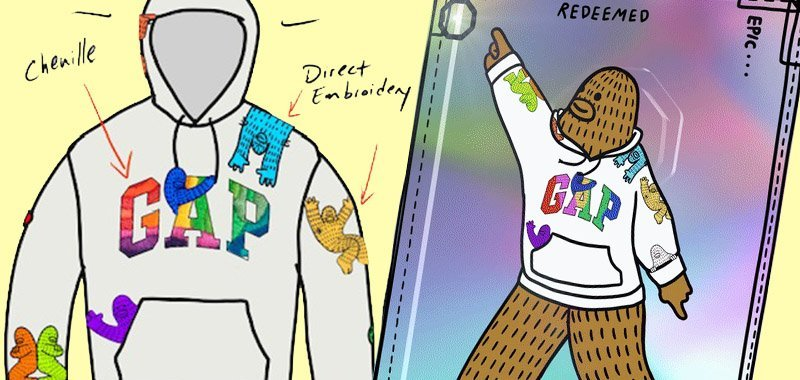 Fashion giant Gap have launched its own NFT collection, making it the latest clothing brand to delve into the NFT space. The collection was created in partnership with NFT platform InterPop, and will reside on the energy-efficient Tezos blockchain to align with the company's eco-friendly values.
The NFTs in the collection include digital artwork from the artist behind Frank Ape, Brandon Sines, as well as physical, collectible 'Gap x Frank Ape' hoodies. A simple sale will not suffice when it comes to customers getting their hands on most of the NFTs in the collection, as instead, they must navigate through four gamified and unlockable levels in order for NFTs to become available to them.
The four levels are 'Common', 'Rare', 'Epic' and 'One of a Kind.' 'Common' NFTs became available to purchase on the Gap NFT website on January 13th for 2 XTZ each (around $9), with the company announcing that NFTs from higher levels will become available over the next few weeks.
Higher level NFTs will be more scarce in their availability, meaning that they will be distributed in a first-come, first-served basis when released, along with limit-edition NFTs being released at the 'Rare' and 'Epic' levels.
Gap's dive into NFTs follows in the footsteps of other illustrious fashion labels who have carved their way into the space in recent times, as August saw luxury fashion brand Burberry launch a collection in collaboration with blockchain game Blankos Block Party, which was closely followed by the launch of Dolce & Gabbana's Collezione Genesi  collection.
Source NFT Plazas