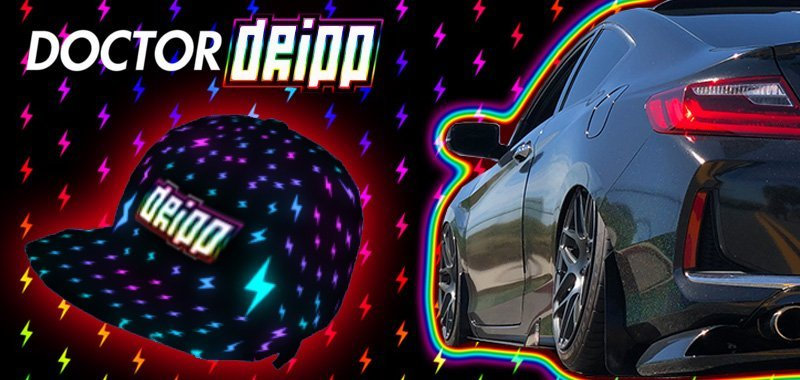 When I first joined Decentraland, DOCTORdripp was one of the first creators I noticed in the field, and also he was one the first to say hello. I could just sense his vibrant personality and hard-working attitude. He's also, like me, one of the creators trying to bring his IRL passion to web3.
And at the end of the day, creators, with that kind of passion that DOCTORdripp has, will be written into the history of web3.
Hi, DOCTORdripp. Please – introduce yourself!
Hi, I'm DOCTORdripp, a skateboarder and general computer nerd from southern California. For work, I build websites and custom lighting for show cars. A huge part of the DOCTORdripp brand is based on my love for my work building custom headlights and running an automotive e-commerce website that specializes in LED lighting kits. My professional background consists of working within the streetwear e-commerce space, among many other industries.
Tell us, how did you come across the Metaverse? Was it natural to you?
I joined Decentraland in October 2021 and, within days, had launched the glowing Backwards Hat wearable. I've been working with Photoshop since v5.5 (released in 1999) and 3D modeling since December 2020 – when I picked up my first 3D printer. It felt oddly natural to express myself within Decentraland, so yes, "natural" is the perfect word.
Do you see any correlation between real-life fashion and Metaverse fashion?
Yes, and it's my favorite part of the Metaverse, but that's because I'm a skateboarder with a fashion background. So, of course, I'm here for the steezy drip, with interests heavily overlapping between streetwear, skatewear, and high fashion.
But the direct correlation between IRL fashion and metaverse fashion is not the only aspect of metaverse fashion to be observed. With the ability to create highly imaginative designs – both futuristic and fantasy, we're already seeing fashion evolve through the contributions of wearable creators and also game developers.
These dramatic interpretations of fashion may become unglued completely from our IRL interpretation and maybe eventually forge entirely new styles in IRL.
Tell us about your vision for the fashion of the Metaverse. Do you believe those two will blend together over time?
I think the evolution of metaverse fashion will depend on the depth to which society embraces blockchain technology. For now, we get to enjoy the simplicities of basic 3D designs as NFTs, selling them in a casual manner.
It seems the next step is phygital designs, which may involve RFID chips embedded within actual IRL articles of clothing, bridging the gap between the worlds of high-end digital designs & IRL brands. But what comes after that?
I think that depends on how much decentralized technology gets utilized in the fashion and shopping/retail/e-commerce industries. Combine that with the introduction of accessible and affordable Augmented Reality and Virtual Reality experiences for both shopping and socializing, and I think the landscape would change forever.
Everyone is focused on the magical word utility these days. How do you perceive it, and what is utility for you as a creator?
"Utility" has become such a buzzword, so I think this is a lot to unpack. The utility can vary between NFT projects and wearable NFTs, but ultimately it's a promise to reward a hodler of a token. It could be NFTs airdropped for free at a later time, access to buy exclusive NFTs, access to enter exclusive parties, early access to buying NFTs, or lower price points.
For musicians or digital artists, it could be access to exclusive works to download or use in projects. Wearables do not always need to offer utility. Still, art projects that do not offer any kind of utility can commonly indicate a potential rug pull where funds will be cashed out of the project (but maybe the utility was donating to a charity or organization voluntarily). On the other hand, projects that promise utility and never deliver are equally as bad.
Lately, I've found interest in Play2Earn wearables that game developers have created perks around, especially when the perks have already been delivered. If it's a game I believe will increase in popularity, then having those perks is usually a strong utility for value retention, assuming the P2E devs don't devalue them by adding newer items with similar or better perks.
Who are your favorite creators in the scene?
There are a TON of creators that I am a fan of! I have over 2,000 wearables in my collection. But I'd specifically like to shout out the ones who have been most inspiring to me, and that create their own designs 100% in-house/themselves: Doki, Nikki Fuego, Michi Todd, Mr. W & Mr. J, Yannakis, Miguel Amargo, Meta Jewels, Roustan, Tangpoko, Arnj Joe, Digifun x Yaping Chen, KJ Walker.
Coming from a traditional fashion, I see Metaverse fashion as very experimental, cyber-punk-ish in some way. Why do you think all aesthetics are so futuristic?
I actually didn't see the movie Ready Player One until after DCL, so when I saw it, everything really clicked. It's a beautiful representation of what we're in the early stages of experiencing. I'd say lots of inspiration comes from that, among other futuristic and early metaverse/video game/internet/pop culture. I'm definitely excited to see things that haven't been thought of or done before.
What is the biggest challenge of being a digital creator?
Making time to create amid a busy schedule, as well as personal motivation. These two things are always influencing me, whether a little or a lot.
The condition of the market, sales, and competition are all temporary, but personal motivation and pushing myself to continue to learn and be inspired by my surroundings – that's a constant battle as an artist.
Is Metaverse a full-time adventure for you? If so, what do you enjoy doing besides that?
Not yet, but I get the feeling that as more opportunities arise and as I cement my brand as a heavyweight in the digital fashion space, I think it will quickly shift, and I may or may not find myself building show cars less.
What would be your advice for newcomers? At first sight, all ecosystems might seem a bit scary, I know!
For newcomers in the Metaverse, trying to connect for the first time is intimidating. I found myself floating quietly in the hot tub at parties, not saying a word – and that's totally okay. After a few times, we start to recognize one another and say hello, and eventually, the conversation comes naturally. For a quick start – find some DCL-related Twitter spaces where you can listen in and maybe make a friend or two.
For new creators: don't worry about sales, especially in a bear market. Just keep creating and learning new techniques. Be present in-game and be a supporter of others. You're still early, and natural opportunities will arise for any creators who follow this advice.
You are one of the best creators in Decentraland. Why Decentraland, and will you consider other platforms like Sandbox too?
I love Decentraland for its open-source technology. It doesn't get more decentralized than a platform that gives you a repository full of building blocks to create custom games and user experiences.
It made learning very easy and is a great jumping point for anyone looking to begin creating in the Metaverse. I will consider creating my designs within other metaverses as they gain traction and popularity, but for now, DCL is my home.
Source NFT Plazas