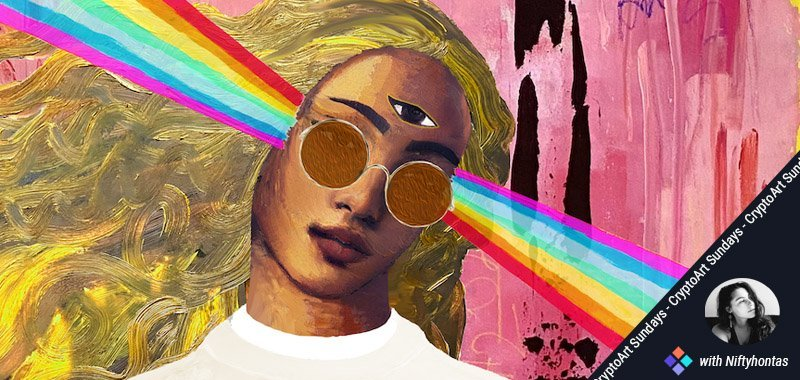 Welcome art lovers from across the world to CryptoArt Sundays. This week I'm excited to introduce to a very special and super talented artist, Erica Reiling.
Erica is a professional artist based in New York City, and is the creator of the stunning NFT collection CryptoVenus, which features several thousand eccentric goddesses. Creativity has always been her passion, and during the pandemic she finally pursued her dreams in helping others heal through art.
So let's get to it and find out more about her art journey and her experience of the NFT art world thus far!
How did you find out about the NFT space, and what attracted you to create your own NFTs?
I found out about NFTs through a news segment in March of 2021 – but it wasn't until I personally met people who were in the space that I took it seriously. I saw men having a lot of success in NFTs and I wanted a piece of the pie, to create something that I resonated with as a woman and see if I couldn't create a niche for people interested in what I wanted to build.
When I first got involved in web3 I didn't see a lot of philanthropic work happening, and I knew with the amount of capital floating around the space there was an opportunity to do some real good and have some fun in the process.
How often do you create?
I create everyday, whether I'm painting in my studio, taking photos with my camera or my phone…even on a day that I need to focus on admin work for my business, just making a playlist or a little floral arrangement is a great outlet and a way to add some beauty to my day and discover something new. ABC, that's my motto – Always Be Creating 
What is your creative process?
Show up, show up, show up. Whatever comes out is what's meant to – even if it's just to get the wiggles out. After you show up enough, it starts to make sense and you can get into a flow state.
Are there any CryptoArtists you would love to collaborate with?
Yam Karkai would be amazing!! I also love Tyler Hobb's work.
What do you think the future of CryptoArt will look like?
It will change with the technology – once we're all in our VR headsets, viewing art in the Metaverse, the possibilities will really be endless. Beyond that, I hope more women will be recognized and uplifted for their contributions – more balance in the space will be beautiful for everyone.
What are you currently working on?
Currently painting in the studio and getting ready for my solo exhibition at the end of October. It will be in NYC but we're going to have it happening simultaneously in the metaverse which is such a cool thing. What a time to be alive!
Where can collectors find your work?
On SuperRare and OpenSea for NFTs, Instagram and my website for physical work.
Source NFT Plazas