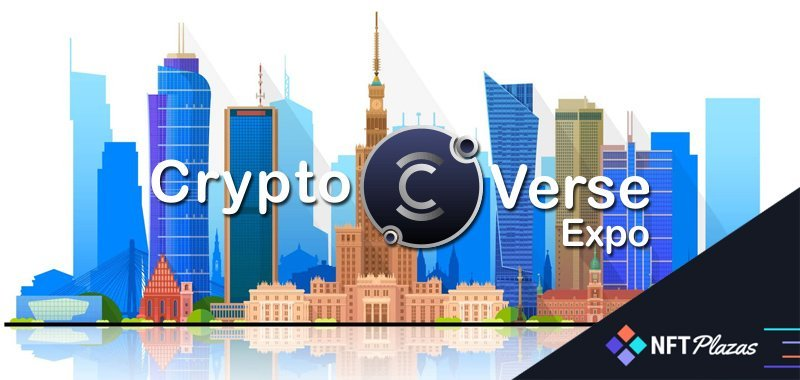 It's almost time for the second edition of Poland's largest conference in the blockchain industry – CryptoVerse Expo. NFT Plazas is supporting the event as an official media partner, which will bring together experts, thought leaders, and influencers together for one unforgettable day of networking and learning.
CryptoVerse promises to deliver a dose of knowledge on everything related to Crypto, Web 3.0, NFTs, and the Metaverse.
What to Expect
CryptoVerse Expo is a conference, fair, and after party, with the aim of connecting participants with the most important representatives of both the Polish and foreign blockchain industry. Attendees will have the opportunity to establish contacts and gain invaluable knowledge from experts, project developers, and industry enthusiasts.
The first edition of CryptoVerse was a major success and has put Warsaw on the global map of crypto events. This second edition will be an international event, with one of the lecture halls in Warsaw's Kinoteka dedicated to speaker slots in English only.
More than 3,000 people are expected to attend the event. With a solid community and great interest on the part of exhibitors and projects from the blockchain industry, the conference will now be held periodically.
There is also going to be an exciting Startup Pitching Contest taking place, where the top blockchain projects will compete for the number one spot.
Event Details
CryptoVerse Expo #2 is taking place on September 9, 2022 at the Palace of Culture and Science in Warsaw. You can sign up right now here to get your free ticket. There is also the option to buy a VIP ticket here, which comes with access to the VIP area, a special lunch, and attendance to the VIP after party.
The conference will start at 8:30AM and carry on until the late hours of the night, finishing off with an epic after party. The venue will have three lecture halls, 30 exhibitors, and over 3,000 participants.
Some of the speakers include Łukasz Szymański from Tokenomia, Marcin Szydłowski from YouTube Channel Mike Satoshi, Adam Betka from Minters World, Dominik Deja from Crypto Dodo, and many more.
Source NFT Plazas